A background check adverse action letter is issued to a person to inform them that information uncovered from a background check resulted in an unfavorable decision against them. Employers, volunteer organizations, property managers, loan providers, and other entities often require individuals to undergo formal background screening prior to being accepted. A background check can provide substantial amounts of information on a person, including their employment history, criminal/driving records, social media profiles, education history, and more.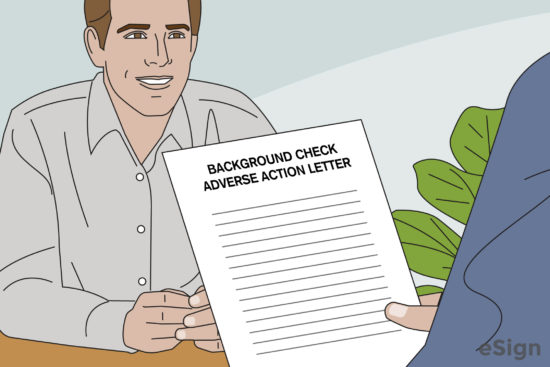 What is "Adverse Action?"
An adverse action is a decision that results in the denial of a person based in part or wholly because of information derived from a background check. This can be for employment, credit, housing, and more.
When is it Required?
An organization is legally required to deliver a post-adverse action letter whenever they use information obtained from a background check to reject/deny the person the report was acquired for. Such actions include not hiring, promoting, lending, renting, or accepting the individual.
How to Write
Download: PDF, Word (.docx), OpenDocument
Step 1 – Date + Recipient Name
Enter the date (mm/dd/yyyy) the letter was delivered to the recipient, followed by their full name.

Step 2 – Signature of Rejecting Person/Entity
To make the form official, the individual responsible for denying the candidate based on information contained in the report should sign their name. The document can be signed and sent to the recipient by using eSign.