A North Dakota employment contract is an agreement that defines the relationship between an employer and an employee and the rights and responsibilities of both parties. Employers use this contract to ensure their employees are fully aware of their role in the company, their duties as an employee, the amount of compensation they will receive, time off and benefits, and the timeframe of their employment. The document also covers confidentiality, non-compete, punctuality, and termination options.
Employment contracts are not a legal requirement for hiring new employees, but they allow employers and employees to get on the same page and avoid complications down the line.
Types (2)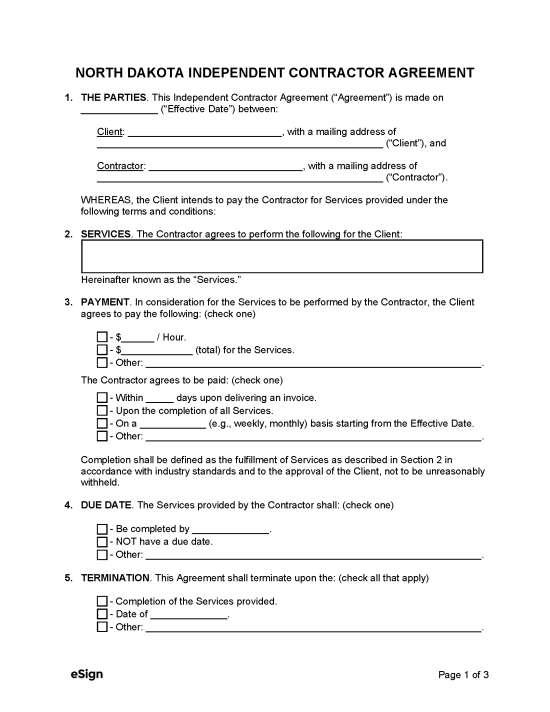 Independent Contractor Agreement – Outlines the professional relationship between an independent contractor and their client.
Download: PDF, Word (.docx), OpenDocument
---
Subcontractor Agreement – Establishes a working arrangement between a contractor and a subcontractor.
Download: PDF, Word (.docx), OpenDocument
---
Laws
---
At-Will Employment
Permitted? Yes, unless specified in the employment contract, all employment relationships are considered at-will and can be terminated without notice of cause. However, certain reasons for termination are considered "wrongful termination," such as a breach of contract (firing the employee before the contract has ended), discrimination (§ 14-02.4-03(1)), public policy (e.g., serving as a juror (§ 27-09.1-17)), and retaliation (§ 34-01-20).
---
Employer Resources