---
Updated on July 15th, 2023

An esthetician client intake form is used by estheticians and spas to collect information on new clients before their first treatment. It may also be used to update a returning client's file. The form will ask the client to provide details regarding their skin type, condition, skincare routine, and any specific concerns they wish to be addressed. The esthetician will also need to know about any allergies, medical conditions, or medications the client has or takes that may be contraindicated.
Esthetician Licensing Requirements
Estheticians are required to be licensed by the state board of cosmetology or health department.
To become a licensed esthetician, an individual must complete:
A state-mandated number of hours of training at an esthetician school
An apprenticeship (not required by all states)
State board exam
What to Include
The information collected by the form may include the following:
Client Details
Information about the client, like their name, address, phone number, and email, is generally requested so the esthetician can identify and contact them as needed.
Allergies & Reactions
It's vital that the esthetician is provided a list of any medical conditions or allergies the client has, as well as medications they take that may cause a reaction to skin treatments.
Skin Type & Condition
The client will often be asked to specify their skin type, current condition, and concerns so the esthetician can tailor their treatment for an optimal result.
Skin Care
The form may collect details regarding the client's skincare routine and professional treatments or procedures that they have recently received. This information may help the esthetician adapt their treatment to avoid negative interactions with any products the client uses or procedures they've had.
Acknowledgment & Release
It's a good idea to include a provision that requires the client not to hold the esthetician or business liable for any adverse effects or undesirable results arising from their treatment. The language should state that the client has disclosed all relevant information, that they undertook treatment voluntarily, and assume full responsibility.
Cancellation & Payment Policies
Including the esthetician's policies for cancellation, no-shows, and payment allows them to hold clients accountable if they do not respect the business's rules. It's common for clients to be required to pay a fee if they don't give proper notice when canceling or don't show up to their appointment.
Client Signature
The client must sign the intake form for its terms to be binding. Without a signature, the acknowledgment, release, cancellation policy, and payment policy cannot be enforced.
Esthetician vs. Aesthetician
Although "esthetician" and "aesthetician" sound the same and both involve skin care, they are two different professions with different training and qualifications. An esthetician focuses on cosmetic treatments, while aestheticians specialize in medical treatments.
Estheticians work either independently or at spas, salons, or resorts and provide services such as:
Cleansing and exfoliation
Applying facial masks
Performing facials
Massage
Hair removal
Preparation and post-injection care for botox
Product recommendations
Aestheticians generally work at clinics, hospitals, or rehabiltiation centers and specialize in medical treatments such as:
Skin rejuvenation or resurfacing
Microlaser peels
Scar or blemish reduction
Hair or tattoo removal
Botox injections
---
Related Forms (3)

Massage (Spa) Client Intake Form – Used by spas and massage therapists to request important information from new clients.
Download: PDF, Word (.docx), OpenDocument
---

Nail Salon Client Intake Form – Collects information from new nail salon clients.
Download: PDF, Word (.docx), OpenDocument
---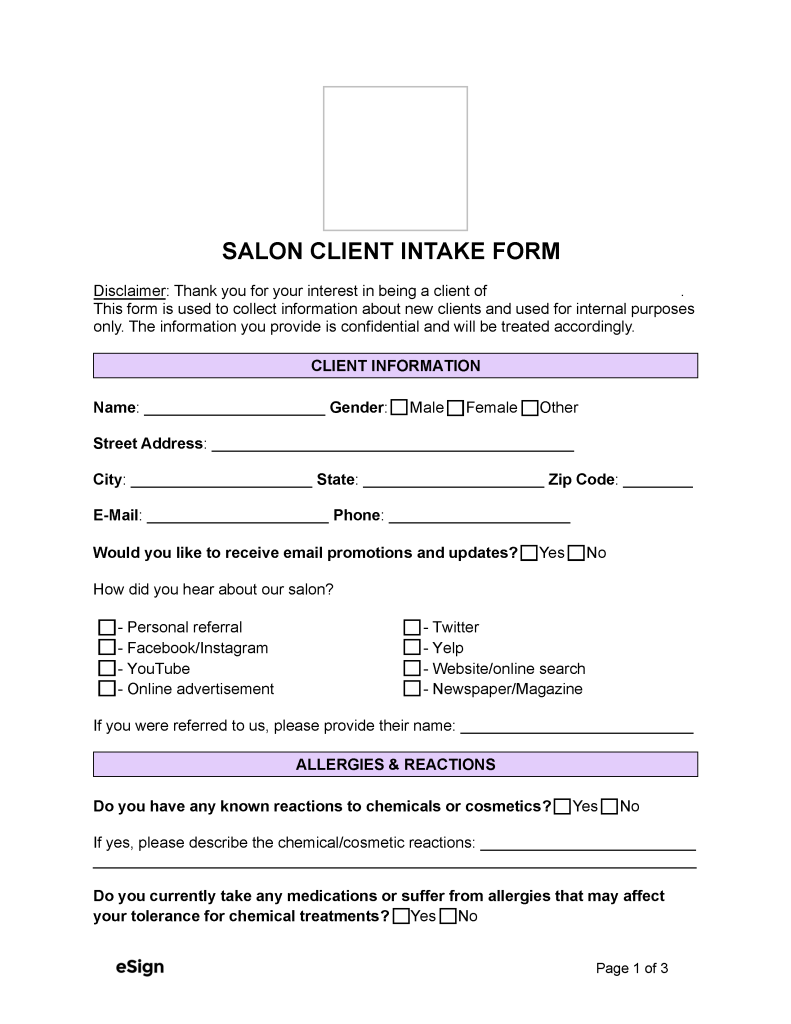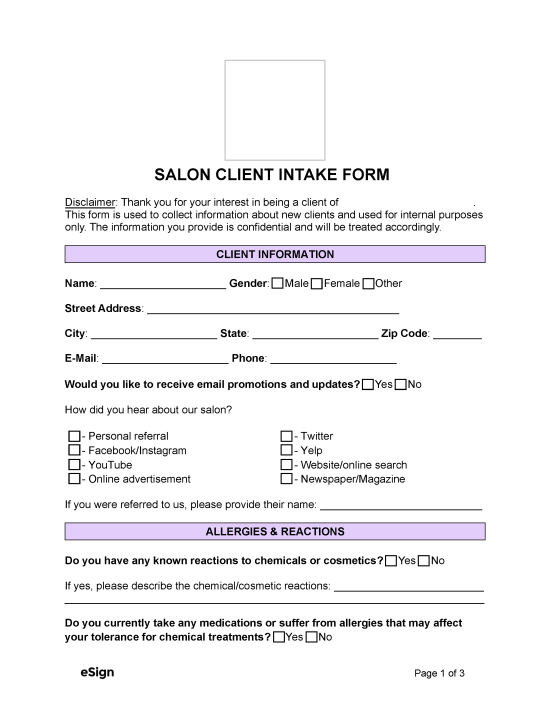 Salon Client Intake Form – An intake form that collects information on hair salon customers.
Download: PDF, Word (.docx), OpenDocument