---
Updated on July 5th, 2023

A financial planner client intake form is used to obtain information from clients at the start of their working relationship. The purpose of the form is to communicate the client's financial situation and goals, which acts as the foundation for the planner's financial advice. The intake form breaks down the client's income sources, debts, insurance policies, and other relevant details so the planner can create a personalized plan.
Commonly Used For:
Retirement planning
Estate planning
Tax planning
Investment management
College tuition preparation
Monthly and annual budgeting
Essential Financial Information
Below is a summary of the essential financial information collected through the intake form and its significance in the planning process.
Note: It's common for a married individual to involve their spouse in their financial planning. If this applies, much of the information mentioned below will also be collected from the spouse.
Assets
A report of the client's assets sheds light on their net worth and the resources at their disposal. This encompasses investments, real estate, savings accounts, and any other valuable possessions or holdings they may have.
Income & Expenses
Detailing the client's income and expenses allows the planner to gauge their potential to save, invest, and attain their financial goals. This assessment also aids in preparing a realistic budget and pinpointing areas that may require adjustments.
Debt
Clients will be asked to list their mortgages, loans, credit card debt, and other financial commitments. These details are crucial to understanding the client's obligations and overall financial health.
Retirement Goals
By understanding the client's desired retirement age and lifestyle expectations, the planner can develop a suitable retirement savings and investment strategy. They'll also be able to evaluate whether they're already making progress toward their goals.
Children & Dependents
Clients will be asked to provide details about their children and dependents. Family information plays an important role in financial planning, as clients may wish to set money aside for college tuition and other educational expenses.
Key Documents Clients Should Provide
For a more thorough evaluation of the client's financial situation, several key documents should be attached to their intake form. These documents typically include:
Insurance Policies – Policies for life insurance, disability, or long-term care should be included with the intake form.
Estate Planning Documents – Sharing estate planning documents (e.g., will, power of attorney) allows the planner to understand the client's financial preferences if they become incapacitated or die.
Tax Returns – By including past tax returns, the planner gains insights into the client's income, deductions, and overall tax status.
Pensions and Retirement Statements – Statements relating to employer-sponsored retirement accounts or investments should be attached to give the planner an idea of the client's potential lifestyle after retirement.
---
Related Forms (1)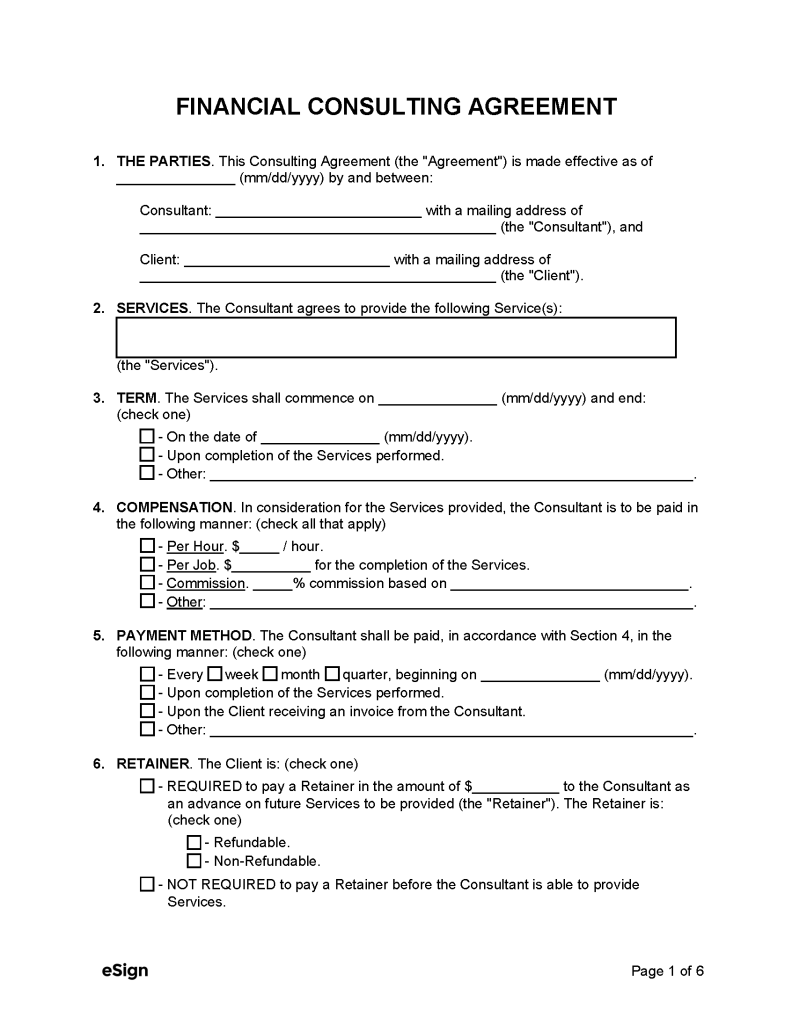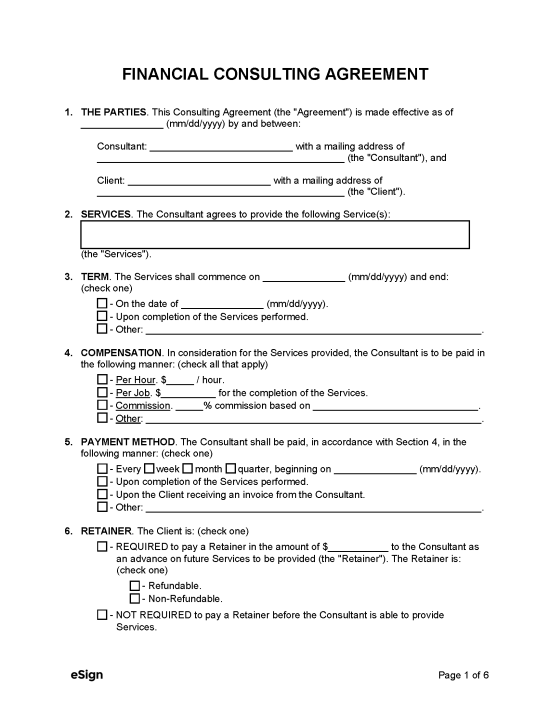 Financial Consulting Agreement – A legally binding contract that outlines the terms of a professional relationship between a client and a financial consultant or advisor.
Download: PDF, Word (.docx), OpenDocument