A Colorado real estate listing agreement is entered into by a real estate broker and an individual selling real estate to enable the parties to work together to find a buyer for the property being sold. The broker agrees to advertise and market the property to the best of their ability and with the seller's best interests in mind.
The seller agrees to pay the broker a commission should they succeed in finding a buyer, and to cooperate through the listing term with regard to inspections, open houses, and any requests made by the broker. It is up to the parties whether they wish to execute the contract as an exclusive right to sell, an exclusive agency, or an open listing type agreement.
Laws – § 12-10-403
Dual Agency (§ 12-10-406) – Dual agency is prohibited in the state of Colorado. However, an agent may be hired as a "transaction broker" for the purposes of negotiating contracts and completing transactions on behalf of two (2) parties to a real estate purchase and sale (§ 12-10-407).
Purchase Agreement – For entering into a contract over the sale of the property. Completed and signed by the buyer, seller, and agent(s).
Realtor Version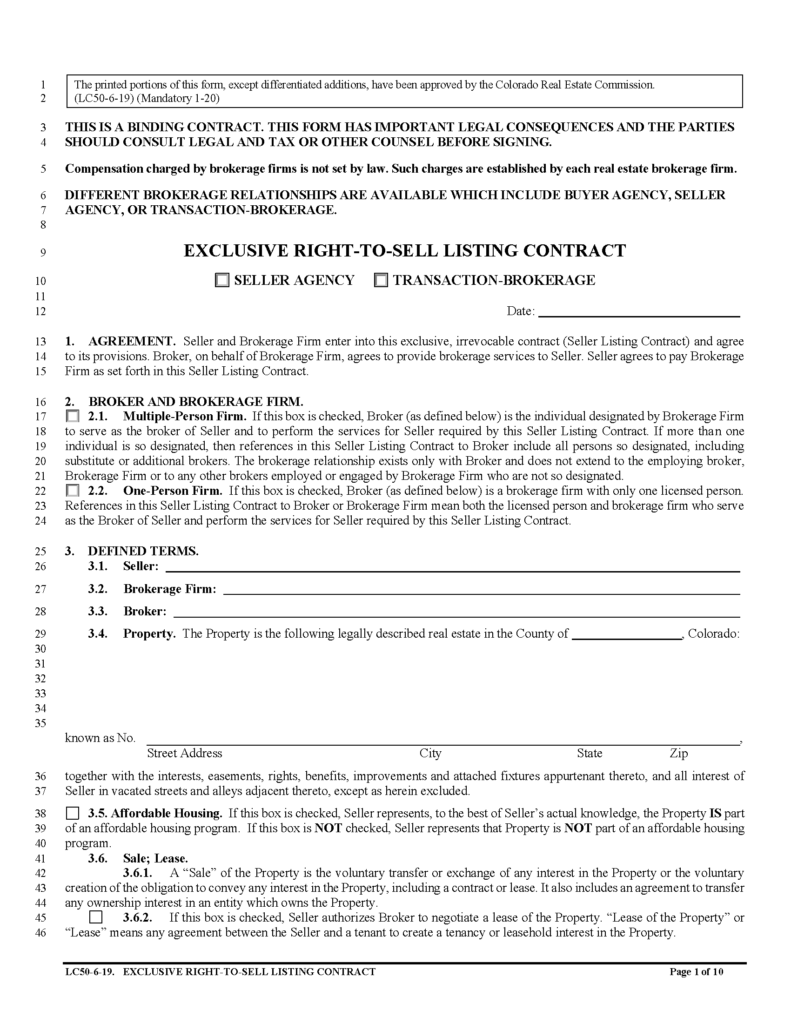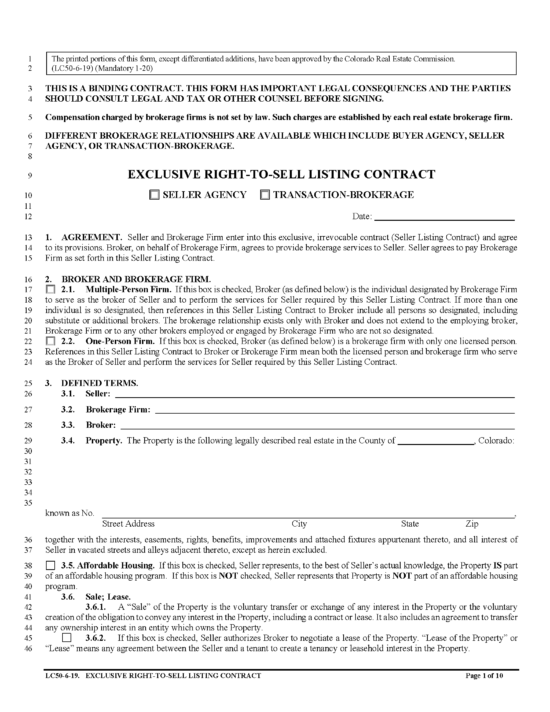 Colorado Exclusive Right-to-Sell Listing Contract – This listing agreement was created by the Colorado Real Estate Commission to be used by real estate brokers who will be acting as a seller's agent or a transaction broker in the purchase and sale of real property.
Download: PDF
---
Disclosures / Waivers (4)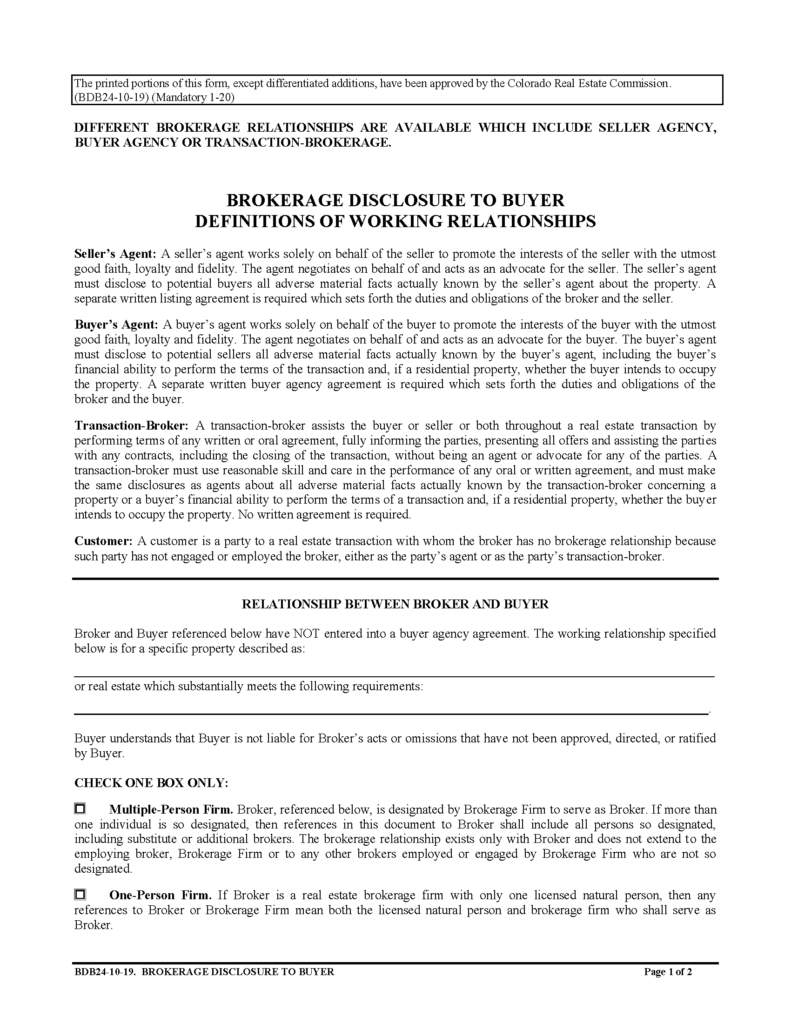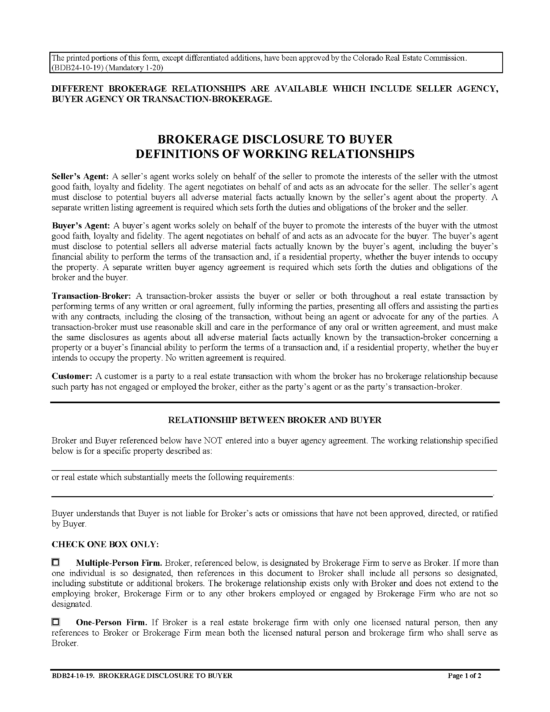 Agency Relationship Disclosure (Buyer) (§ 12-10-408) – It is mandatory for a real estate broker representing the seller or acting as a transaction broker to provide this disclosure form to the buyer of the property in order to reveal their role in the transaction.
Download: PDF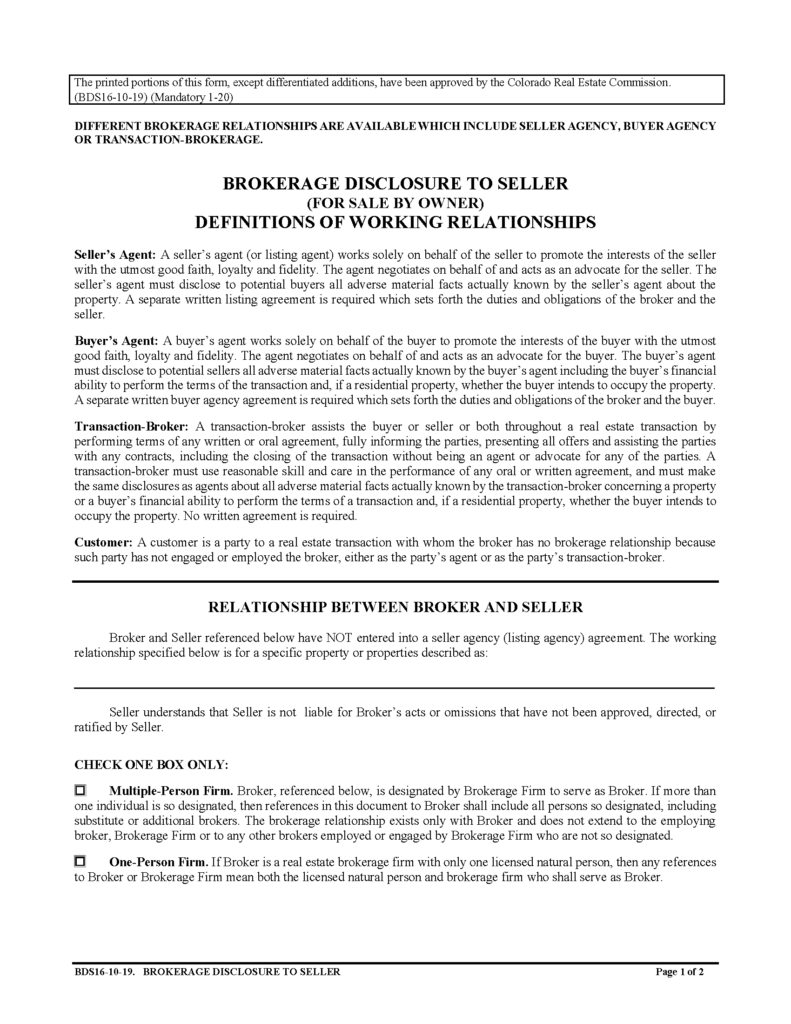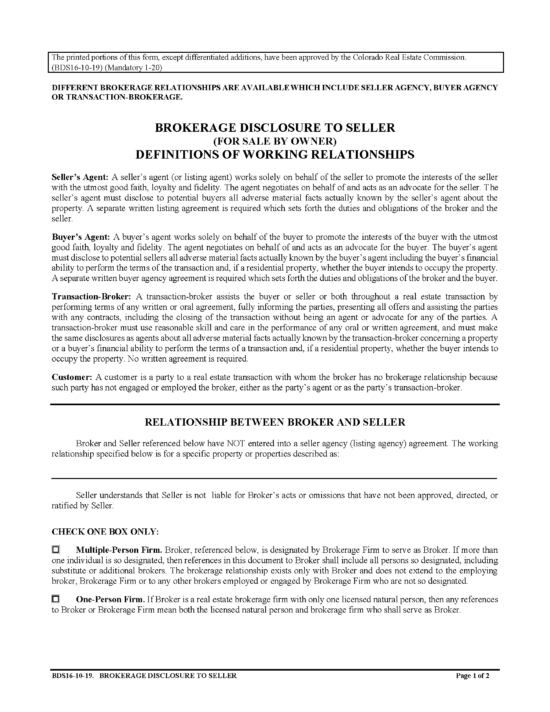 Agency Relationship Disclosure (Seller) (§ 12-10-408) – When a real estate broker is representing the buyer or acting as a transaction broker, they must provide this form to the seller of the property in order to disclose their role in the transaction.
Download: PDF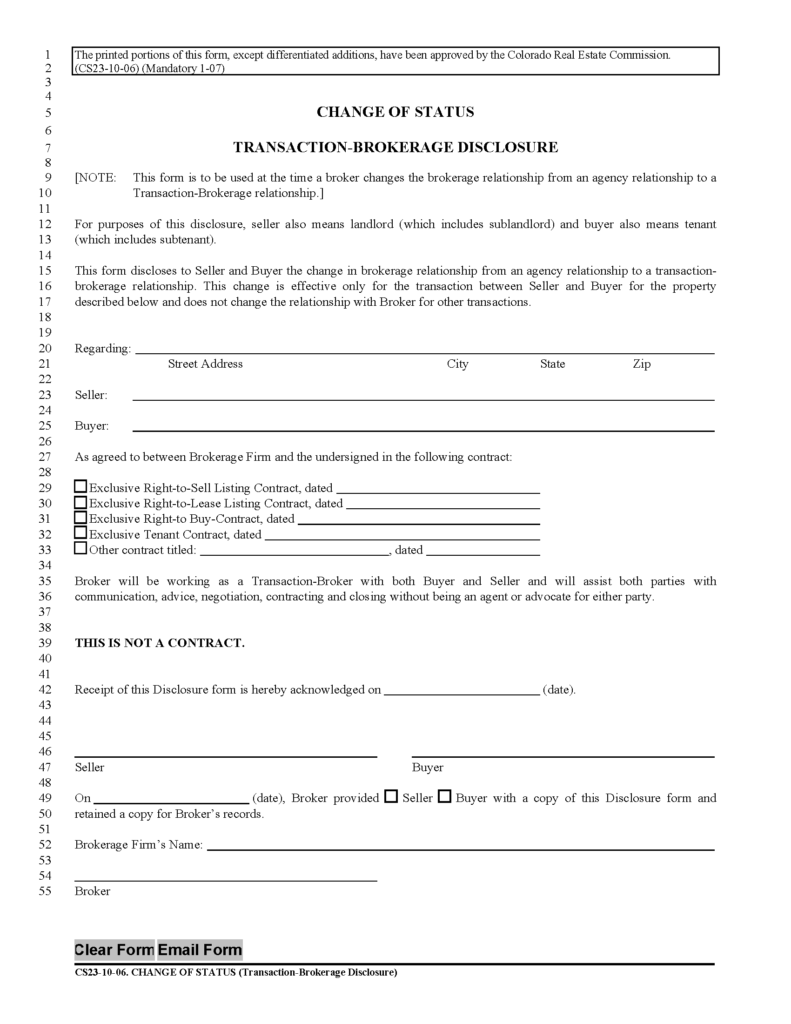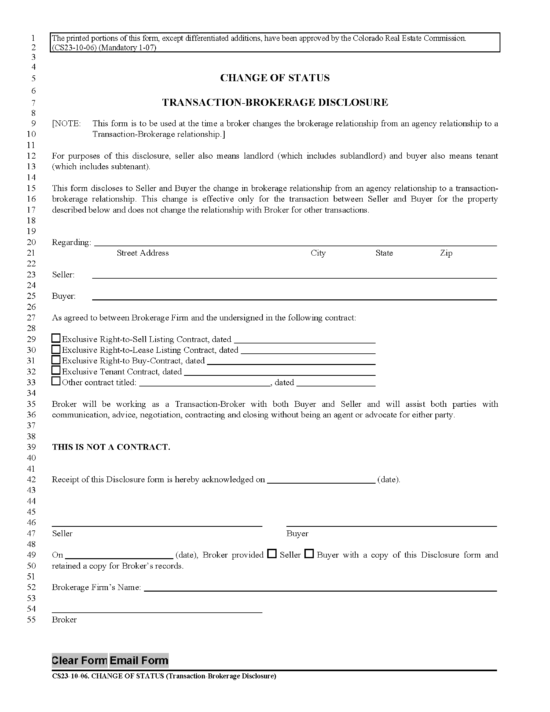 Change of Status – If a broker changes their relationship from an agency relationship (representing only one of the parties) to a transaction-brokerage relationship (brokering the transaction but representing neither party), they must complete this disclosure form and deliver it to all prospective parties.
Download: PDF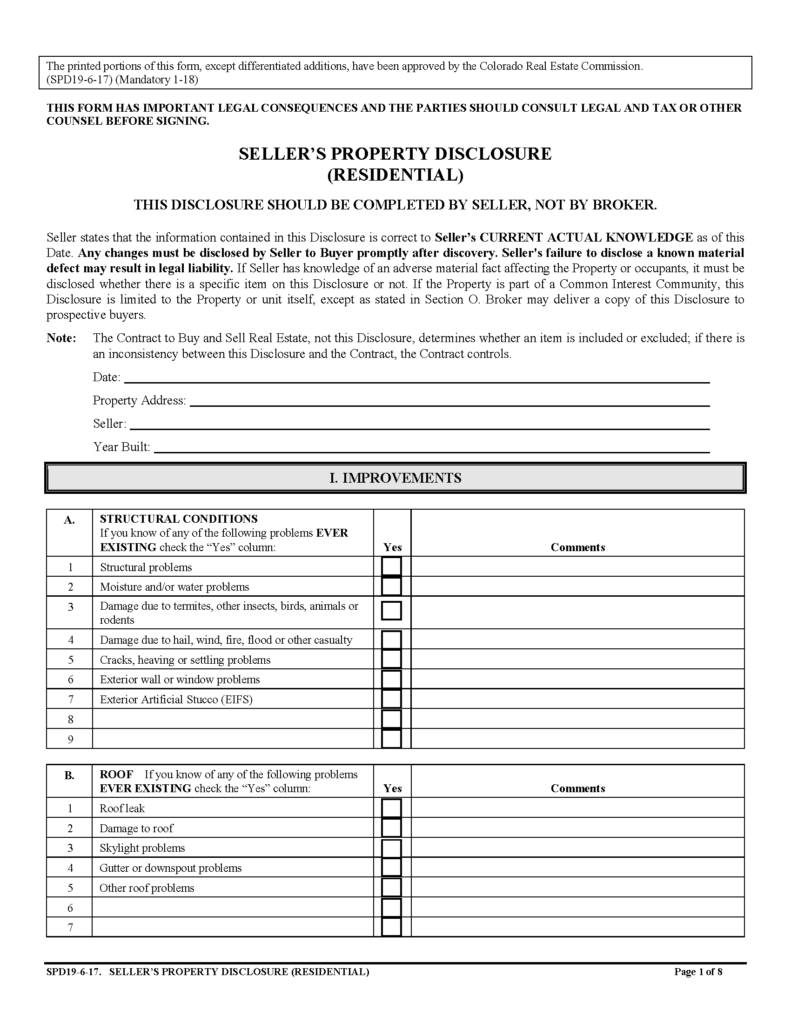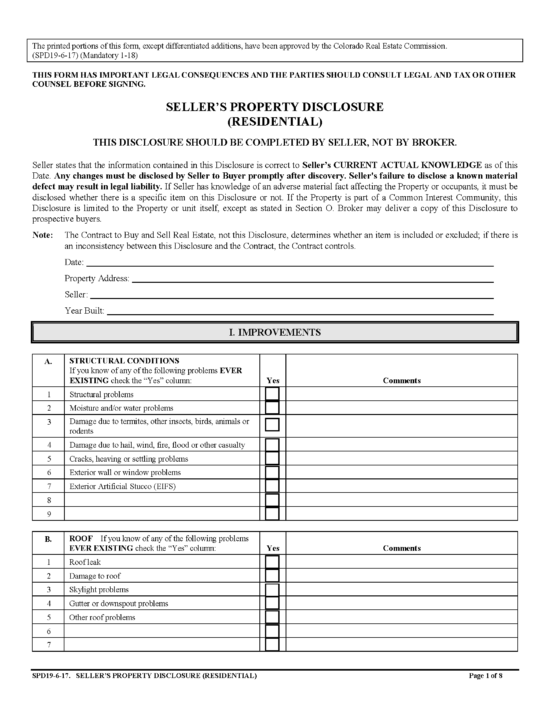 Property Disclosure Statement (§ 38-35.7) – This property disclosure statement can be completed by the seller (with help from their broker) to comply with state real estate disclosure laws. This is not a mandatory disclosure form, but the disclosures mentioned in the statutes linked above are required by law.
Download: PDF