---
Updated on November 3rd, 2021

A Delaware real estate listing agreement is a contract that grants a real estate agent the authority to sell an owner's property and earn a commission from the sale. The contract specifies how the agent will market the property to buyers, a process that typically involves online advertisements, displaying "for sale" signs, interior and exterior photographs, installing lockboxes, and in-person showings.

Most agents receive a percentage-based commission that is split between them and the buyer's agent at closing. While less common, some agents may choose to receive payment in the form of a fixed dollar amount. These financial terms and all other contract features can be negotiated by the seller and agent before signing.
Laws – 24 Del.C. § 2930(a)
Dual Agency (§ 2933(c)(1)(c)) – It is legal for the same agent to represent the buyer and seller. Delaware law presumes that the parties consent to dual agency unless they state otherwise in a Consumer Information Statement, which can be found below in the disclosures/waivers section.
Purchase Agreement – A contract that spells out the terms agreed to by a buyer and seller regarding the transfer of real estate ownership.
Realtor Version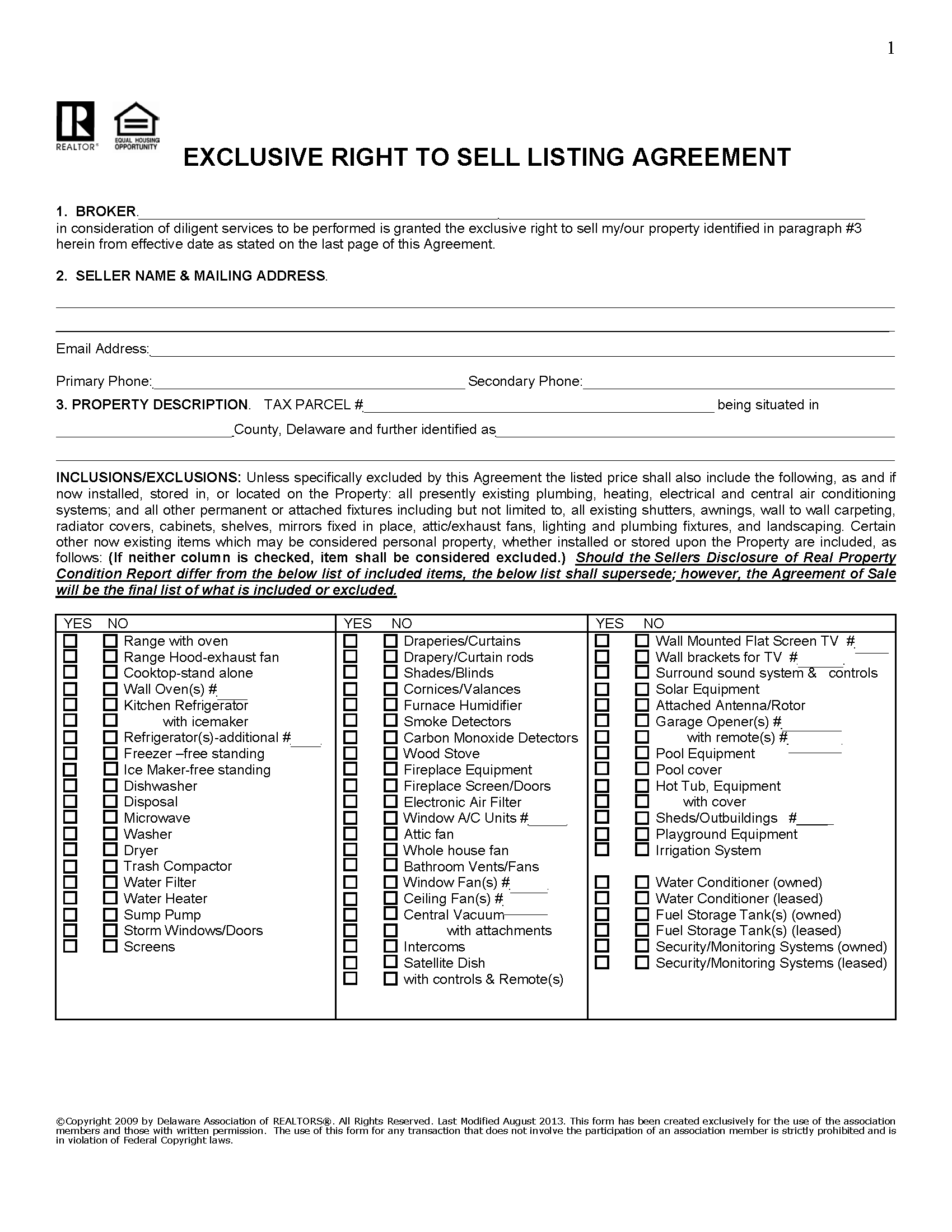 Delaware Exclusive Right to Sell Listing Agreement – With this agreement, a member of the Delaware Association of REALTORS® gains the exclusive right to market and sell property on behalf of an owner.
Download: PDF
---
Disclosures / Waivers (2)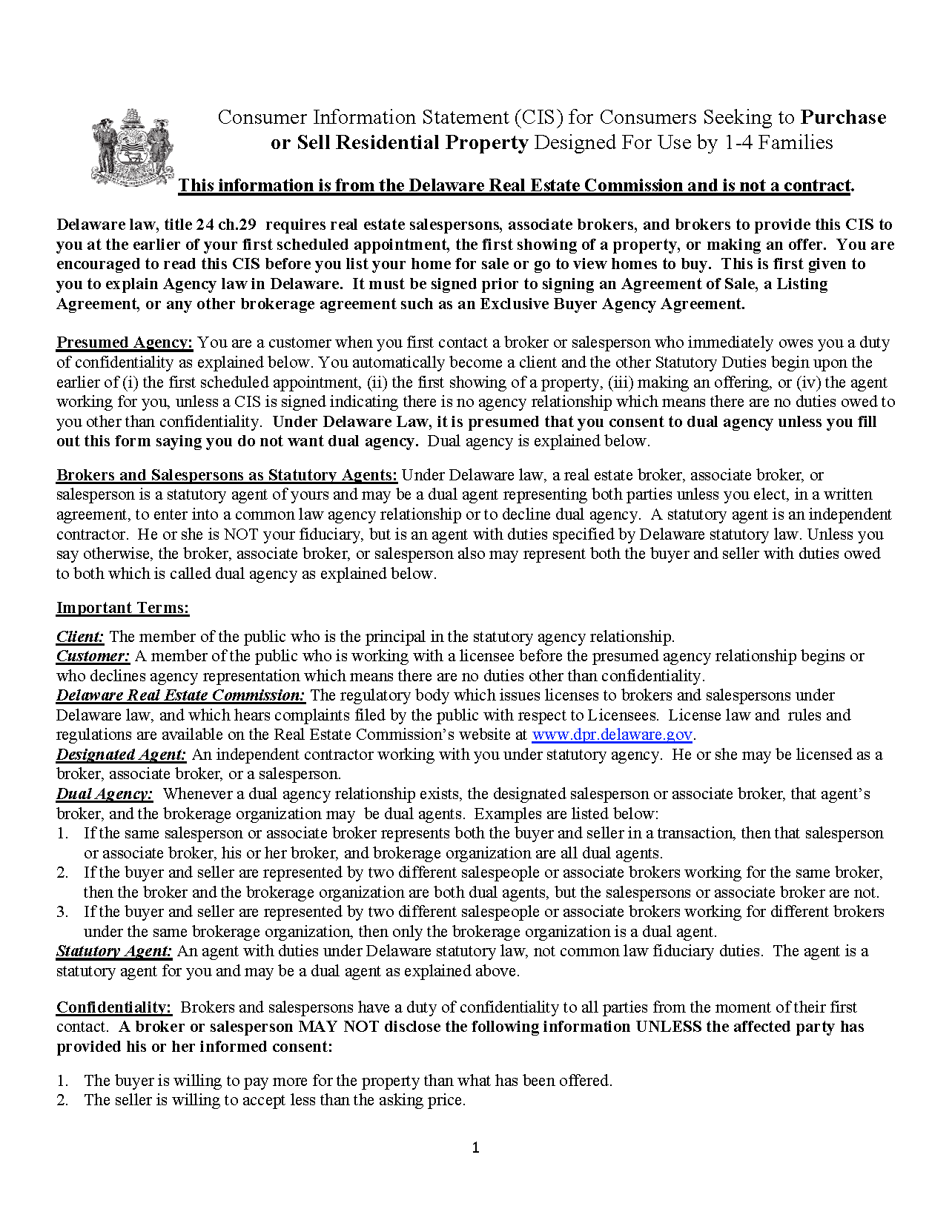 Consumer Information Statement (§ 2938) – This document informs buyers and sellers about agency laws in Delaware and is required for transactions involving residential property of one (1) to four (4) dwelling units. The consumer must receive this statement upon the first scheduled meeting, property showing, or purchase offer, whichever is earlier.
Download: PDF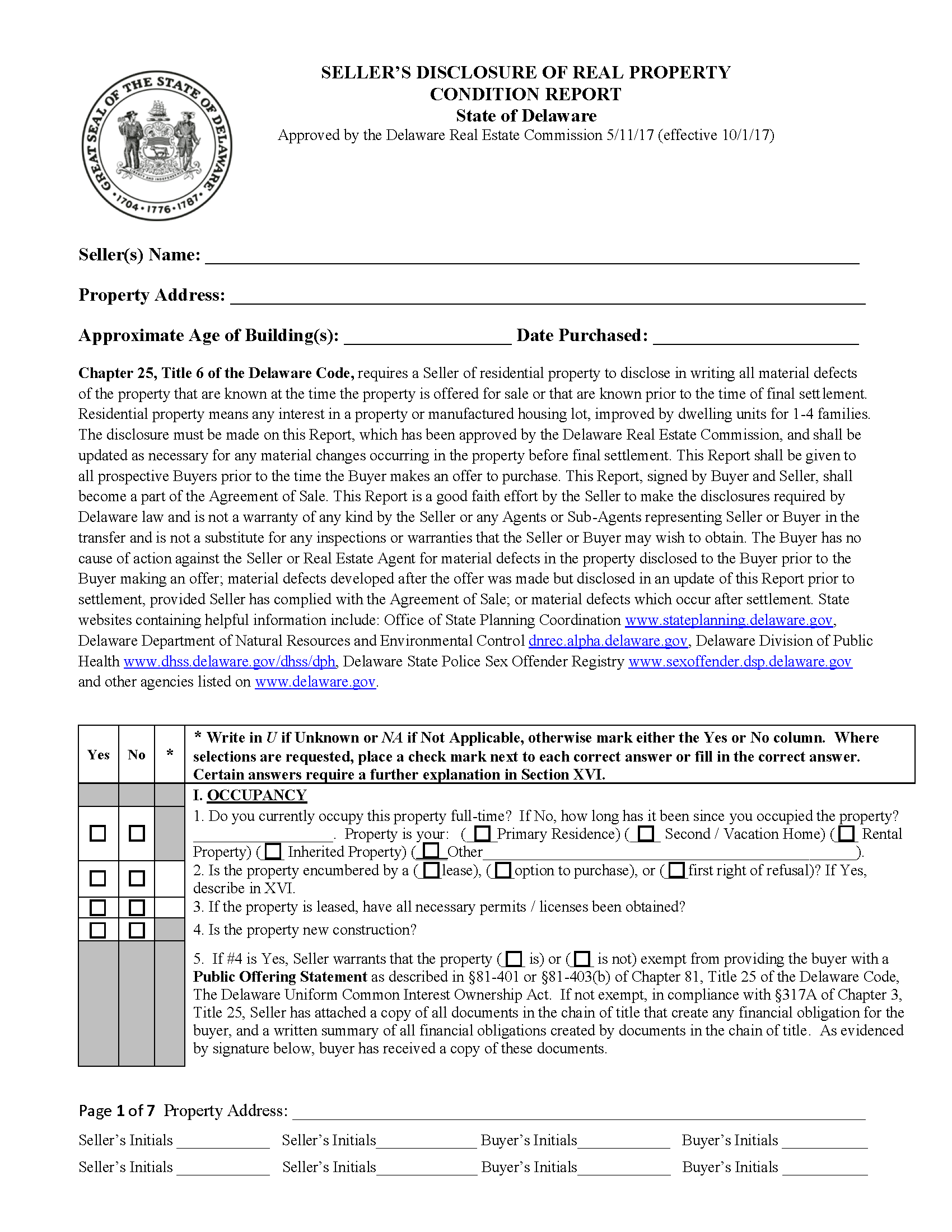 Property Disclosure Statement (§ 2572) – Material property defects known to the seller must be disclosed in writing to any buyer, agent, or subagent. This rule applies to residential properties with one (1) to four (4) dwelling units, excluding those listed in § 2577. If the real estate was recently built, the New Construction version must be used instead.
Download: PDF