---
Updated on November 3rd, 2021

An Idaho real estate listing agreement is used to grant a licensed broker the authority to advertise and sell property on behalf of an owner. The broker's ability to market the sale is dependant on the permissions granted in the contract. In most arrangements, the broker is allowed to publish information online, post ads in newspapers and flyers, host open houses, and arrange private viewings. Compensation for the broker's listing services is furnished in the form of a commission rate (%) or a flat fee ($).

To ensure compliance with Idaho statutes, the agreement must contain a property description, beginning and expiration dates, pricing terms, the broker's compensation, and the seller's signature with the date of signing.
Laws – § 54-2050(1)
Dual Agency (§ 54-2088) – Real estate agents may simultaneously represent the buyer and seller in a transaction if they obtain written consent from all clients involved.
Purchase Agreement – Completed by a prospective buyer to specify the terms of an offer to purchase residential property.
Realtor Version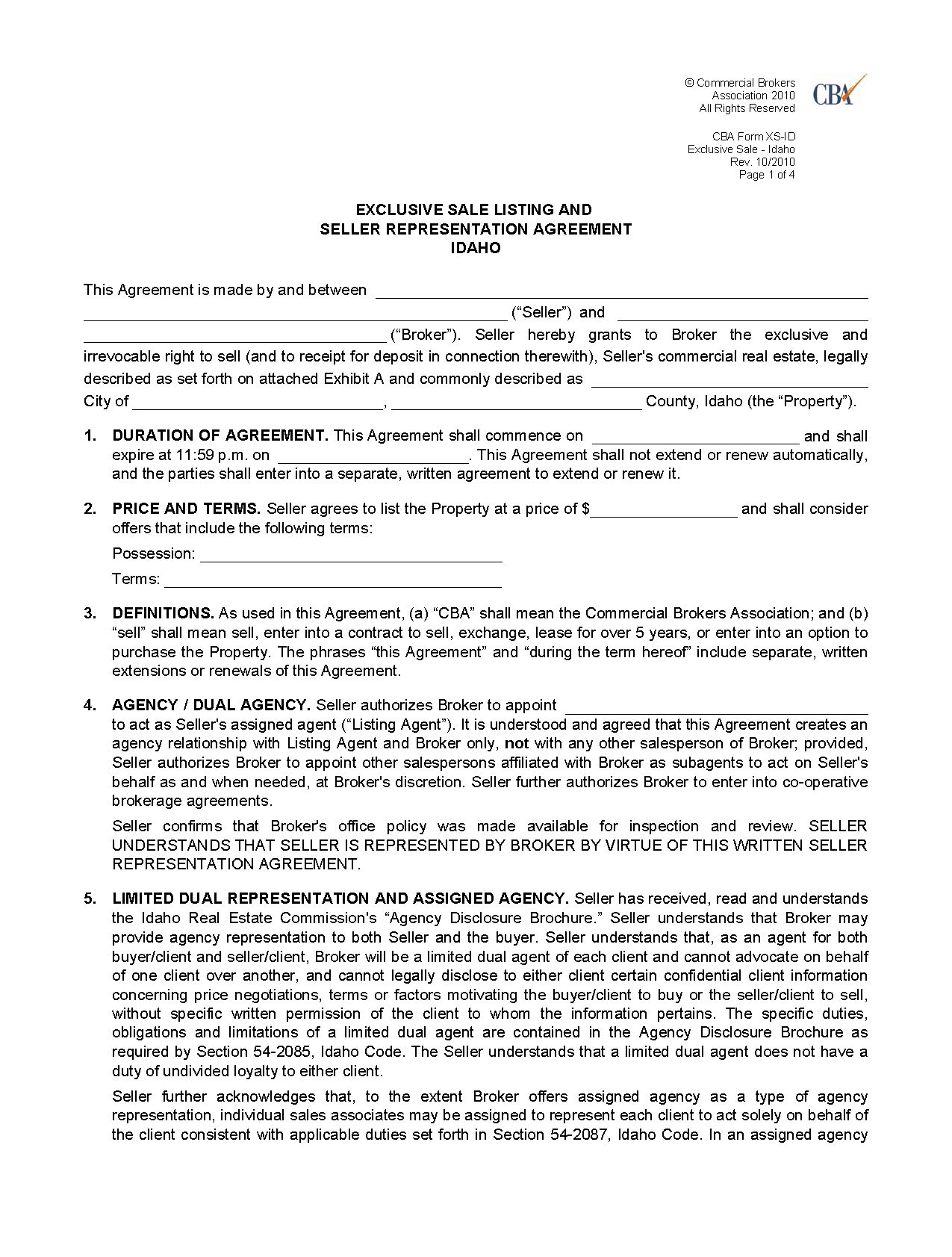 Idaho Exclusive Listing Agreement (Commercial Property) – A listing agreement designed by the Commercial Brokers Association of Idaho. With this contract, a broker receives the exclusive right to negotiate and sell commercial real estate.
Download: PDF
---
Disclosures / Waivers (4)
Informs potential clients of the different agency relationships available in Idaho. Property sellers must sign this disclosure at the first substantial business meeting with a licensed agent.
Before an agent is legally allowed to serve as a limited dual agent in a real estate transaction, each client taking part will need to sign a dual agency consent form.
3) Multiple Transaction Fee Disclosure
A real estate broker or salesperson who charges or accepts compensation from multiple parties in a transaction must disclose this fact to each party in writing. There is no standardized disclosure form; however, the Idaho Real Estate Commission deems the following disclosure statement acceptable:
"In this transaction, this brokerage will be receiving compensation in the form of a commission and/or transaction fee from both the Buyer and the Seller."
The above-stated disclosure should contain the parties' initials or signatures and the date of signing.
4) Property Disclosure Statement
Filled out by a property seller to specify issues affecting the condition of their home. If selling residential property of one (1) to four (4) units, this disclosure must be given to the buyer no more than ten (10) days after the acceptance of a purchase offer.