A Minnesota real estate listing agreement is an agreement that enables an agency to represent a property owner in listing and selling their real estate. While real estate agents are expected to provide their insight on how they can best serve the seller's needs, the seller can use the agreement to detail to marketing approach and the purchase price of the home.
As this agreement form enters both parties into a legally binding arrangement, it is consequential for the seller to elect an agent they believe will strive for the highest sale price, be well-informed of the current real estate market, and negotiate the transaction effectively. Upon the signing of both parties, the agreement will go into effect until the expiration date established on the form or until the property is transferred to a new owner.
Dual Agency (§ 82.67 Subdivision 3 III) – A dual agency is only allowed if both parties consent to the arrangement and provide their signatures on a written agreement.
Purchase Agreement – This form binds the purchaser and seller of a residential property to the terms and conditions of a real estate transaction.
Realtor Version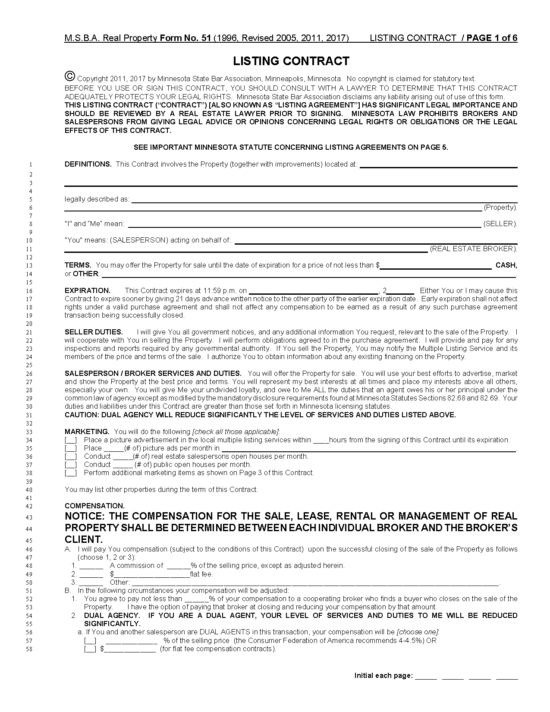 Minnesota Listing Contract Form No. 51 – This form provided by the Minnesota State Bar Association authorizes a real estate broker to list their client's property and represent them in real estate negotiations.
Download: PDF
---
Disclosures / Waivers (3)
To comply with Minnesota law, during the first significant contact between a real estate broker and a home seller, the broker must deliver the statutory disclosure form provided in § 82.67 Subdivision 3. The form's purpose is to inform the seller of the different types of representation options, and which of those representations may best suit the seller's needs.
A dual agency is when a real estate broker represents both the buyer and seller of a real estate transaction. When representing multiple clients, the broker cannot exclusively prioritize the interests of one party or another, and confidential information regarding their representees must be kept confidential unless the agent is instructed to relay it to the other party.
Before entering into a purchase agreement with a buyer, Minnesota home sellers must record and disclose the condition of a property, along with any defects or information concerning the property that may affect the buyer's decision. If an agent is representing the seller, the agent may deliver the disclosure to the buyer on the seller's behalf.