A Missouri real estate listing agreement allows a homeowner to enter into a contract with a real estate agent granting the agent the authority to sell their property. Via the listing agreement, one (1) of three (3) agency options may be applied, each granting certain exclusivity with regard to listing the property.
A commission incentive is included in all arrangements, although the conditions and commission amount vary on the agent's rights and whether or not the fee is a fixed rate or a portion of the final sale amount. Note that the agent must provide the owner the "Broker Disclosure" during their first meeting and discuss the type of agency that best suits the owner's needs.
Laws – § 339.820
Dual Agency (§ 339.750) – A real estate agent may represent a buyer and seller if written consent from both parties is presented.
Purchase Agreement – This form binds the purchaser and seller of a residential property to the terms and conditions of a real estate transaction.
Realtor Version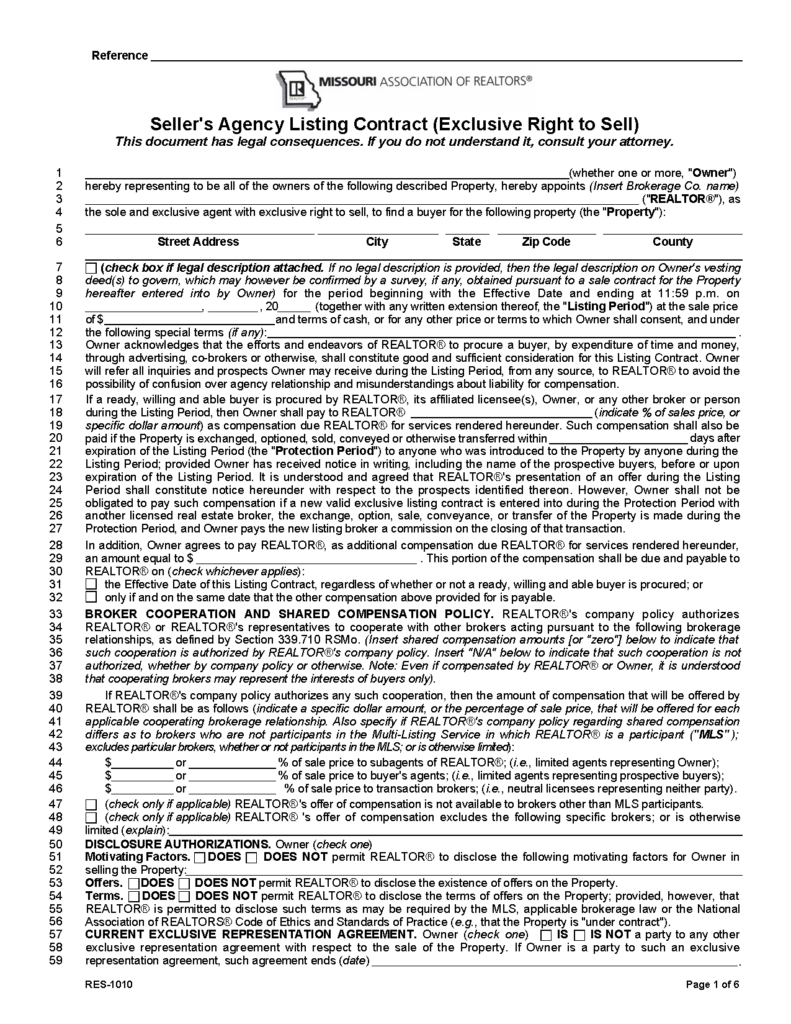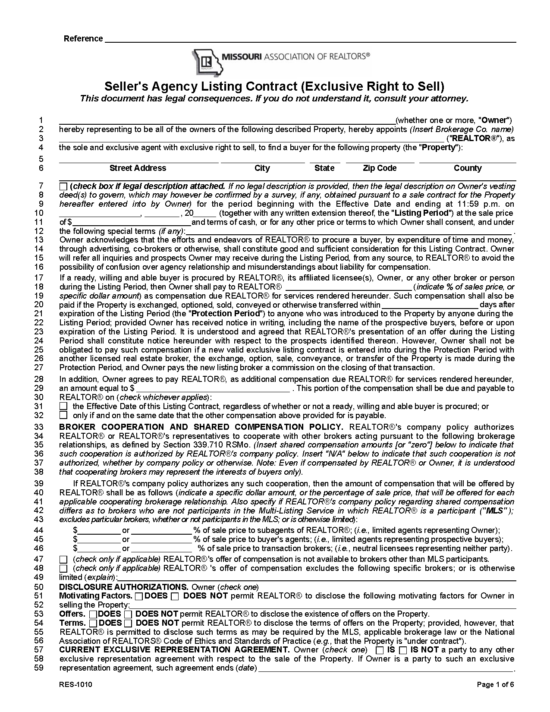 Missouri Seller's Agency Listing Contract – This form grants exclusive selling rights to a real estate agent enrolled with the Missouri Association of Realtors, allowing them to act on their client's behalf in the listing and selling their property.
Download: PDF
---
Disclosures / Waivers (3)
Missouri law requires real estate agents to immediately provide this disclosure form to potential clients during their first arranged contact. The form lists the agency options and describes the corresponding obligations so that the client may select the best representation option for their situation.
Dual agency representation is permitted in Missouri on the condition that the agent receives written consent from both parties involved in the transaction. In this arrangement, the agent may relay non-confidential information between the buyer and seller, not including the provisions listed under § 339.750(4).
3) Property Disclosure Statement 
Although not required by state law, sellers may choose to complete a property disclosure statement to inform potential buyers of the property's condition prior to sale. The disclosure is not intended to be a warranty of the property's condition, and the buyer is ultimately responsible for a thorough assessment of the home before entering into any purchase agreement.