A Pennsylvania real estate listing agreement gives a real estate agent the right to list, market, and sell residential property for a homeowner. This agreement outlines the listing price, the approved marketing methods the agent may use, and the commission the agent shall receive upon the successful sale of the property.
If the property is not sold within the agreement period set forth in this document, the agreement terms will expire unless the seller chooses to grant the broker an extension. However, if the property is sold to a suitable buyer, the agent will receive the agreed-upon commission once the transfer of ownership takes place.
Laws – 49 Pa. Code § 35-332
Dual Agency (49 Pa. Code § 35.314) – The state of Pennsylvania allows for a dual agency relationship for a licensee to represent both buyer and seller.
Purchase Agreement – Once a buyer and seller agree to the terms for the sale of property, this agreement may be used to set the terms for the transfer of ownership.
Realtor Version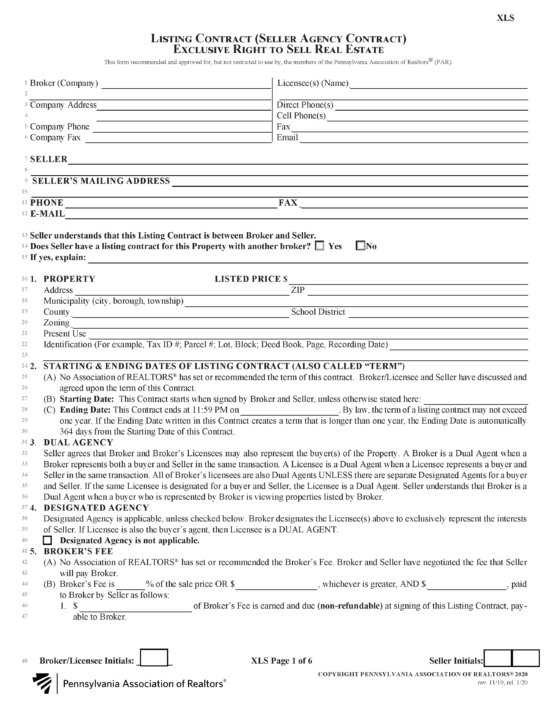 Pennsylvania Listing Contract Exclusive Right to Sell Real Estate – This contract may be used by licensees to set the terms and conditions for listing their clients' residential property.
Download: PDF
---
Disclosures / Waivers (3)
This form detailing the responsibilities and duties of the agency and its brokers must be given to potential clients at the first contact.
A licensee may only represent both the buyer and seller of a property in a real estate transaction if written consent is given by both parties.
3) Property Disclosure Statement
The property condition as well as any known defects must be relayed to all potential buyers prior to the transfer of ownership.