---
Updated on October 24th, 2021

An Iowa LLC operating agreement brings the members of a newly formed limited liability company into agreement regarding the company's operating procedures and internal structuring. The document defines the founding members' relationship to the company, their respective ownership percentages, and the regulations that will govern their LLC going forward.

LLCs are not required by law to draft an operating agreement; nevertheless, executing the document establishes an important foundation and administrative guideline for the organization, and without one, the limited liability status of the company may be less defined in the eyes of the IRS and Iowa Department of Revenue.
Types (2)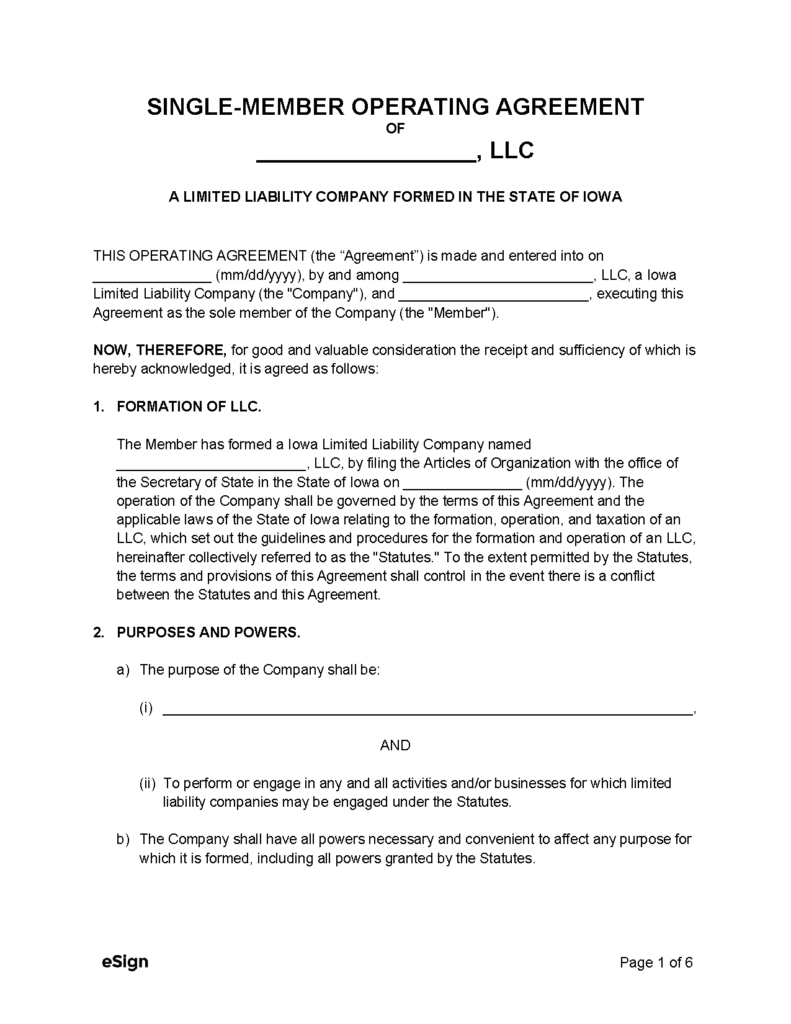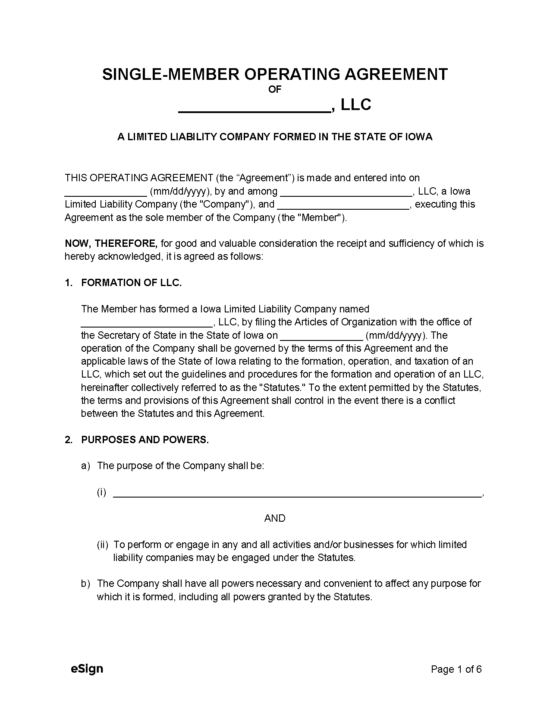 Single-Member – This form is used when founding LLCs comprised of a sole owner.
Download: PDF, Word (.docx), OpenDocument
---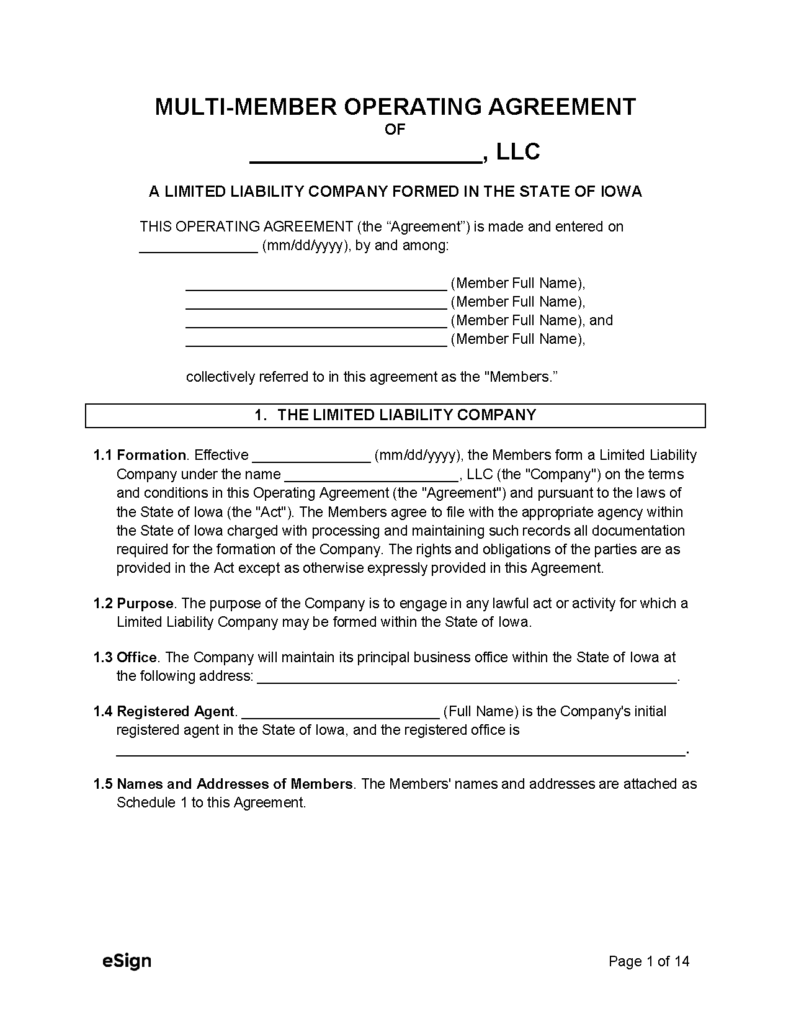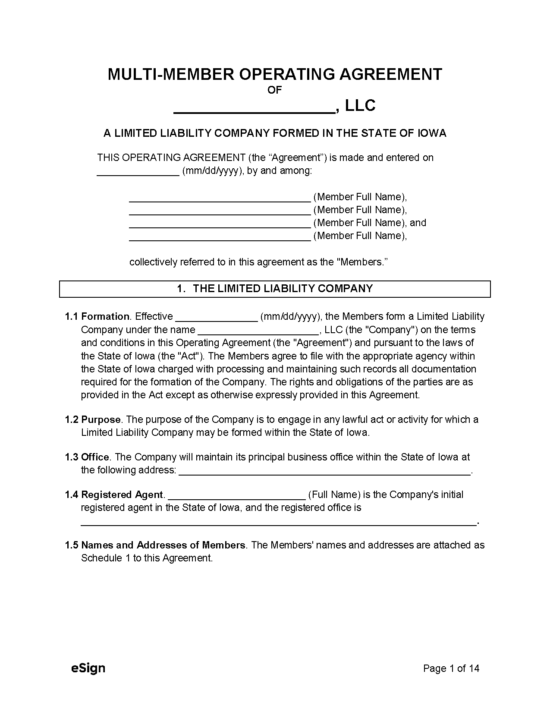 Multi-Member – Used to enter multiple members into an LLC operating agreement.
Download: PDF, Word (.docx), OpenDocument
---
Laws
---
How to File (4 Steps)
---
Step 1 – Naming the LLC
LLCs are required to operate with a name that is not shared by another entity in Iowa. To test name availability, the online Secretary of State database can be researched here.
Iowa LLC names must comply with the following statute to be accepted by the SOS: § 489.108 Name.
Note on LLC Name Reservations
A company may reserve a name's use for a one hundred and twenty (120) day period by:
 Completing the Application for Reservation of Name;
Enclosing a $10 filing fee paid by check made to SECRETARY OF STATE; and
Mailing the application and payment to: Business Services Division, Lucas Building, 1st Floor, Des Moines, Iowa 50319.
---
Step 2 – Filing with the Secretary of State
Filing with the Secretary of State authorizes a limited liability company to begin its business operations as a legal entity.
Domestic LLCs must draft a Certificate of Organization that complies with §489.201 (no gov-issued form available). Foreign LLCs will require completing the Application for Certificate of Authority (Form 635 0010).
Forms may be submitted online on the SOS website or mailed to: First Floor, Lucas Building, 321 E. 12th St. Des Moines, IA 50319.
The filing fee of $50 for domestic LLCs or $100 for foreign LLCs can be submitted at the end of the online application or by check enclosed with the mailed filing. Checks should be made payable to "SECRETARY OF STATE."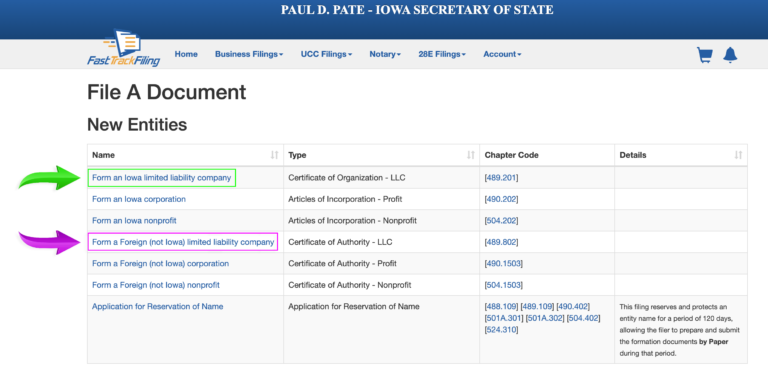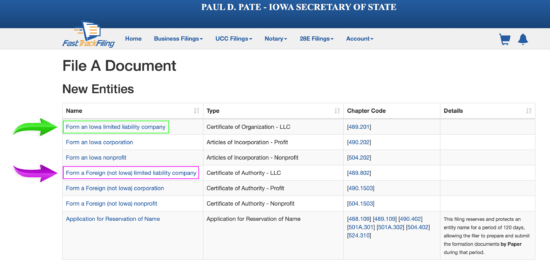 ---
Step 3 – Creating an Operating Agreement
Creating an operating agreement is not a legally required step in the formation of an LLC; however, the document allows the company to customize their structure and organization without defaulting to state law. The operating agreement can be drafted at any point during the filing process.
---
Step 4 – Applying for an EIN
The final step in forming an LLC is applying for an Employer Identification Number (EIN). An EIN is required for all multi-member LLCs and for single-member LLCs with employees or those who wish to be taxed as a corporation. The IRS website provides an online application form and does not charge a fee for filing.


A printable application (Form SS-4) may be used for those hesitant to submit info online. Instructions for mailed filings can be found here.
---
Resources
Filing Options: Online or by Mail
Costs:
Domestic filing fee: $50
Foreign filing fee: $100
Expedited filing (optional): $15 for 5 days / $50 for 2 days
Name reservation (domestic/foreign): $10
Forms:
Application for Reservation of Name (PDF)
Certificate of Organization
Application for Certificate of Authority (Form 635 0010) (PDF)
Links