An Idaho LLC operating agreement is used to bring the members of a newly registered business into accordance with the company's formation, policies, and obligations as members. By executing a record of the company's operations, members of an LLC avoid future disagreement or discrepancies as the document will attest to the exact nature of how the company will be administered. The various aspects of an LLC, such as the ownership percentage per member, capital contributions, and bookkeeping procedures are stated on the form for facile management and advancement of the company. The form may also be completed by an individual as the sole proprietor of the organization.
Types (2)
Single-Member – Allows an individual to complete an operating agreement for their LLC.
Download: PDF, Word (.docx), OpenDocument
---
Multi-Member – This form binds members of an LLC to the specifics of how their company will operate.
Download: PDF, Word (.docx), OpenDocument
---
Laws
---
How to File (6 Steps)
Step 1 – Reserving the LLC's Name (Optional)

LLCs may reserve a name for a four (4) month period online for a fee of $20 or via a mailed filing for a $40 fee. A printable version for mailed filings can be found on the Idaho SOS website and should be sent to:
Office of the Secretary of State
450 N 4th Street, PO Box 83720 Boise, ID 83720-0080
Reserving a name is optional, and will otherwise be obtained when submitting the LLCs Certificate of Organization (Step 3).
The LLC must have a name distinct from other names registered in Idaho and contain "Limited Liability Company" or "Limited Company". Abbreviations such as "L.L.C.," "LLC," "L.C.," may also be accepted. To find an available name, the
Secretary of State database
may be used to search for businesses already registered.
---
Step 2 – Appointing an Agent
The LLC must appoint an agent who will receive service of process and legal notices on the company's behalf. An eligible agent may be an individual residing in Idaho, an entity located or authorized to operate in the state, or a member of the LLC. The agent must have a physical street address in Idaho, which will be recorded on the Certificate of Organization (next step).
---
Step 3 – Filing Certificate of Organization
Domestic LLC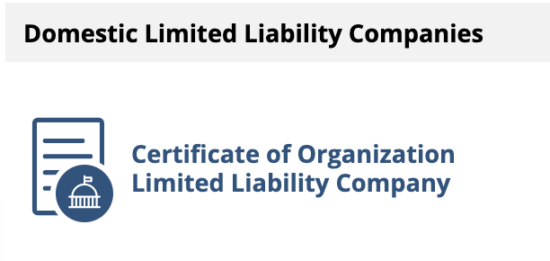 To register a domestic LLC as an entity in the state, a Certificate of Organization of Limited Liability Company must be filed online or printed and delivered via mail. Filings processed online require a $100 fee or $120 if the files are sent via postal service to address in the green window below.
Foreign LLC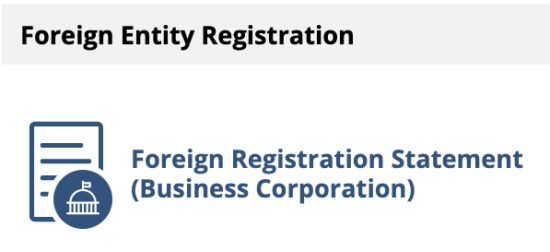 Existing LLCs that wish to expand to Idaho can register with the Secretary of State by completing the Foreign Registration Statement and submitting the $100 processing fee. Foreign LLCs must enclose an additional Certificate of Good Standing or a Certificate of Goodstanding when registering, which are obtained from the Secretary of State's office of the state in which the LLC was formed. For paper filings, a printable version of the Foreign Registration Statement can also be completed and delivered through postal service to the address below.
Mailing Address for Certificate of Organization of Limited Liabilty Company (Domestic / Foreign)
Mailed documents should be delivered to the following address along with an enclosed cheque made payable to the Idaho Secretary of State:
Office of the Secretary of State
450 N 4th Street
P.O. Box 83720
Boise, ID 83720-0080
For expedited filings, applicants must add an additional $40 to the filing fee, or an additional $100 for same-day service.
---
Step 4 – Completing an Operating Agreement
An operating agreement ensures all members of an LLC understand their duties as owners of the company and the framework of how the organization will operate. Completing an operating agreement is not mandated by state statutes, however, without an operating agreement, members will not have a legally binding record of the company's policies and regulations. To begin creating an operating agreement, select the "Create Document" icon on this page.
---
Step 5 – Creating an EIN
An EIN is required for LLCs of more than one owner, or for LLCs with a sole proprietor that intends to employ other individuals or file taxes as a corporation. This number can be obtained by completing the online application via the IRS website and does not require any processing fee.


---
Step 6 – Business Registration / Permits and Licenses
Businesses with employees or those involved in retail sales will need to register online in the Idaho Registration System for sales tax and insurance purposes. Alternatively, the registration may be completed by printing and submitting Form IBR-1 via mail to:
Idaho Business Registration
PO Box 36 Boise, ID 83722-0410
Certain businesses may require additional permits and licenses, which can be identified via the Idaho Business Wizard. If required, the company will need to contact the respective agencies and offices to acquire the needed permits or licenses.
Resources
Filing Options: Online or by Mail
Costs:
Domestic filing fee: $100 online; $120 by mail
Foreign filing fee: $100 online; $120 by mail
Expedited filing fee (optional): $40, ($100 for same-day filing)
Name reservation: $20 online; $40 by mail
Forms:
Filing Delivery Methods:
Mailing Address (for printed copies): Office of the Secretary of State, 450 N 4th Street, PO Box 83720, Boise ID 83720-0080
Additional Information/Assistance: