An Indiana LLC operating agreement describes the structure, procedures, and regulations adopted by the owner(s) of a newly founded limited liability company. The document allows members of the company to establish their role and duties, as well as acknowledge the various courses of action to be used in business transactions, management, and other company matters. Completing an operating agreement is not required by law when registering a new LLC, though it will aid considerably in avoiding internal disputes regarding the company's operations and decision-making.
Types (2)
Single-Member – Allows an individual to complete an operating agreement for their LLC.
Download: PDF, Word (.docx), OpenDocument
---
Multi-Member – This form binds members of an LLC to the specifics of how their company will operate.
Download: PDF, Word (.docx), OpenDocument
---
Laws
---
How to File (5 Steps)
---
Step 1 – Deciding the LLC's Name
The first action when creating a limited liability company is selecting a name not yet registered with the Secretary of State and that contains the phrase "limited liability company," or the abbreviation "L.C.C." or "LLC".
Existing businesses may be searched via the Indiana INbiz website as an initial check for name availabilities, although the availability of a selected name cannot be guaranteed until the LLC's articles of formation are submitted and processed.
Individuals may choose to submit an optional online application (see below) to reserve a name before registering their company. A $20 fee is required for name reservations and will grant exclusive rights to hold the name for up to one hundred and twenty (120) days.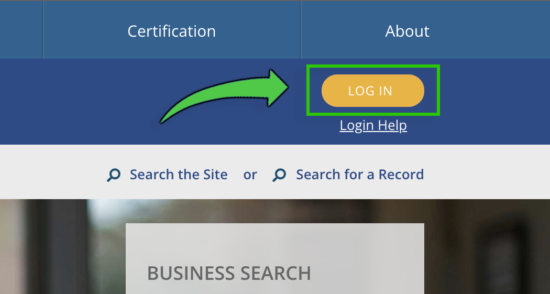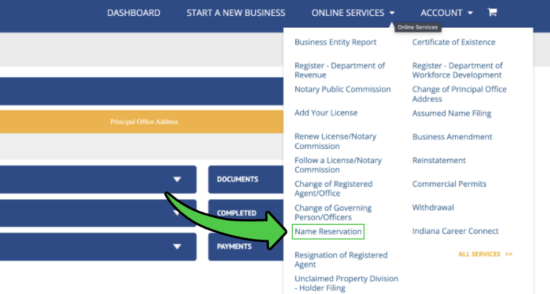 A Note on Creating Accounts
Users will need to create an account on the InBIZ website to access the name reservation application. The same account will be used to begin the LLC registration process and access InBIZ online resources.
---
Step 2 – Nominating an Agent
The LLC will require nominating an individual or legal entity to serve as a correspondent for its legal matters. The person or agency will be responsible for handling the company's service of processes, lawsuits, and other legal notices. In order to provide agency to the company, the nominated agent should have a physical address within Indiana, or if they are an entity, be approved to act as a legal agent in the state.
---
Step 3 – Submitting Articles of Organization / Foreign Registration Statement
Filing the Articles of Organization or Foreign Registration Statement is a key aspect in forming a limited liability company. Once the documents are received and processed by the Secretary of State, the company is established as a legal entity and may begin its business operations.
Domestic LLC
A domestic LLC is created by filing the Articles of Organization via the INbiz website or by completing and mailing a printed copy of the Articles of Organization (Form 49459 (R10 6-19)). Processing the application requires a $100 filing fee paid when submitting the electronic application or by enclosing a check or money order made payable to the Secretary of State for mailed applications. Mailed applications and payment should be delivered to: 302 West Washington Street, Room E-018, Indianapolis, IN 46204.
Foreign LLC
An LLC from another state may register as a foreign entity in Indiana by filing a Foreign Registration Statement (Form 56369 (R5 / 6-19)) along with a certificate of existence issued within sixty (60) days of filing. The certificate of existence can be obtained by contacting the Secretary of State from the state in which the company was established. Once the documents are gathered, they can be mailed with a check or money order of $125 made payable to the Secretary of State to: 302 West Washington Street, Room E-018, Indianapolis, IN 46204.
---
Step 4 – Preparing an Operating Agreement
An operating agreement presents an overview of an LLC's structure and how it will conduct its business operations. Preparing a written account of such items establishes the company's direction and provides members assurance that they are acknowledging the same policies and regulations. Entering into an operating agreement is an optional step when forming an LLC but it is greatly recommended as it provides security from dispute-related liabilities or other disagreements between members.
Single-Member Operating Agreements
Multi-Member Operating Agreements
---
Step 5 – Applying for an EIN
An EIN (Employer Identification Number) is required for companies to file taxes and be identified by the IRS. Multi-member LLCs are always required apply for an EIN, while single-member LLCs will only require an EIN if their business will have employees or if the owner opts to file their taxes as a corporation rather than a sole proprietorship.
The EIN application process is started by selecting Begin Application on the IRS website.

The IRS also provides a printable Application for Employer Identification Number (Form SS-4) for mailed or faxed filings. The printed form may be delivered via:
Fax: 855-641-6935
Mail: Internal Revenue Service Attn: EIN Operation Cincinnati, OH 45999
Additional information for EIN applications can be found here.
---
Resources
Filing Options: Online or by Mail
Costs:
Domestic filing fee: $100
Foreign filing fee: $125
Name reservation: $20
Forms:
Name reservation application (PDF)
Articles of Organization (Form 49459 (R10 6-19) (PDF)
Foreign Registration Statement (Form 56369 (R5 / 6-19) (PDF)
Filing Delivery Methods:
Mail: 302 West Washington Street, Room E-018, Indianapolis, IN 46204
Additional Links: