A Michigan LLC Operating Agreement is used by the founding members of a company to lay out company policies, structure, ownership hierarchy, and management. By forming a Limited Liability Company, business owners reduce their personal risk should the company face litigation, lawsuits, or company debts. Although not legally required by the state of Michigan, an operating agreement is advisable as it allows the owners to lay out the manner in which they prefer to run their business; without it, state law will govern the LLC business practices.
Types (2)
Single-Member – Companies with only one (1) owner may use this operating agreement.
Download: PDF, Word (.docx), OpenDocument
---
Multi-Member – If the company has two (2) owners or more, this form should be used.
Download: PDF, Word (.docx), OpenDocument
---
Laws
---
How to File (6 Steps)
---
Step 1 – Reserve the Entity's Name
Every LLC is required to register a name that is unique and is not registered to another company. Filers may use the Department of Licensing and Regulatory Affairs (LARA) Corporations Online Filing System to verify that their chosen name is unique.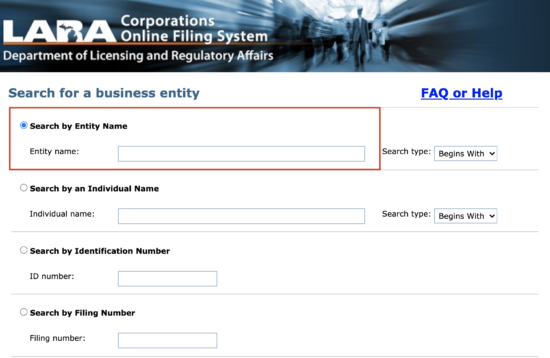 Once a unique name has been chosen, the name may be reserved for up to six (6) months, either online or by mail.
Expedited Applications:
LARA allows for the expedition of the name reservations for the following fees:
24-Hour Review: $50
Same-Day Review: $100
2-Hour Review: $500
1-Hour Review: $1000
Mail-in applications that wish for expedition must also include an Expedited Service Request Form.
---
Step 2 – Select a Registered Agent
A registered agent must be appointed in order to receive legal documents, notices, and demands on behalf of the LLC. The selected agent must be either:
A legal Michigan resident
A Michigan corporation
A Michigan LLC
A foreign LLC authorized to do business in the state
a foreign corporation with a certificate of authority to transact business in Michigan
---
Step 3 – Filing Articles of Organization
Filing Articles of Organization sets the foundation for every LLC. The form can be filled out digitally and submitted online or filed by mail.
Method 1 – File Online
Domestic Companies
Head over to the LARA website and fill out the Articles of Organization Form, choose the rate of expedition (if any), and then click the review button.
Foreign Companies
Foreign Companies may file online by completing the Application for Certificate of Authority to Transact Business in Michigan Form.
Both domestic and foreign filings have a refundable fee of $50, with an option of expediting the process for additional fees.
Method 2 – Mail or In-Person
Domestic Companies
Domestic companies that wish to apply by mail may download and fill out the Articles of Organization Form.
If the LLC provides services by a dentist, osteopathic physician, surgeon, physician, surgeon, doctor of divinity or clergy, or an attorney-at-law, then use form BCS/CD 701 in lieu of the Articles of Organization Form.
Foreign Companies
Foreign entities may download and complete out the Application for Certificate of Authority Form.
Both domestic and foreign entities can file via:
Mail: Michigan Department of Licensing and Regulatory Affairs, Corporations, Securities & Commercial Licensing Bureau, Corporations Division, P.O. Box 30054, Lansing, MI 48909
In-Person: 2407 N Grand River Ave, Lansing, MI 48906
In either case, a $50 non-refundable fee is required and should be made out to the State of Michigan and include the corporation name and identification number.
---
Step 4 – Create an Operating Agreement
The state of Michigan does not require an operating agreement to be created; however, it is recommended as it allows for the company's owners to limit their personal liability and have more control over the governance of their company. It outlines each owner's role, membership stake, and responsibilities. It also details what happens in the event the owners decide to dissolve the company.
Single-Member Operating Agreement
Multi-Member Operating Agreement
---
Step 5 – Obtain an EIN
Almost every LLC will require an Employer Identification Number (EIN). This is necessary for every LLC with two or more members or if the LLC wishes to pay employees. This may be obtained via the IRS Online Application or by submitting Form SS-4 by mail.
---
 Step 6 – File Annual Statement
If an LLC is formed before October 1, it must file an annual statement with the Department of Licensing and Regulatory Affairs by February 15th after the year of formation. If the LLC was formed October 1st or later, it need not file a statement by February 15th. The Department will send a document to the registered office of the LLC no later than ninety (90) days before the statement due date.
The report can be filed online or by mail for a fee of $25.
---