A New York LLC operating agreement is a document that the founding members of a company use to establish the framework of their company's rules, regulations, operations, and ownership. Provisions of the agreement may limit the liability of its members for breach of duty unless they do so in bad faith or knowing violation of the law (§ 417(a)).
Unlike many other states, LLCs in New York are legally required create an operating agreement that must become effective within ninety (90) days of the company's foundation (§ 417(c)). Furthermore, state law also requires that an operating agreement cannot become effective before the filing date of the Articles of Organization to form the LLC.
Types (2)
Single-Member LLC Operating Agreement – If the company has one (1) sole owner, they can use this simplified form.
Download: PDF, Word (.docx), OpenDocument
---
Multi-Member LLC Operating Agreement – For use by companies that have more than one (1) member.
Download: PDF, Word (.docx), OpenDocument
---
Laws
---
How to File
Step 1 – Choose a Unique Entity Name
Before forming an LLC, the company members will be required to choose a unique name that has not been registered by another company. The Business Entity Database provided by the Division of Corporations can be used to search for any existing entity names that contain the chosen name. If the name is already taken, another one will need to be selected and verified.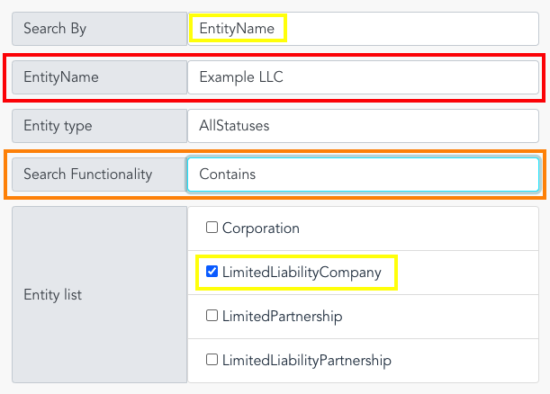 The Division of Corporations also accepts name availability requests by mail at the address below for a $5 fee.
New York State Department of State
Division of Corporations
One Commerce Plaza, 99 Washington Avenue
Albany, NY 12231
An LLC name can be reserved for a sixty (60) day period to ensure that it doesn't become unavailable before the company is registered. To reserve the name, the company will need to complete an Application for Reservation of Name and file it with the Division of Corporations for a $20 fee.
---
Step 2 – File Articles of Organization
The New York Department of State allows LLCs to be filed online through the New York Business Express portal for which entities must register an NY.gov account to gain access. Registration can also be accomplished by completing and filing the Articles of Organization (DOS 1336) with the Division of Corporations and paying the $200 filing fee.
Foreign LLCs will need to file a different form, the Application for Authority, and pay a $250 fee.
---
Step 3 – Create Operating Agreement
State law requires LLCs to execute an operating agreement within ninety (90) days of filing the Articles of Organization. The document will relay the rules and regulations of the company, as well as the ownership, rights, and responsibilities of its members.
Single-Member LLC Operating Agreement
Multi-Member LLC Operating Agreement
---
Step 4 – Publish Articles of Organization
State law requires newly-founded LLCs to publish their Articles of Organization in the county in which their office is located. The articles must be submitted to the county clerk who will select two (2) newspapers to publish notice of the LLC's creation for six (6) consecutive weeks. Publication fees vary.
Once the publication requirement has been fulfilled, the newspapers will provide affidavits of publication that the LLC must file with the Department of State along with a Certificate of Publication and payment of a $50 filing fee.
Certificate of Publication Requirement:
If the Certificate of Publication is not filed with the Department of State within one-hundred twenty (120) days of the LLC's approval, the company will have its authority to conduct and transact business suspended.
---
Step 5 – Request an Employer ID Number (EIN)
All multi-member LLCs are required to acquire an EIN from the IRS. This number identifies the company for federal tax purposes, and must be obtained even if the company has no employees. There is no application fee. Applications can be completed through the Application for an EIN Online webpage.
---
Resources
Filing Options: Online / By Mail (see address below)
New York State Department of State
Division of Corporations
One Commerce Plaza, 99 Washington Avenue
Albany, NY 12231
Costs:
Domestic filing fee: $200
Foreign filing fee (Application for Authority): $250
Certificate of Publication: $50
Name reservation: $20
Name availability: $5
Expedited handling fee (optional): $25-$150
Forms:
Links: