A Wisconsin LLC operating agreement is a legal contract drafted by the members of a limited liability company to define the roles of members/managers, the structure and nature of the business, and the distribution of assets. In Wisconsin, as long as the Articles of Organization are filed, the LLC is an officially registered company and an operating agreement isn't legally required to operate as a business entity in Wisconsin. Executing this agreement, while not obligatory, helps to prevent internal conflicts as well as legal disputes with outside parties.
Types (2)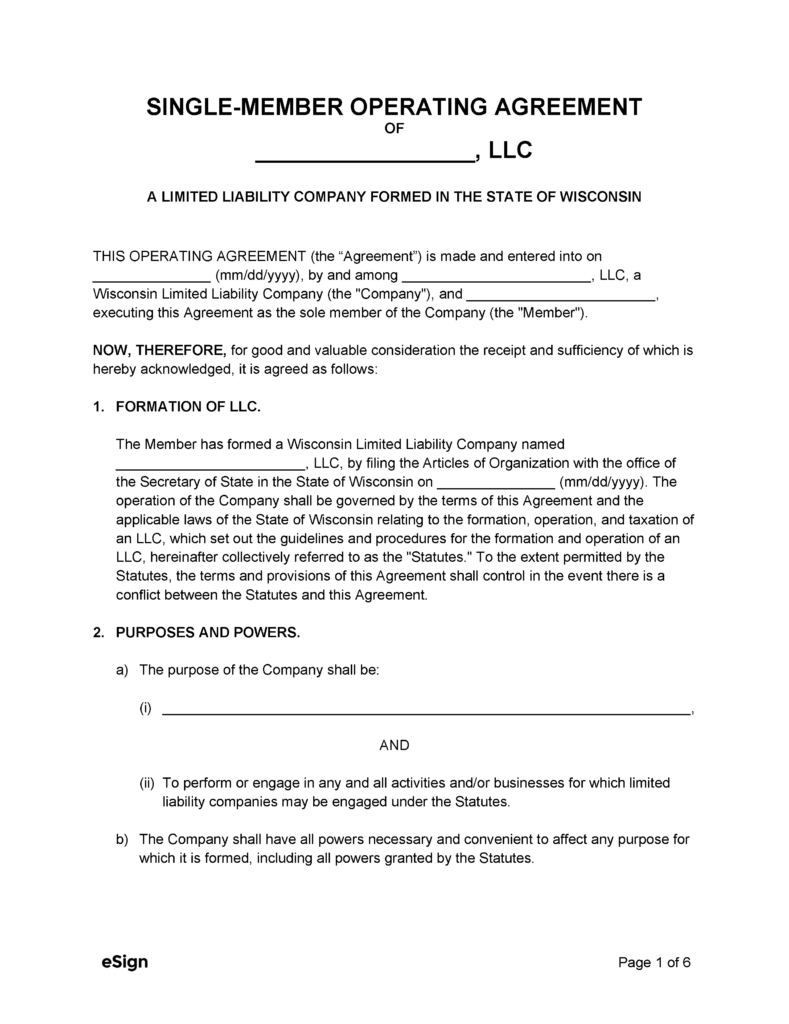 Single-Member LLC Operating Agreement – This contract is used by a limited liability company with only one (1) member.
Download: PDF, Word (.docx), OpenDocument
---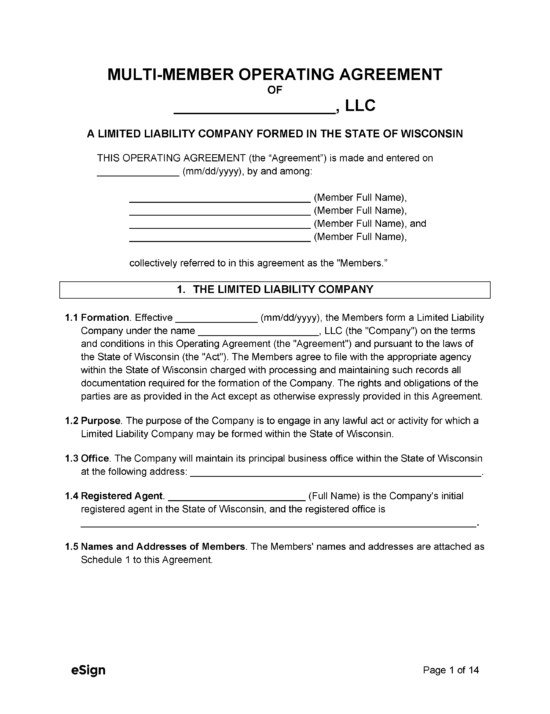 Multi-Member LLC Operating Agreement – An agreement used to outline the governance of a limited liability company of which there are at least two (2) members.
Download: PDF, Word (.docx), OpenDocument
---
Laws
---
How to File (5 Steps)
Step 1 – Company Name
A unique name must be chosen for a limited liability company in order to file the Articles of Organization.
To check whether or not a name is original, a name availability search can be performed using the Wisconsin Department of Financial Institutions Search Corporate Records webpage.
In addition to being unique, the LLC name must contain the words "limited liability company," "limited liability co.," L.L.C.," or "LLC," in addition to any other legal requirements set forth in § 183.0103.
Note on Name Reservations:
Prior to filing the Articles of Organization, the members of an LLC can reserve a chosen name (as long as it is not currently registered in the database) for one hundred and twenty (120) days. A Name Reservation Application can be completed and filed with the Department of Financial Institutions (DFI) by mail to: State of WI – Dept. of Financial Institutions, Box 93348, Milwaukee, WI, 53293-0348.
A $15 filing fee must be provided with the application form (plus an additional $25 if expedited service is requested).
---
Step 2 – Registered Agent
Registered agents are individuals or entities appointed by companies to receive tax forms, service of process, and other legal documents on the entity's behalf.
A registered agent may be a member, manager, or other person affiliated with the company, or it can be a hired attorney or professional registered agent service.
The agent must reside/be authorized to conduct business in the state, and their business office must be named as the registered office of the LLC on the Articles of Organization.
---
Step 3 – Articles of Organization
The Articles of Organization (Form 502) is the form used to register a domestic LLC in Wisconsin. Foreign LLCs will need to complete an Application for Certificate of Registration to conduct business in Wisconsin.
The registration documents for domestic and foreign LLCs can be filed online or by mail.
Online
Visit the Wisconsin Department of Financial Institutions website and select the appropriate entity type (Domestic Limited Liability Company or Foreign Limited Liability Company).
Once the application process has started, follow the steps and provide the necessary data.
A filing fee will be required at the end of the process. Domestic LLC registration costs $130 online; foreign LLC registration costs $100. Expedited service will cost an additional $25.
By Mail
Download the appropriate registration document and complete all applicable sections.
Attach the required, nonrefundable filing fee (domestic – $170, foreign – $100) and, if requested, the optional $25 expedited service fee.
The registration form and filing fee must be mailed to one of the following addresses:
Regular Mail
Department of Financial Institutions
PO Box 7846
Madison, WI 53707-7846
Courier, Express or Priority US Mail
Department of Financial Institutions
4822 Madison Yards Way, North Tower
Madison, WI 53705
Note on Certificate of Status:
Foreign LLCs must also file a Certificate of Status (known as a Certificate of Good Standing in most states) with their registration form. This certificate can be obtained from the LLCs original state of registration, usually for a small fee.
---
Step 4 – Operating Agreement
The operating agreement for the LLC can be created before, during, or after the business has been registered with the DFI.
While the agreement is a very important document for the entity, it does not need to be filed with the DFI like the Articles of Organization.
Single-Member Operating Agreement
Multi-Member Operating Agreement
---
Step 5 – Employer Identification Number
An Employer Identification Number (EIN) is a 9-digit number used by the IRS to keep track of tax filings from businesses in the country.
All LLCs, with some exceptions, will have to apply for an EIN.
An EIN can be obtained by visiting the IRS EIN Assistant webpage or by completing the Application for Employer Identification Number and sending it by mail to the following address:
Internal Revenue Service
ATTN: EIN Operation
Cincinnati, OH, 45999
---
Resources
Filing Options: Online or by Mail
Costs:
Domestic filing fee: $130 online | $170 by mail
Foreign filing fee: $100
Name reservation: $15
Expedited service: $25
Forms:
Links: