A West Virginia LLC operating agreement is a binding contract between the members of a limited liability company that governs the internal affairs of the entity. The agreement outlines terms such as ownership, type of management, financial structure, and the rights and responsibilities of the members and managers.
Drafting this document means that the members can establish their own rules for regulating the business operations so they aren't controlled by the rules set forth in the West Virginia statutes. Should an internal dispute arise or the LLC be exposed to a lawsuit, the operating agreement will help protect the members from personal liability.
Types (2)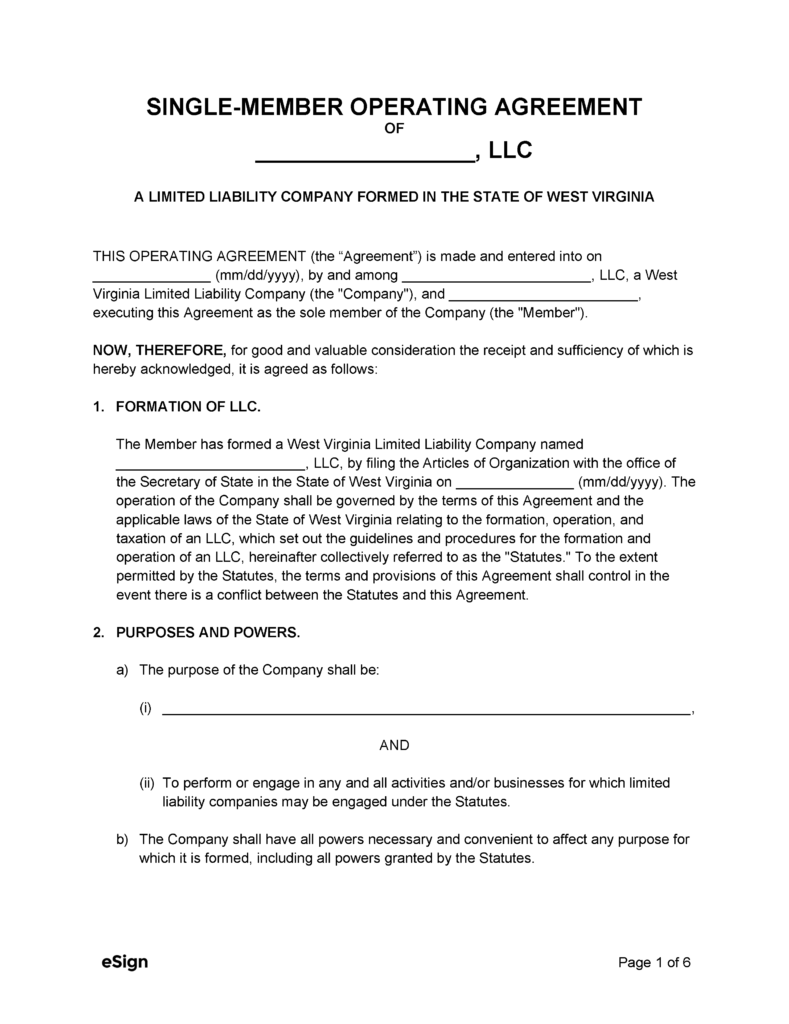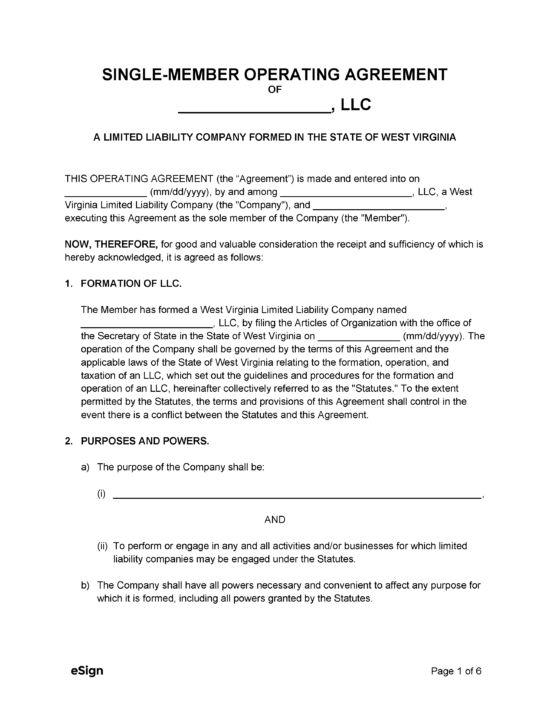 Single-Member LLC Operating Agreement – An operating agreement for a limited liability company with only one (1) member.
Download: PDF, Word (.docx), OpenDocument
---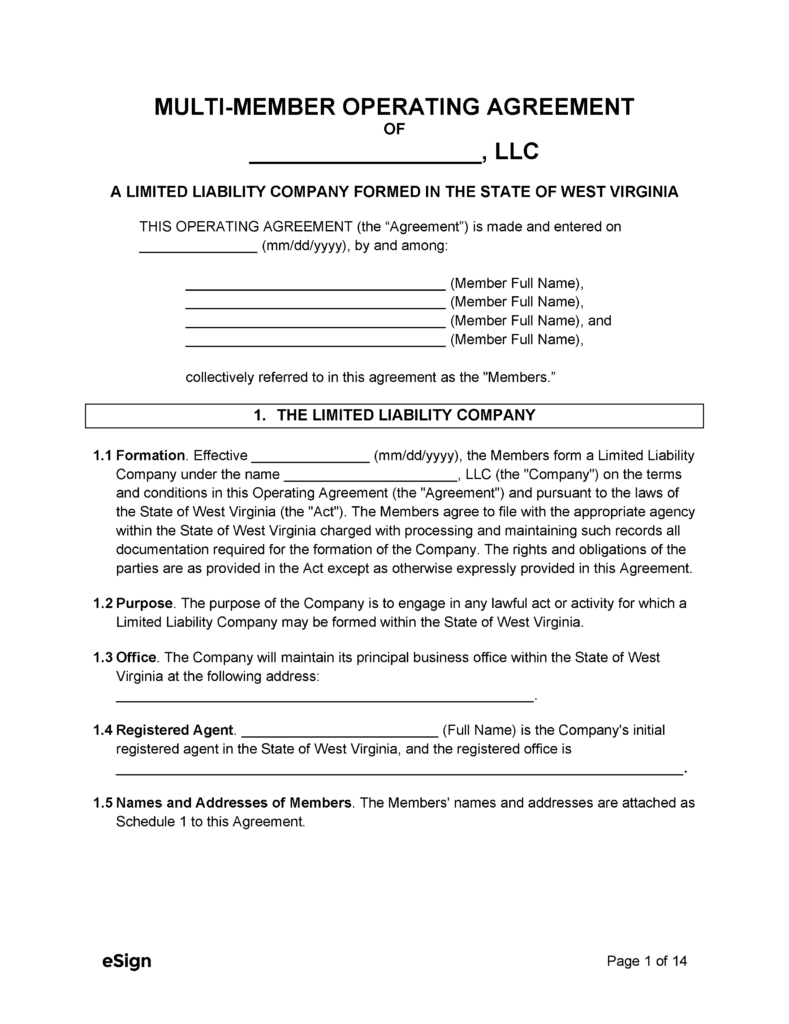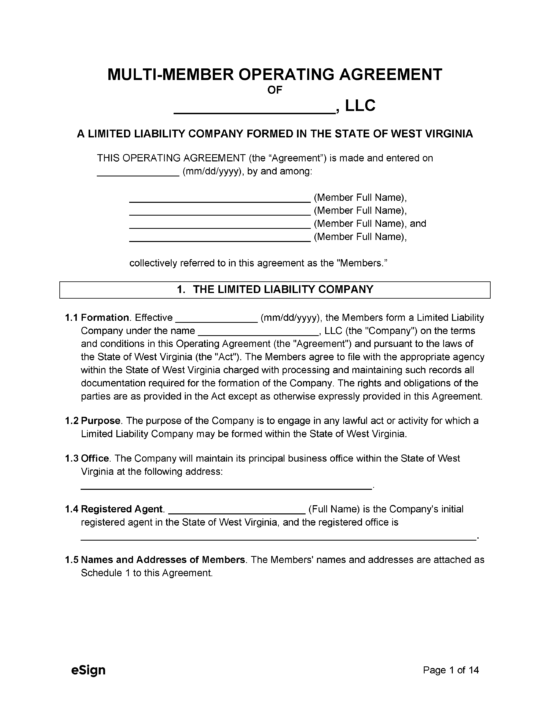 Multi-Member LLC Operating Agreement – An operating agreement that is executed by a multi-member limited liability company.
Download: PDF, Word (.docx), OpenDocument
---
Laws
---
How to File (6 Steps)
Step 1 – Name the LLC
Before a limited liability company can be formed, the members need to come up with a unique name for the entity.
Use the Secretary of State's Business Organization Search engine to see if the name is already in use by entering the organization name and clicking Search. If the name is not in use, the members can use it for their entity.


If necessary, the company can reserve a name for up to one hundred and twenty (120) days for a $15 fee by completing an Application For Name Reservation form. The application form (which includes the mandatory Customer Order Request form) must be sent to the Business & Licensing Division of the SOS (see filing instructions below).
Note on Filing:
Name reservation applications are to be emailed, faxed, or hand-delivered to one of the business service centers listed at the bottom of page 4 of the Application For Name Reservation. The filing fee, as mentioned above, is $15, and standard processing is free; expedited service will cost an additional $25 for 24-hour service, $250 for 2 hours, and $500 for 1 hour. Payment methods include check/money order, credit card, cash, or using a pre-paid account. The e-Payment Authorization form (page 7 of the document) must be completed if paying by credit card. Pages 2, 3, and 4 of the name reservation form include additional, detailed instructions.
---
Step 2 – Appoint a Registered Agent
A registered agent, or "agent for service of process," is appointed by limited liability companies to receive legal notices and demands on their behalf.
The agent can be a resident of West Virginia, or a business entity licensed to conduct business in the state.
While an LLC can name one of their members as the registered agent, many companies choose to hire a professional registered agent service for a relatively small annual fee.
---
Step 3 – File the Articles of Organization
To register a domestic LLC in the state of West Virginia, the entity must file the Articles of Organization with the Secretary of State.
For foreign entities, a Certificate of Authority must be filed along with a Certificate of Good Standing.
Both domestic and foreign LLCs can be registered online, or by mail, email, fax, or in-person.
Online
To register an LLC online, users will have to visit the SOS One Stop Business Portal and click Create a User Account.
Personal information is requested in order to create a business account. Once the information is entered, click Register.
Foreign (out-of-state) LLCs need to submit a Certificate of Good Standing when filing their business in the state. Visit the SOS foreign business registration page and select the appropriate home state from the dropdown menu (Obtain a Certificate of Good Standing from Home State) to obtain a certificate.
Users will be able to complete the appropriate registration forms online and pay the filing fee ($101 domestic, $151 foreign) by credit or prepaid account to finish the LLC filing process.
By Mail, In-Person, Email, or Fax
Download the required registration form:
Complete the registration form and the Customer Order Request form (page 7).
Foreign LLCs only: visit the SOS foreign business registration page and select the business's home state from the dropdown menu (Obtain a Certificate of Good Standing from Home State) and obtain a Certificate of Good Standing.
The filing fee is $100 for domestic, $150 for foreign. The optional expedited processing fees are $25 for 24 hours, $250 for 2 hours, or $500 for 1 hour. The fees can be paid by check, money order, cash, credit card, or prepaid account.
Registration forms and fees must be delivered using one of the following filing methods:

Email: Expedited – efilings@wvsos.gov | Standard – CorpFilings@wvsos.gov
By mail/in-person/fax:
Charleston Office
One-Stop Business Center 
1615 Washington Street East
Charleston, WV 25311
Fax: (304) 558-8381
Clarksburg Office
North Central WV Business Center
200 West Main Street
Clarksburg, WV 26301
Fax: (304) 627-2243
Martinsburg Office
Eastern Panhandle Business Center
229 E. Martin Street
Martinsburg, WV 25401
Fax: (304) 260-4360
---
Step 4 – Execute an Operating Agreement
While not legally required, the founding members of the LLC can draft an operating agreement to establish the rules of governance.
There is a different operating agreement template for single-member LLCs and multi-member LLCs:
Single-Member Operating Agreement
Multi-Member Operating Agreement
---
Step 5 – Apply for an EIN
An Employer Identification Number (EIN), or Federal Tax Identification Number (FTIN), is a 9-digit number assigned by the IRS to each business operating in the US (with a few exceptions).
LLCs that are required to obtain an EIN can do so for free online (IRS EIN Assistant) or by completing the Application for Employer Identification Number and sending it by mail (Internal Revenue Service, ATTN: EIN Operation, Cincinnati, OH, 45999).
---
Step 6 – Obtain Business Registration Certificate (If Applicable)
After forming the entity, most LLCs will also have to obtain a Business Registration Certificate from the West Virginia State Tax Department (exceptions are listed on page 4 of this business registration booklet).
Registration can be completed online (refer to step 3 of this page to learn how to create an account) or by mail.
To register by mail, download and complete the Application for Registration Certificate (Form WV BUS-APP). Attach the $30 filing fee (by check, money order, cash, credit card, or prepaid account) to the application form and mail it to the following address:
West Virginia State Tax Department 
Tax Account Administration Division
Registration & Account Correction Unit
PO Box 2666
Charleston, WV 25330-2666
---
Resources
Filing Options: Online, Mail, Email, or Fax
Costs:
Domestic filing fee: $100 (+ $1.00 per online filing)
Foreign filing fee: $150 (+ $1.00 per online filing)
Name reservation: $25
Expedited service: $25 (24 hours) | $250 (2 hours) | $500 (1 hour)
Application for Business Registration Certificate: $30
Forms:
Application For Name Reservation (PDF)
Application for Registration Certificate (Form WV BUS-APP)
Links: