An Illinois notary acknowledgment form is a written authentication from a notary that the signature on a document belongs to the signer. The form is also used to establish that the signer's identity has been verified by the notary and that they are aware of the document's contents prior to signing.
A notary public must renew their commission every four years (§ 2-101).
Is Online Notarization Legal in Illinois?
Yes, a notary public may notarize a document online in Illinois. SB2664 was passed and the law became effective January 1st, 2022.
Statute: § 6-102.5
Online Notarizations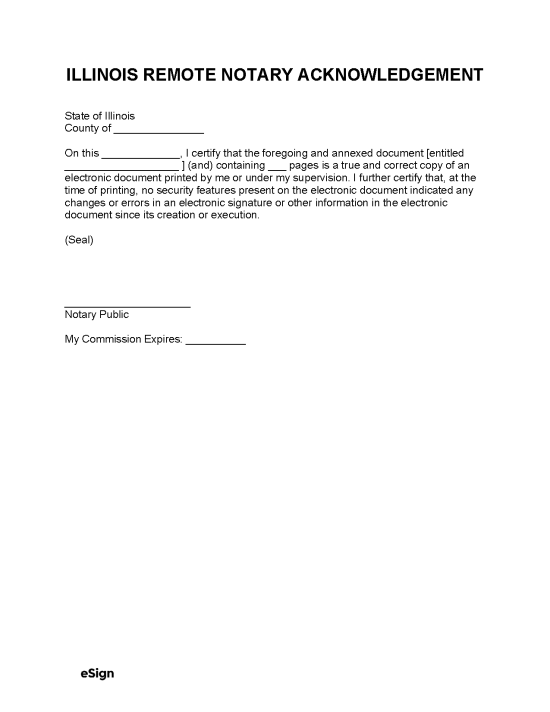 Illinois Remote Notary Acknowledgement Form – A legal form used to notarize a document remotely.
Download: PDF, Word (.docx), OpenDocument
---
Sample (Individual)
Download: PDF, Word (.docx), OpenDocument

ILLINOIS NOTARY ACKNOWLEDGMENT
State of [STATE]
County of [COUNTY]
This instrument was acknowledged before me on [MM/DD/YYYY] by [SIGNATORY NAME].
(Seal)
_____________________
Notary Public
My Commission Expires: [MM/DD/YYYY]
---
Resources