A New Hampshire notary acknowledgment is a form that certifies the authenticity of a signature. An individual needing their document notarized must physically appear before a notary to declare that the signature belongs to them and was willingly provided. Notaries can only provide their seal if the signer proves their identity (usually with a driver's license or other government ID card) or if the notary knows them personally.
A notary's term of office lasts 5 years from the date their commission was approved by the governor and executive council (§ 455:1).
Is Online Notarization Legal in New Hampshire?
Yes. New Hampshire updated its notarization laws with Senate Bill 134, effective February 6, 2022, permitting the remote notarization of documents using electronic communication devices.
Notaries must meet certain conditions before conducting online notarizations. More information on the subject can be found on the Secretary of State's website.
Statute: § 456-B:6-a
Online Notarizations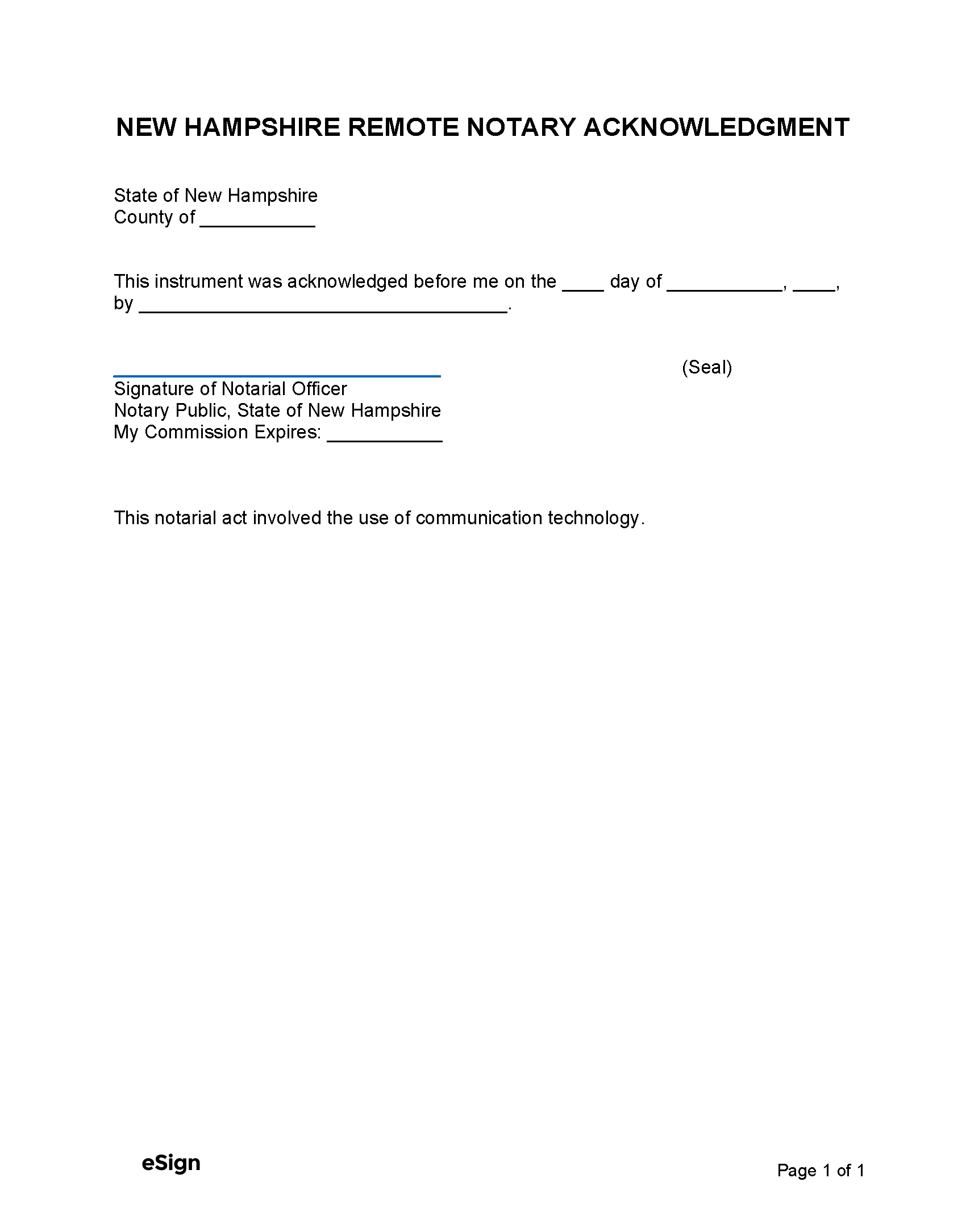 New Hampshire Remote Notary Acknowledgment Form – Used when a document signer acknowledges their signature remotely.
Download: PDF, Word (.docx), OpenDocument
---
Sample (Individual)
Download: PDF, Word (.docx), OpenDocument
NEW HAMPSHIRE NOTARY ACKNOWLEDGMENT
State of New Hampshire
County of [COUNTY]
This instrument was acknowledged before me on the [DAY] day of [MONTH], [YEAR], by [NAME OF SIGNER(S)].
________________________
Signature of Notarial Officer
Notary Public, State of New Hampshire
My Commission Expires: [MM/DD/YYYY]
(Seal)
---
Resources
Notary Public Search (License) – To look up a license, individuals must contact the Secretary of State office directly at (603) 271-3242.