A Pennsylvania notary acknowledgment is a form used by notaries public to authenticate an individual's identity and their signature on an important document. In addition to identity verification, the notary must ensure that the party signing is doing so willingly. The notarial officer must provide their name, the date, the county and state, and their official stamp in order for the acknowledgment to be valid.
In accordance with the Revised Uniform Law on Notarial Acts (RULONA), a notary public can hold office for a term of four years (§ 321(e)).
Is Online Notarization Legal in Pennsylvania?
 Yes, remote notarization became allowable with Act 97 on October 29, 2020. Online notarization acts may only occur if the notary can sufficiently verify the identity of the signing individual; usually via two types of government-issued identification, verification by a credible witness, or prior personal knowledge.
The notary must make an audio-visual recording of the act through an approved communication technology provider and keep the file for at least ten years.
Online Notarization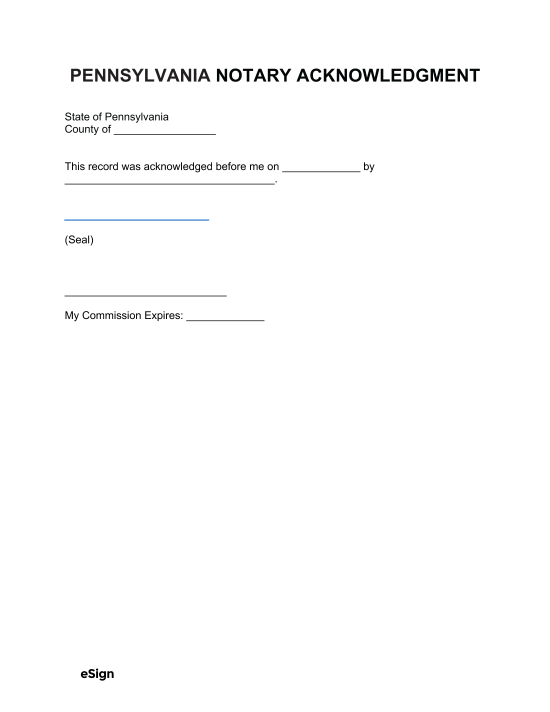 Pennsylvania Remote Notary Acknowledgment Form – Used by a notarial officer to remotely verify the identity of a signee.
Download: PDF, Word (.docx), OpenDocument
---
Sample (Individual)
Download: PDF, Word (.docx), OpenDocument

PENNSYLVANIA NOTARY ACKNOWLEDGMENT
State of Pennsylvania
County of [COUNTY])
This record was acknowledged before me on [MM/DD/YYYY] by [NAME OF SIGNER(S)].
_________________________
(Seal)
[TITLE OF OFFICE]
My Commission Expires: [MM/DD/YYYY]
---
Resources