The Illinois tax power of attorney (Form IL 2848) is a form that allows a taxpayer or business to elect a power of attorney to handle their tax matters. Through an IL 2848, a power of attorney can be granted the authority to represent the taxpayer in all tax matters with the Illinois Department of Revenue, or be limited to certain acts and periods indicated in the power of attorney document.
An IL 2848 form can also be used to modify or remove a previously established power of attorney. While it's usually attorneys and certified accountants that are chosen as powers of attorney, any individual can be selected to represent the taxpayer. If an individual who is not an attorney, a certified public accountant, or an enrolled agent is appointed as power of attorney, the taxpayer must execute the document in the presence of two witnesses or a notary public.
Signing Requirements – Taxpayer(s), Power(s) of Attorney, and Two (2) Witnesses or Notary Public (if applicable)
---
Related Forms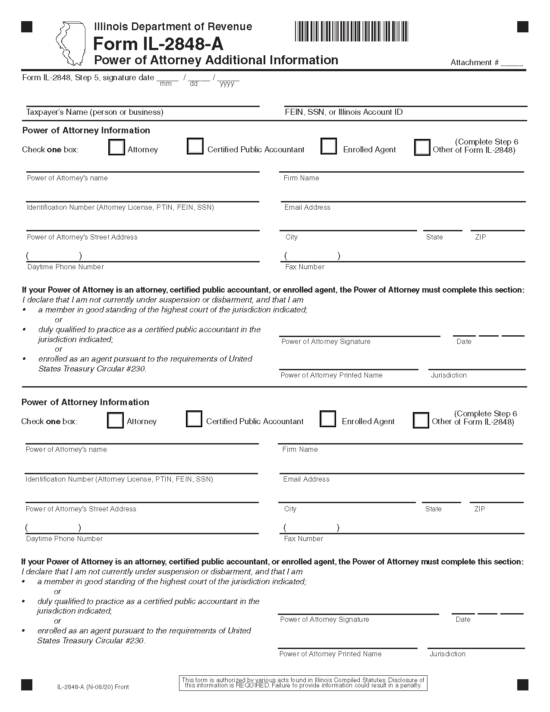 Illinois Tax Power of Attorney Additional Information (Form IL-2848-A) – To be completed and attached to Form IL-2848 when appointing more than one individual as a power of attorney.
Download: PDF