The South Carolina advance directive is used to appoint a health care agent and establish the types of medical treatments the principal will receive if they are incapacitated or terminally ill. An advance directive document contains a living will, known as a "Declaration of a Desire for a Natural Death," and a medical power of attorney.
By completing a living will, individuals can describe the end-of-life scenarios in which they'd prefer to receive or decline life-prolonging measures and treatments to relieve pain. Using the medical power of attorney, a health care agent may be selected to communicate the patient's medical choices once they've lost their mental capacity. A health care agent should be a trusted individual who is close to the principal and will make medical decisions based off their values and wishes.
Agent's Duties – § 62-5-509
Laws – Title 62, Article 5, Part 5 (South Carolina Statutory Health Care Power of Attorney Act) & Title 44, Chapter 77 (Death With Dignity Act)
Signing Requirements:
Statutory Form – § 62-5-504 & § 44-77-50
---
Related Forms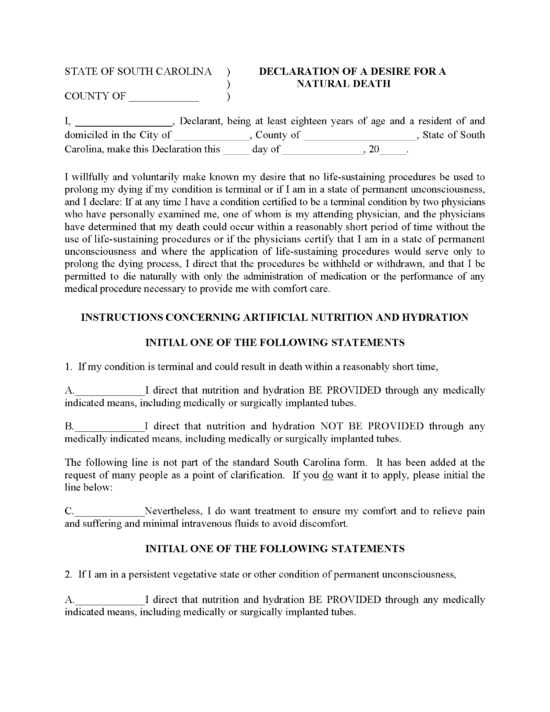 Living Will – Instructs physicians to administer, withhold, or withdraw life-prolonging treatments for a patient who is unable to communicate their own medical decisions.
Download: PDF
---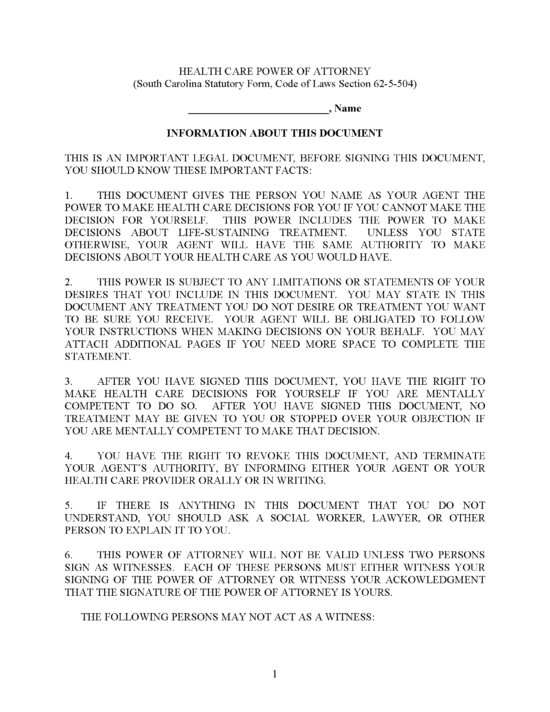 Medical Power of Attorney – This power of attorney allows a principal to designate a health care agent to direct their medical choices during their mental incapacity.
Download: PDF