A Vermont rental application is used to examine the credentials of lease applicants in order to determine whether they should be approved for a residential tenancy agreement. Prospective tenants who are interested in a rental space will often have to submit a rental application to state their employment history, banking details, current living situation, and the contact information of former landlords. The data collected in the application, in combination with any background checks conducted by the landlord, enables the landlord to lock down a suitable candidate for tenancy.
Maximum Fees ($)
Application Fee (§ 4456a and Chapter 1. Beginning a Tenancy – Renting in Vermont) – Landlords are prohibited from charging an application fee but can charge for the actual costs of a credit check.
Pet Fee (Chapter 4. Moving Out – Renting in Vermont) – No limit except in Barre where a landlord can charge no more than one (1) month's rent, and in Burlington where they can charge one-and-a-half (1.5) months' rent.
Security Deposit (Chapter 4. Moving Out – Renting in Vermont) – Landlords can charge as much as they want; however, a maximum of one (1) month's rent is imposed in Barre and Burlington.
Alternate Version
Vermont Housing Community Rental Application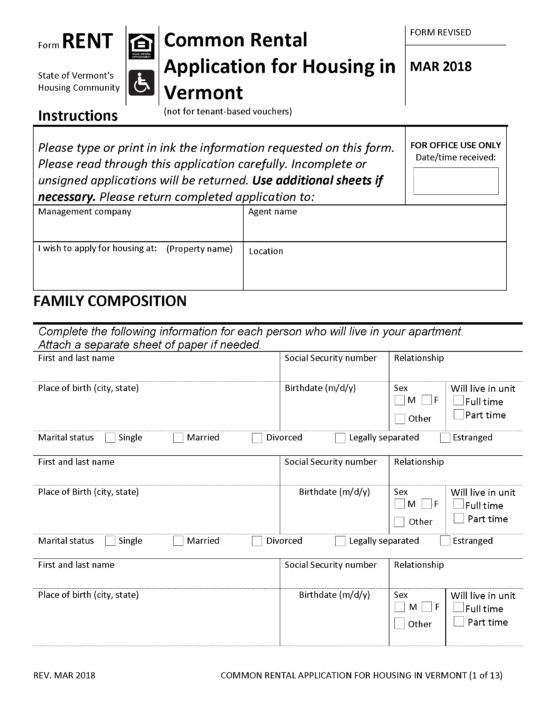 – The state's Housing Community has provided this form that property managers and landlords can use as an intake form for potential tenants.
Download: Adobe PDF