A golf cart bill of sale is a form used for documenting the sale of a golf cart (also known as a "golf buggy"), which are small, motorized vehicles used for transporting people and/or items relatively short distances. The form can be used for nearly any type of golf cart, including those with seat configurations for two (2) to six (6) people, as well as those that are powered by gas engines or batteries.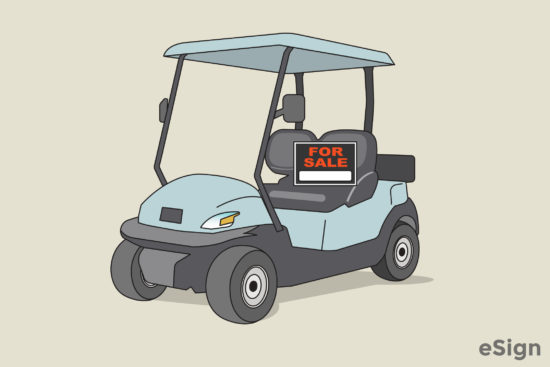 Tips for Selling
Much like a car or truck, selling a vehicle can go significantly faster and smoother if the seller has nothing to hide and can stand by the quality of their offering. By following the recommendations below, those selling their golf cart can get top-dollar, as well as find interested buyers far faster:
Make any needed repairs
Give it a good cleaning
Check the batteries
Examine the tires
Take quality pictures
Frequently Asked Questions (FAQ)
Do I need to have the bill of sale notarized?
If the golf cart will be driven on a private road, the answer is no, as golf carts do not come with titles and will not require registration. While having the form notarized adds another level of verification and proof to the transaction, it is by no means a requirement.
If the golf cart will be driven on certain public roadways, the state/county may require it to be registered and insured. In such a case, the bill of sale may need to be notarized in order to be considered valid.
Do I need to register my golf cart?
If the golf cart will be driven on public roads, some states consider them a "motor vehicle", and will require it to be registered with the state. However, many rules and regulations are unique to the county/town the golf cart will be used in, and should be consulted prior to driving the cart on any public roads.
What do I need to include in the bill of sale?
The form doesn't need to be complicated. The following should be included in the form (at a minimum) to ensure it remains legal and valid:
Date of the sale;
Full name of the seller and buyer;
Seller and buyer's addresses;
Amount ($) the golf cart sold for;
Information on the golf cart:

Make
Model
Year
Serial number (#)

Signature of both the seller and buyer*

*Can be signed by-hand or with eSign (recommended option)