---
Updated on June 5th, 2023

A Maryland employment contract is used to establish the terms and conditions of a working relationship between an employee and an employer. The form may be used for both full-time and part-time positions and details the employee's duties, responsibilities, and role within the company. The employee's compensation, vacation time, personal leave, and other benefits may also be laid out in the agreement. The document gives both parties a clear understanding of their respective rights and responsibilities ensuring a mutually beneficial work environment.
Types (2)
Independent Contractor Agreement – This agreement is used for contractors to establish a working relationship with their clients.
Download: PDF, Word (.docx), OpenDocument
---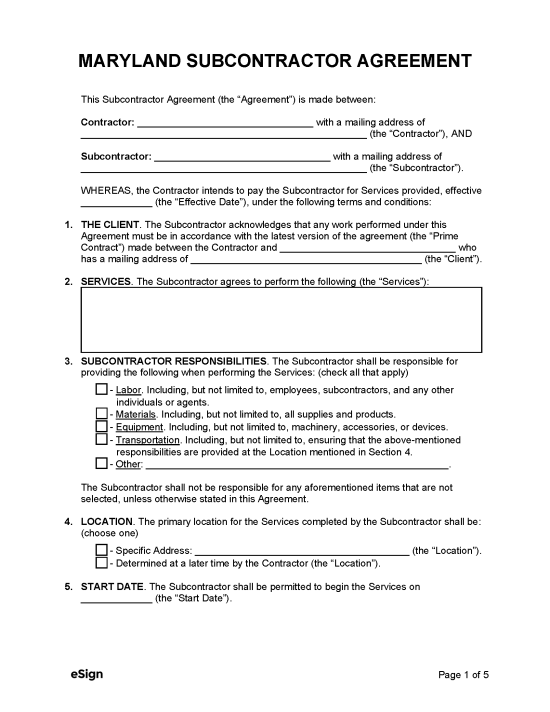 Subcontractor Agreement – General contractors can use this agreement to hire subcontractors on a large project.
Download: PDF, Word (.docx), OpenDocument
---
Laws
---
At-Will Employment
Permitted? Yes (Labor Dept.), at-will employment is permitted in Maryland. Employees may be hired and fired for almost any reason without a contract. However, an employer may not wrongfully terminate an employee for any of the following circumstances:
Discrimination.
Jury duty (§ 8–907).
Military service.
Making a complaint to the employer or Commissioner (§ 3–308).
Refusing to commit criminal acts.
Retaliation for filing workers' compensation claims or attempting to enforce rights for receiving overtime.
---
Employer Resources