An Iowa 7-day notice to terminate is an eviction notice reserved for actions caused by a tenant that constitutes a violation of their lease agreement (material non-compliance), giving them seven (7) days to cure said violation. Landlords must give tenants the opportunity to cure the violation within a seven (7) day period. If they do not fix the issue in time, the landlord may terminate the rental agreement and serve a 3-Day Notice to Quit informing the tenant they have three (3) days to remove themselves from the property.
However, if the tenant commits a similar material non-compliance again within six (6) months of the initial violation, they will not be given the opportunity to cure the violation. In this case, the tenancy will terminate after seven (7) days, and a 3-Day Notice to Quit will be delivered to the tenant to give them three (3) days to vacate the premises. If the tenant does not move out after the 3-day notice was served, an eviction suit can be filed.
Laws – § 562A.27(1)
Tenant's Obligation to Maintain Dwelling (§ 562A.17)
The tenant shall:
1. Comply with all obligations primarily imposed upon tenants by applicable provisions of building and housing codes materially affecting health and safety.
2. Keep that part of the premises that the tenant occupies and uses as clean and safe as the condition of the premises permit.
3. Dispose from the tenant's dwelling unit all ashes, rubbish, garbage, and other waste in a clean and safe manner.
4. Keep all plumbing fixtures in the dwelling unit or used by the tenant as clean as their condition permits.
5. Use in a reasonable manner all electrical, plumbing, sanitary, heating, ventilating, air-conditioning and other facilities and appliances including elevators in the premises.
6. Not deliberately or negligently destroy, deface, damage, impair or remove a part of the premises or knowingly permit a person to do so. If damage, defacement, alteration, or destruction of property by the tenant is intentional, the tenant may be criminally charged with criminal mischief pursuant to chapter 716.
7. Act in a manner that will not disturb a neighbor's peaceful enjoyment of the premises.
---
Related Forms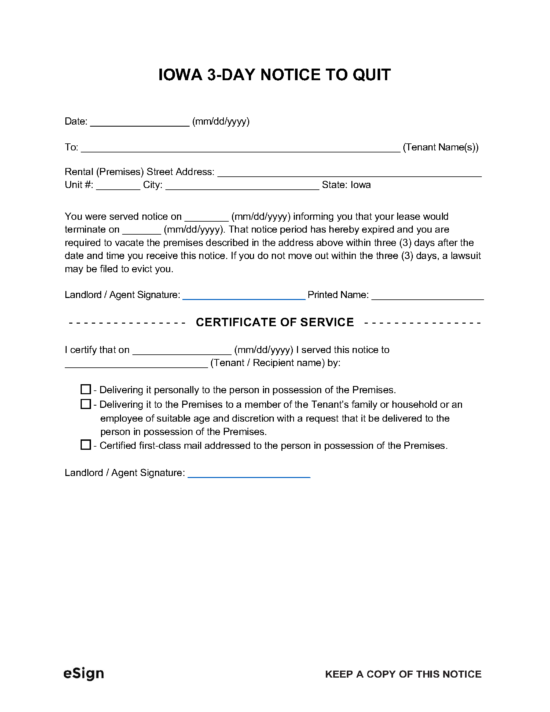 3-Day Notice to Quit – If a tenant does not vacate the premises after being served a 7-day notice to terminate a tenancy, the landlord may deliver this notice, giving the tenant a final warning to vacate the property within three (3) days or face eviction.
Download: PDF, Word (.docx), OpenDocument