The New Jersey 1-month notice to quit for non-compliance gives a tenant one (1) month to vacate their rental unit for breaking the terms of their lease after receiving a written warning. If a tenant violates the terms of their lease (by keeping unauthorized pets/subtenants, habitually not paying rent on time, smoking where prohibited, etc.) the landlord must serve them with a Notice to Cease.
A Notice to Cease demands that the tenant stop or cure their lease violation, sometimes with a time limit. If the tenant does not comply with the landlord's demands, their lease can be terminated with one (1) month's notice. After receiving the notice to quit, the tenant must move out within the given time frame to avoid being evicted by their landlord.
Laws – § 2A:18-61.2(3)(b) and § 2A-18-61.1(d)
---
Related Forms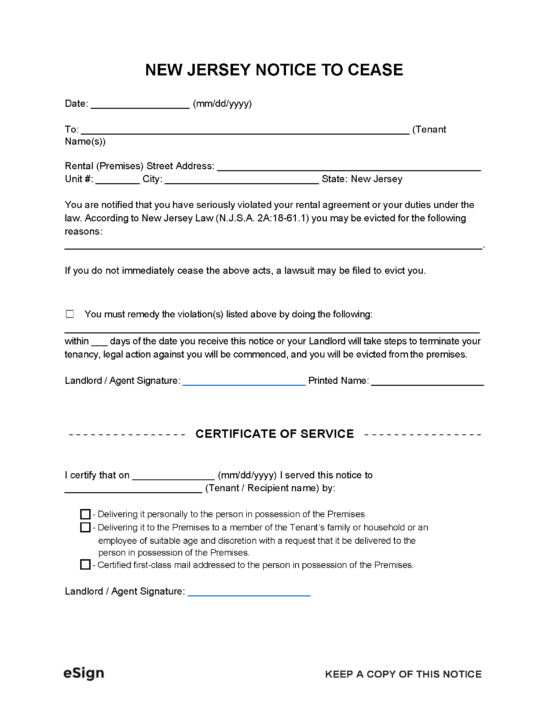 Notice to Cease – Tenants must be served a Notice to Cease prior to having their lease terminated with a notice to quit. This notice gives the tenant the opportunity to stop their lease violations and avoid eviction.
Download: PDF, Word (.docx), OpenDocument
---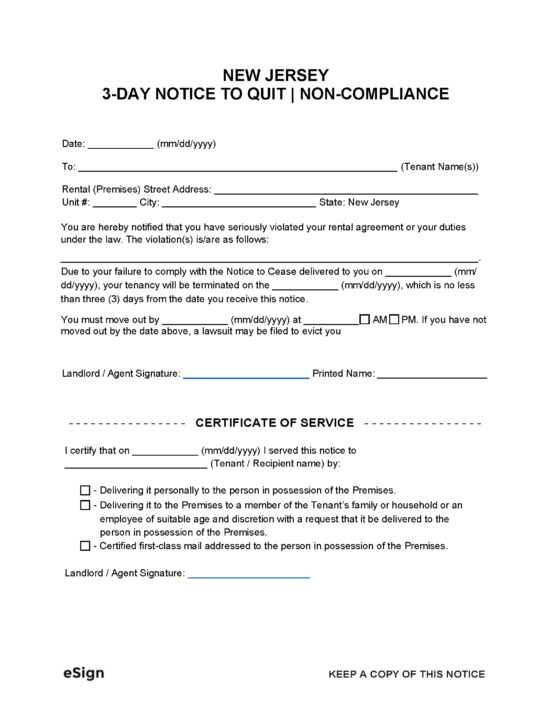 3-Day Notice to Quit for Non-Compliance – If the tenant's lease violations require the landlord's re-entry or cause a disturbance to the peace of their neighbors, this notice should be used after a Notice to Cease has been served without the tenant's compliance.
Download: PDF, Word (.docx), OpenDocument