A Connecticut real estate listing agreement is a contract in which a property owner authorizes a broker (licensed agent) to market and sell their property. Under the terms of a listing agreement, the agent is granted a certain amount of time to advertise and show the real estate, negotiate offers, and find a buyer who is willing to purchase the property.
Brokerage firms will receive compensation in the form of a sales percentage or fixed dollar amount. In order for the compensation to be enforceable in Connecticut courts, the agreement must be in writing and include the date, the agent's address, and the names and signatures of all parties involved.
Laws – § 20-325a(b)
Dual Agency (§ 20-325g) – Dual agency representation is legal if the buyer and seller provide informed, written consent.
Purchase Agreement – Defines terms for the purchase and sale of residential real estate. It must be signed by the buyer, seller, and their agents (if any).
Realtor Version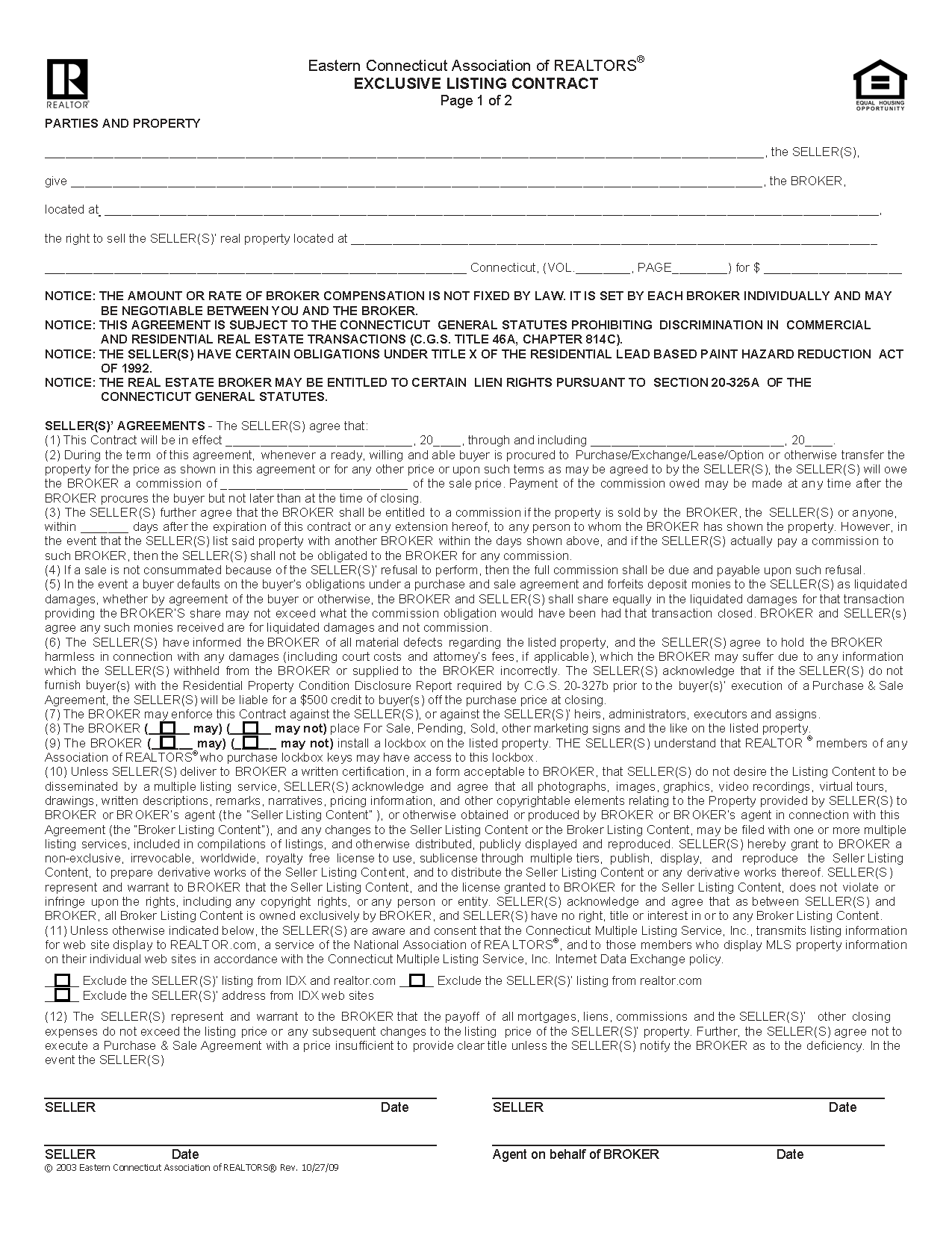 Eastern Connecticut Association of REALTORS® Exclusive Listing Contract – A contract designed by the Eastern Connecticut Association of REALTORS® that grants a broker the exclusive right to list and sell an owner's property.
Download: PDF
---
Disclosures / Waivers (3)
Real estate brokers and salespersons must disclose to any unrepresented parties to the real estate transaction the identity of their client. This disclosure shall be made in writing at the first personal meeting between the licensee and client (for residential real estate) or before signing a purchase contract (for commercial real estate).
2) Dual Agency Consent Agreement
A broker may represent both the buyer and seller in a real estate transaction if the parties provide informed consent to the dual agency relationship. Consent may be given in an agency disclosure notice (listed above) or a dual agency consent agreement drafted and signed in accordance with § 20-325g. If electing to use a consent agreement, the signed document must be attached as an addendum to the listing contract.
3) Property Disclosure Statement
Transactions involving residential property of four (4) or fewer units require the seller to complete a report in which they describe any known issues affecting the property. The written disclosure must be given to prospective buyers before signing a purchase contract.