---
Updated on November 3rd, 2021

A Georgia real estate listing agreement is a service contract with which a broker is hired to sell real estate on behalf of a property owner. Among other terms, the listing agreement will be used to define the seller's asking price, how the property can be advertised, the broker's commission, and the start and end dates of the listing period.

Should the broker be presented with an acceptable purchase offer before the listing period expires, a purchase contract may be executed between the buyer and seller, after which the broker will be entitled to the designated commission at closing. For contracts granting exclusive selling rights, each party must receive an original copy of the listing agreement after signing.
Laws – § 520-1-.06(1)
Dual Agency (§ 10-6A-12) – Dual agency is legal in Georgia if the broker obtains written consent from both parties.
Purchase Agreement – A contract in which a buyer proposes the conditions of a purchase offer to a seller, including the purchase price, offer expiration date, and any financial or other contingencies.
Realtor Version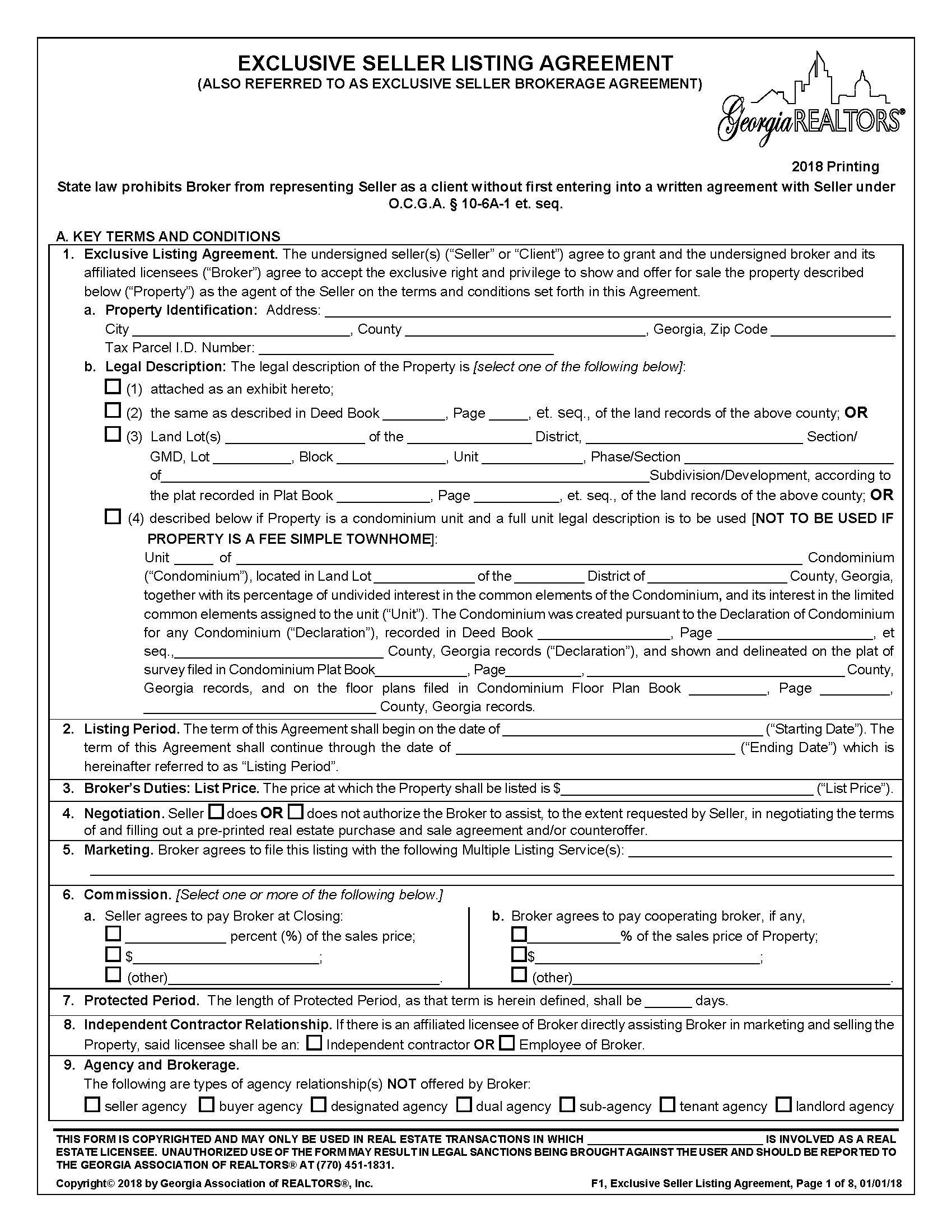 Georgia Exclusive Seller Listing Agreement – This is the official 2018 version of the listing agreement produced by the Georgia Association of REALTORS®. With this form, a real estate licensee is given the exclusive right to sell their client's property.
Download: PDF
---
Disclosures / Waivers (3)
A licensee shall disclose in writing to the buyer and seller the parties the licensee's firm represents and from whom compensation will be received. If the licensee's firm provides no representation to the buyer or seller, the licensee shall only reveal the parties from whom compensation will be received.
A broker acting as a dual agent for the buyer and seller must obtain the written consent of all parties. The consent form shall contain the information required by § 10-6A-12(a)(1).
3) Property Disclosure Statement
A broker acting on behalf of a seller must disclose any adverse property facts which are actually known to them, including damages, environmental contamination, and other defects which could not have been identified by reasonable inspection by the buyer.