A Hawaii real estate listing agreement is a contract that outlines the boundaries in which a licensed agent is permitted to sell their client's real estate. After the document is signed, the agent will be responsible for marketing the property, scheduling open houses, negotiating with buyers, and presenting offers to the seller.
The most widely-used agreement type is the "exclusive right to sell." With this listing agreement, the agent receives the sole and exclusive right to earn a commission from the sale, regardless of whether the property is sold through their brokerage firm. Agents should be advised that any adverse property facts must be disclosed to prospective purchasers.
Dual Agency (§ 16-99-3.1(g) & § 10-6A-12) – Real estate licensees can act as a dual agent if they describe the dual agency relationship to the buyer and seller and obtain their written consent.
Purchase Agreement – Used to establish terms between a buyer and seller regarding the sale of a home, mobile home, condominium, or other residential property.
Realtor Version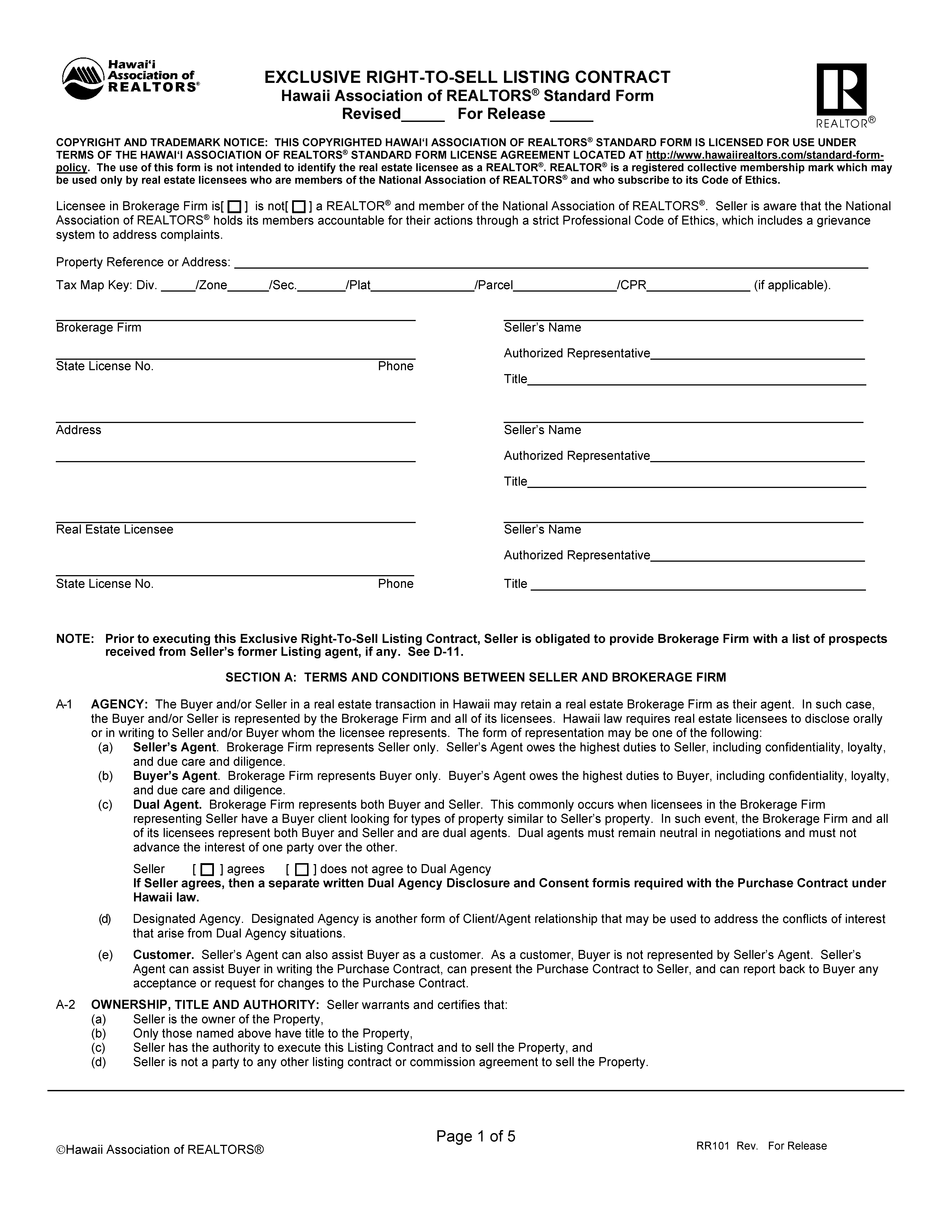 Hawaii Exclusive Right-to-Sell Listing Contract – The Hawaii Association of REALTORS® created this listing agreement to grant licensed real estate professionals exclusive selling rights.
Download: PDF
---
Disclosures / Waivers (3)
1) Brokerage Authorization Disclosure 
When a brokerage firm obtains a listing, the brokerage firm and seller must sign a disclosure that reveals whether the firm is authorized to appoint subagents and whether commissions can be split with the seller's subagents or the buyer's agents.
2) Dual Agency Consent Addendum
Used to inform clients about the nature of dual agency representation. If the buyer and seller agree to dual agency, they must sign this disclosure to provide consent.
3) Property Disclosure Statement
Completed by the seller to list material defects affecting the condition of their property. The seller or their agent must deliver this disclosure to the buyer no later than ten (10) days from the acceptance of a purchase contract.