An Indiana real estate listing agreement establishes an arrangement whereby an agent is hired to advertise and sell their client's home. The agreement defines a listing period during which the agent will market the property and negotiate offers. If the property is not sold during this time or through any listing extension, the seller can work up a new agreement with the agent or move on to another brokerage firm.
A critical component to any listing contract is the commission paid by the seller upon the transaction closing (typically around 5-6% of the final sales price). Indiana law requires the contract to be in writing, with a copy provided to the seller within three (3) business days of signing.
Laws – 876 IAC 8-2-1
Dual Agency (IC 25-34.1-10-12 & IC 25-34.1-10-7) – A licensee may represent both buyer and seller as a "limited agent" so long as both parties give written consent.
Purchase Agreement – Details the conditions of an official purchase offer. The contract is negotiable and only becomes final once both the seller and buyer have agreed to all terms.
Realtor Version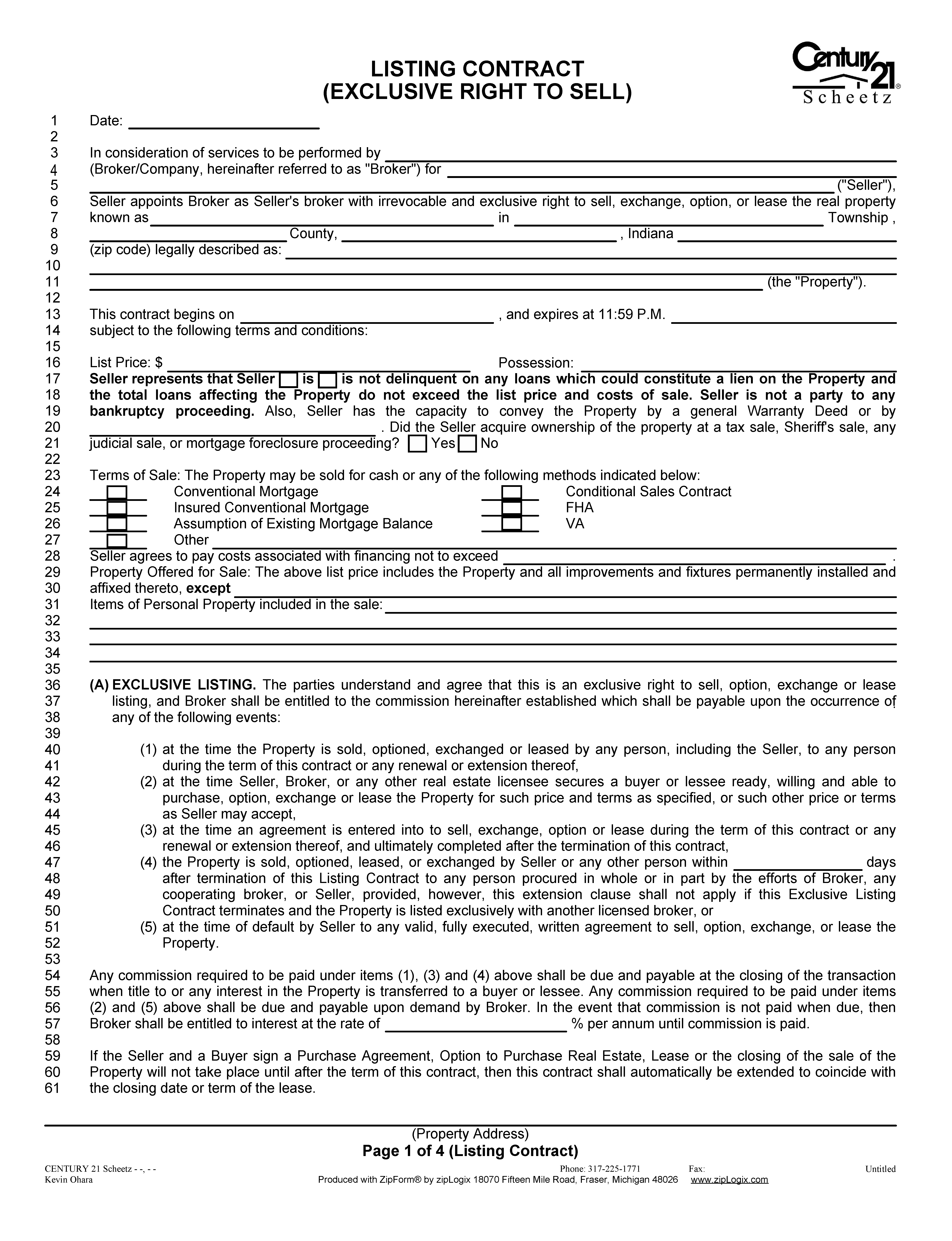 Indiana Listing Contract (Exclusive Right to Sell) – The Indiana Association of REALTORS® approved this legally binding listing agreement in 2010. Under this contract, a licensee has the exclusive right to sell their client's residential real estate.
Download: PDF
---
Disclosures / Waivers (3)
1) Agency Relationship Disclosure
Licensees have an obligation to disclose the type of agency relationship established with the seller, and redefine the relationship if it changes.
Before a licensee can represent a buyer and seller in the same transaction, they must first disclose the agency relationship to each client and obtain their written consent.
3) Property Disclosure Statement
Property owners are required to fill out a disclosure statement that reveals issues affecting the condition of their home. The completed statement must be submitted to prospective buyers before accepting a purchase offer.