The Indiana residential purchase and sale agreement is a contract between a buyer and seller that specifies conditions for the sale of residential property. The buyer's agent typically prepares the contract due to the complex nature of the document.
Before signing, buyers should ensure they understand and are content with the proposed sales price, closing date, earnest money deposit, and any contingencies the offer includes. The completed contract will be presented to the seller, who can then choose to take the offer as is, decline it, or make a counteroffer, at which point the final agreement can be executed.
Realtor Version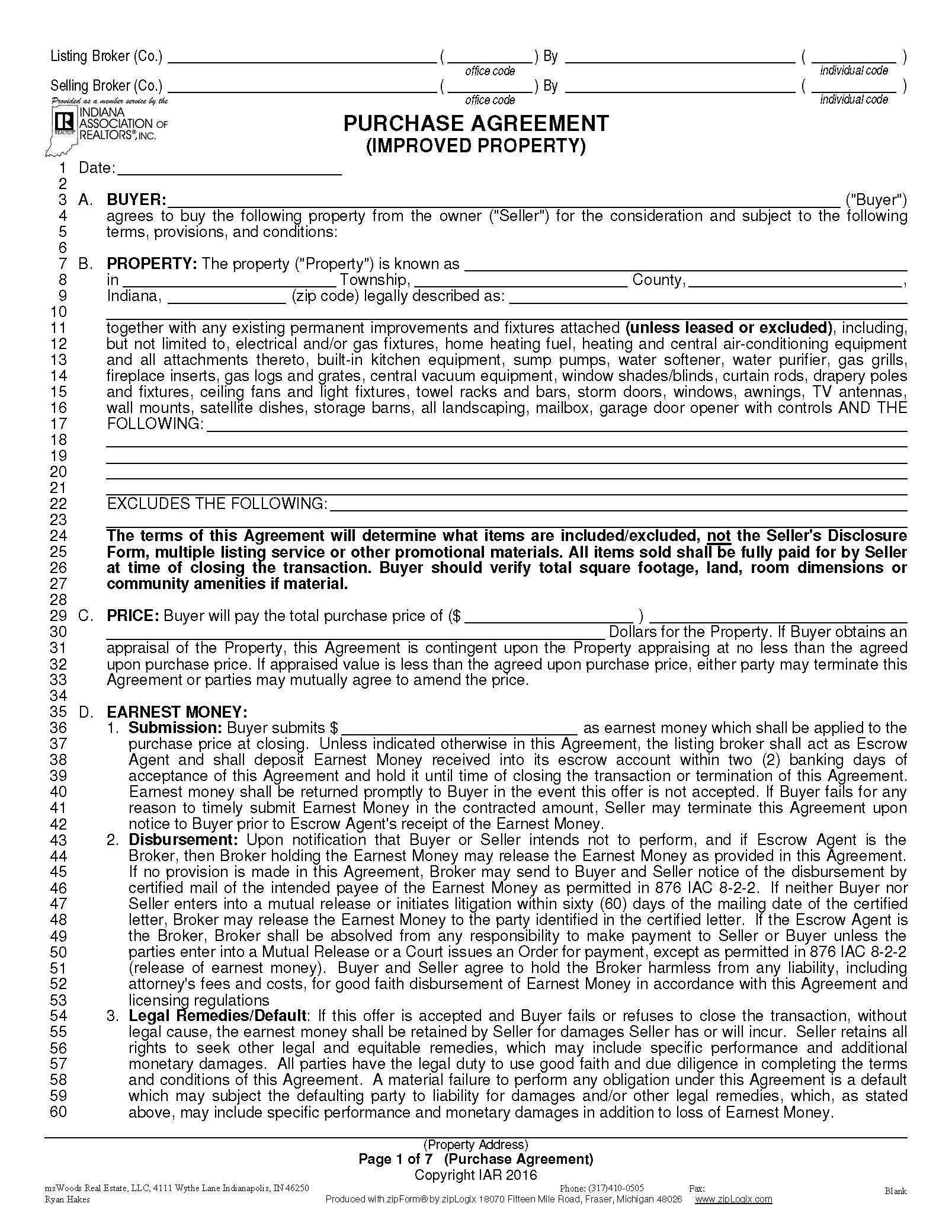 Indiana Purchase Agreement (Improved Property) – Members of the Indiana Association of REALTORS® can use this purchase agreement for transactions involving "improved property," which are structures that include essentials such as electricity, water lines, and sewage systems.
Download: PDF
---
Required Disclosures (3)
1) Homeowners Association Information
If the property is part of a homeowners association, the seller must do the following no later than ten (10) days before the closing date: (1) inform the buyer that a homeowners association governs the property; (2) provide the buyer with a copy of the association's governing documents; (3) give the buyer a statement indicating whether there are any assessments and the amounts thereof; and (4) inform the buyer of the name and business or home address of an individual who is authorized to manage the association.
Federal law stipulates that buyers of pre-1978 housing must receive a lead paint disclosure from the seller and a lead paint information booklet produced by the Environmental Protection Agency.
3) Property Disclosure Statement
Property sellers must complete a disclosure report that describes the condition of the property's foundation, mechanical systems, roof, sewage lines, and other important features of the home. The completed document must be delivered to prospective buyers before an offer is accepted.