A Kentucky real estate listing agreement is a contract that spells out the rights and duties of a broker representing a client in the sale of real estate. In an effort to market the property and bring in purchase offers, the broker will put up "for sale" signs, host open houses, and post ads on real estate websites and in newspapers.
The broker shall, upon closing a sale, be entitled to a commission paid by the seller. This amount is typically 5-6% of the final sales price and will generally be shared with the buyer's representation. However, if no sale is made during the listing term, the contract becomes void unless the parties agree to an extension in writing.
Dual Agency (§ 324.121(2)) – Dual agency is allowed with the written consent of each party; the buyer and seller must sign the applicable consent agreement.
Purchase Agreement – A contract that sets forth the terms agreed upon by a buyer and seller regarding the purchase of residential property.
Realtor Version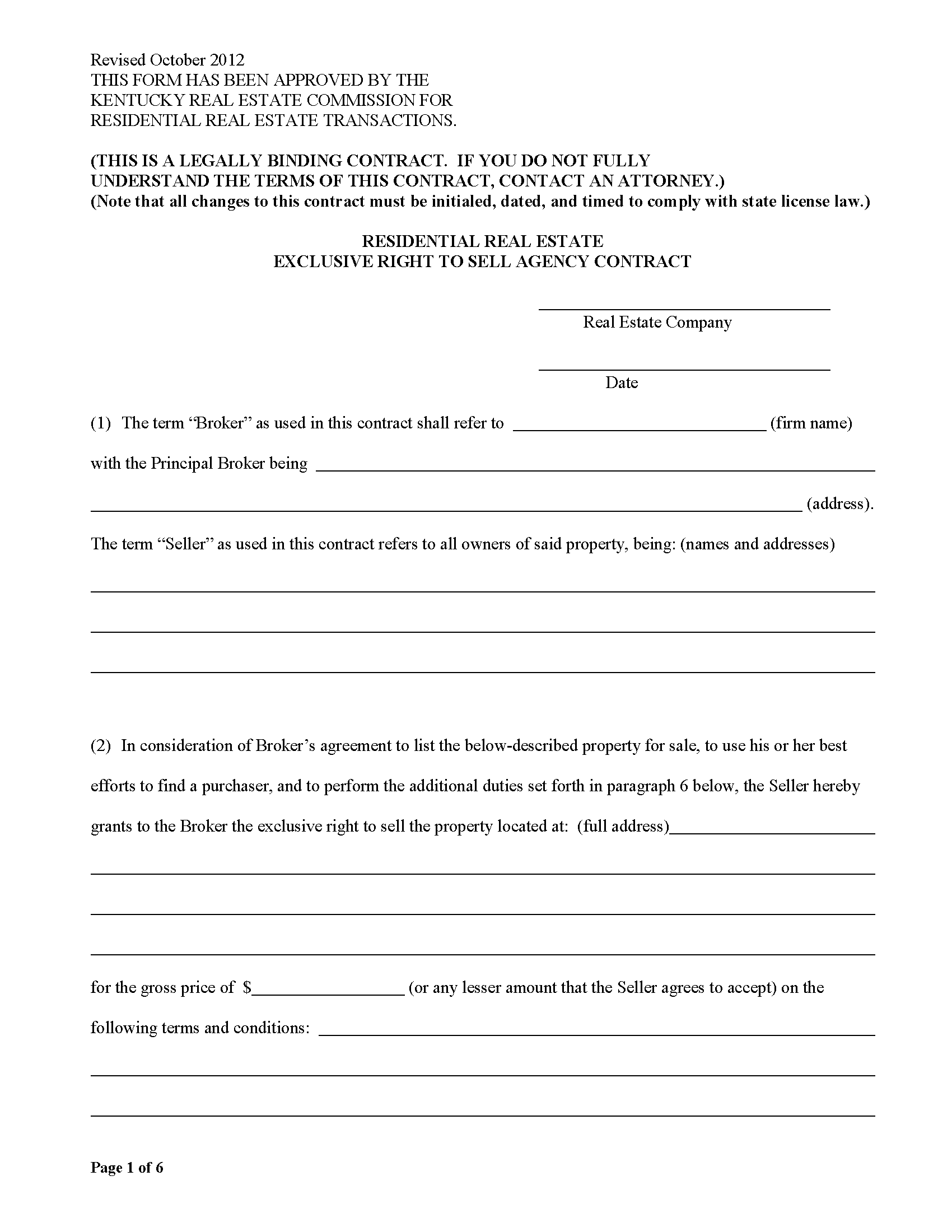 Kentucky Residential Real Estate Exclusive Right to Sell Agency Contract – A listing agreement authorized by the Kentucky Real Estate Commission for residential real estate transactions. Once signed by each party, the broker receives the exclusive right to list and sell their client's property.
Download: PDF
---
Disclosures / Waivers (5)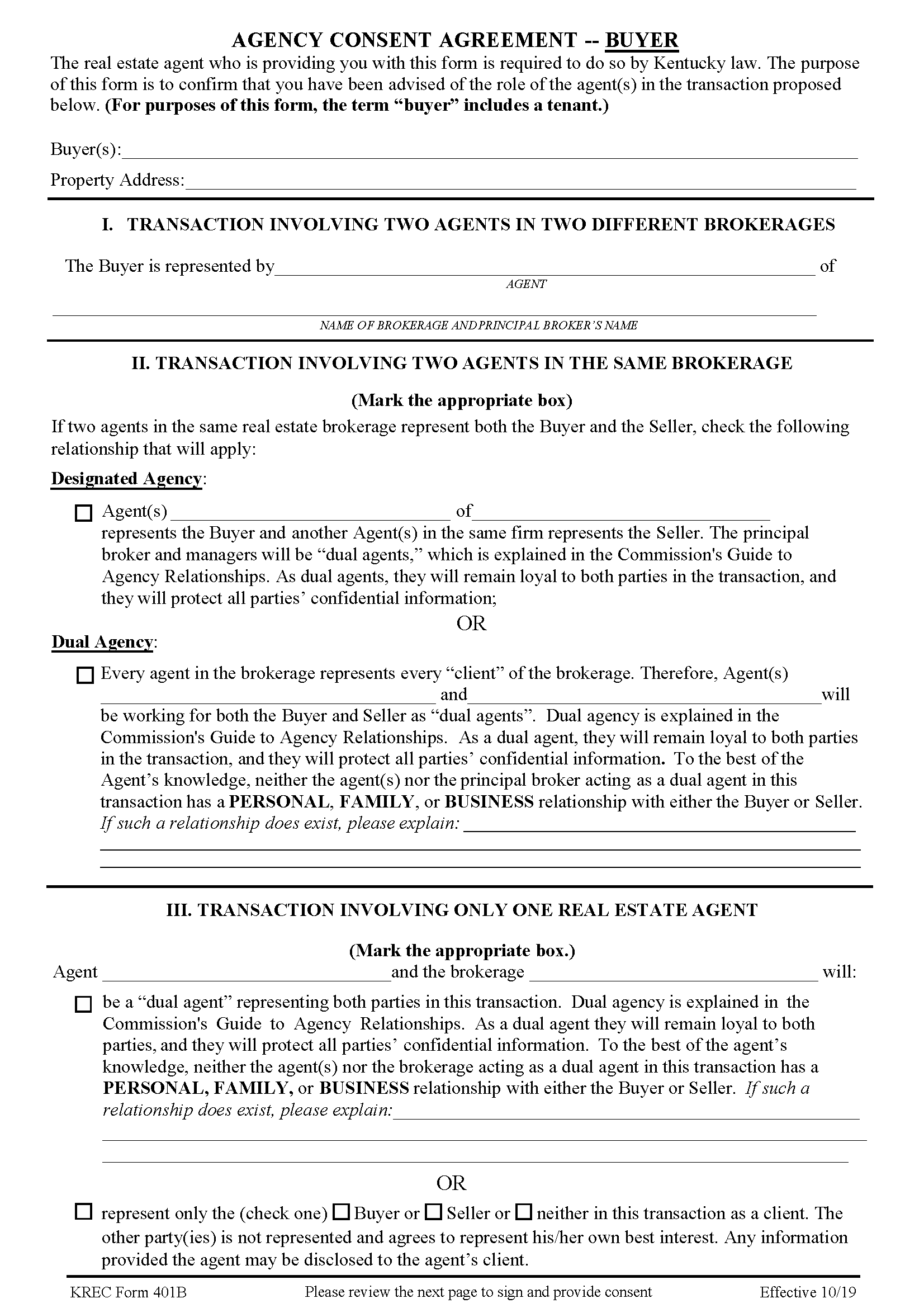 Agency Consent Agreement (Buyer) (201 KAR 11:121 – Section 6) – Buyers must read and sign this consent agreement before obtaining brokerage services.
Download: PDF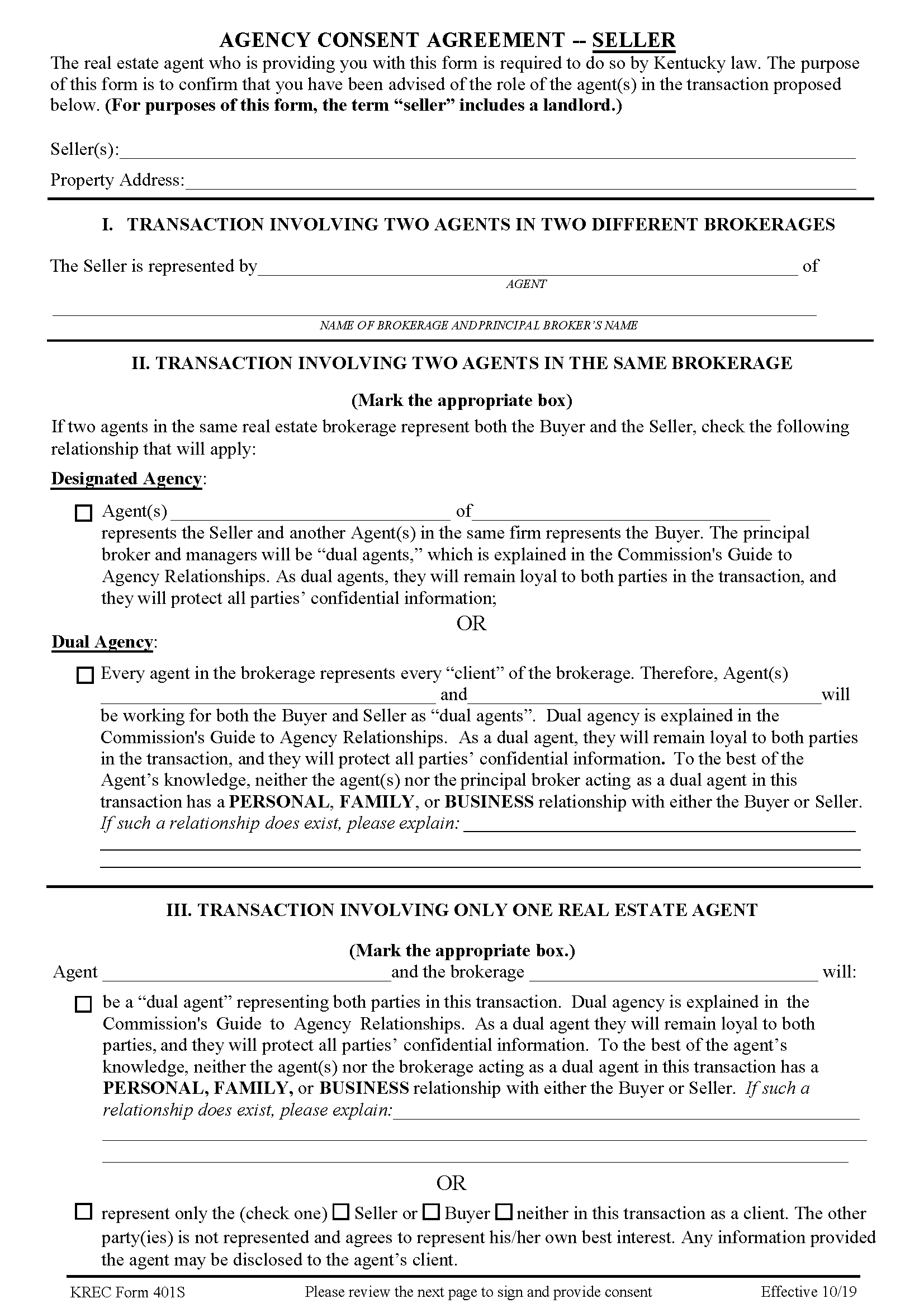 Agency Consent Agreement (Seller) (201 KAR 11:121 – Section 6) – Before receiving brokerage services, sellers must review this agreement and sign to provide consent to the agency relationship proposed in the real estate transaction.
Download: PDF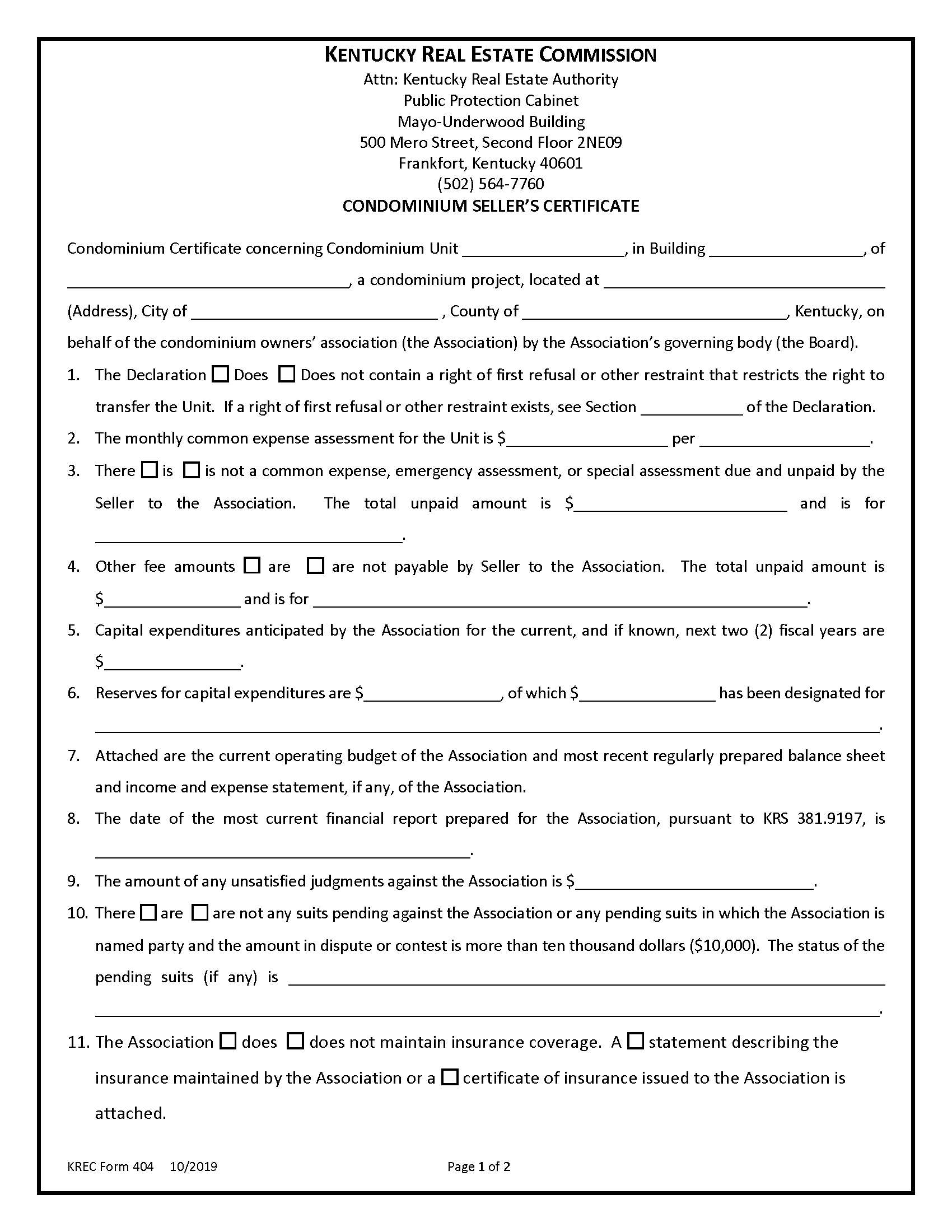 Condominium Seller's Certificate (201 KAR 11:121 – Section 4(2)) – If the real estate transaction involves a condominium, the licensee shall inform the seller that they are entitled to receive the Condominium Seller's Certificate and that the buyer may void the transaction in accordance with § 381.9203(3).
Download: PDF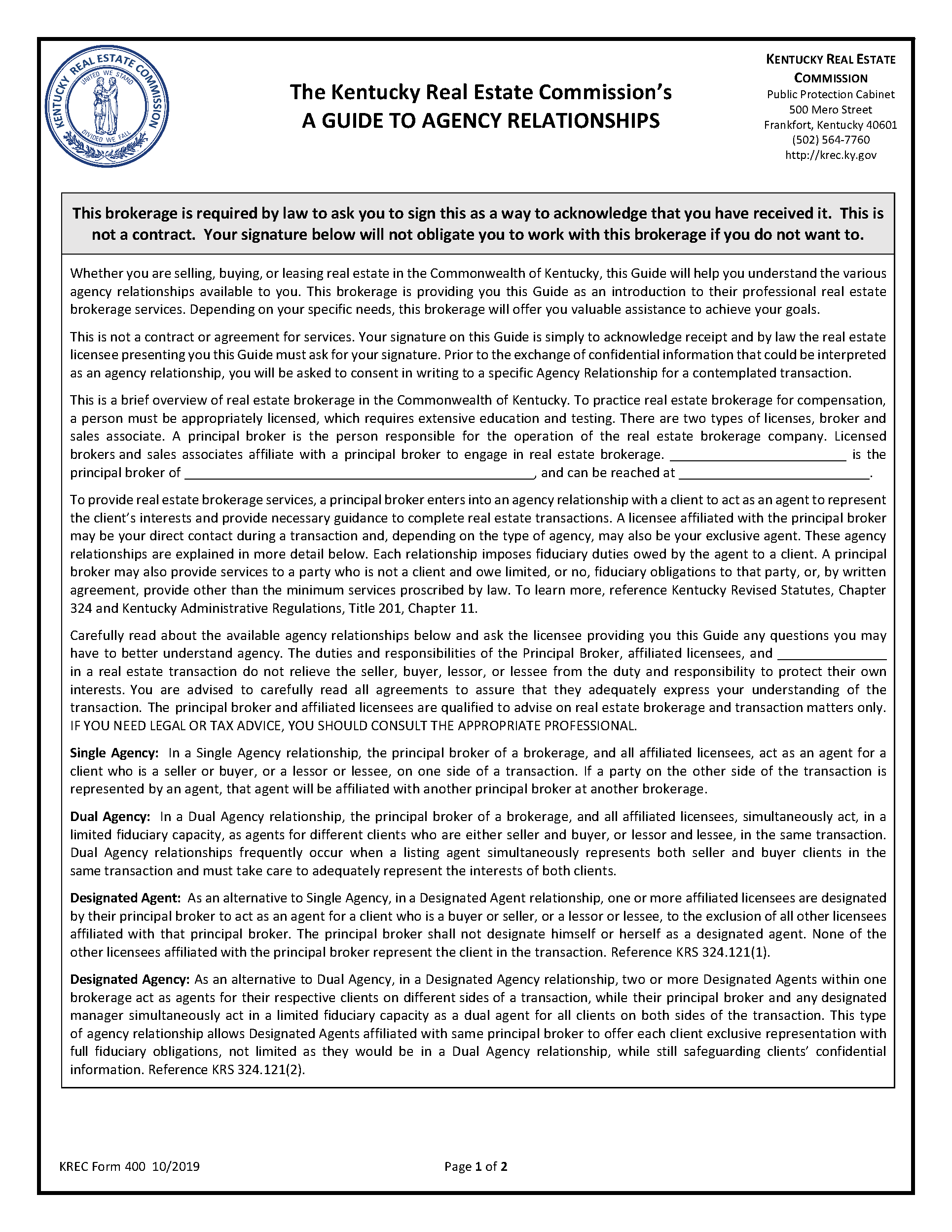 Guide to Agency Relationships (201 KAR 11:121 – Section 5) – This disclosure contains important information regarding agency relationships in Kentucky. Prospective clients must sign the disclosure before entering into a written or oral brokerage agreement, or before signing an agency consent agreement (whichever occurs first).
Download: PDF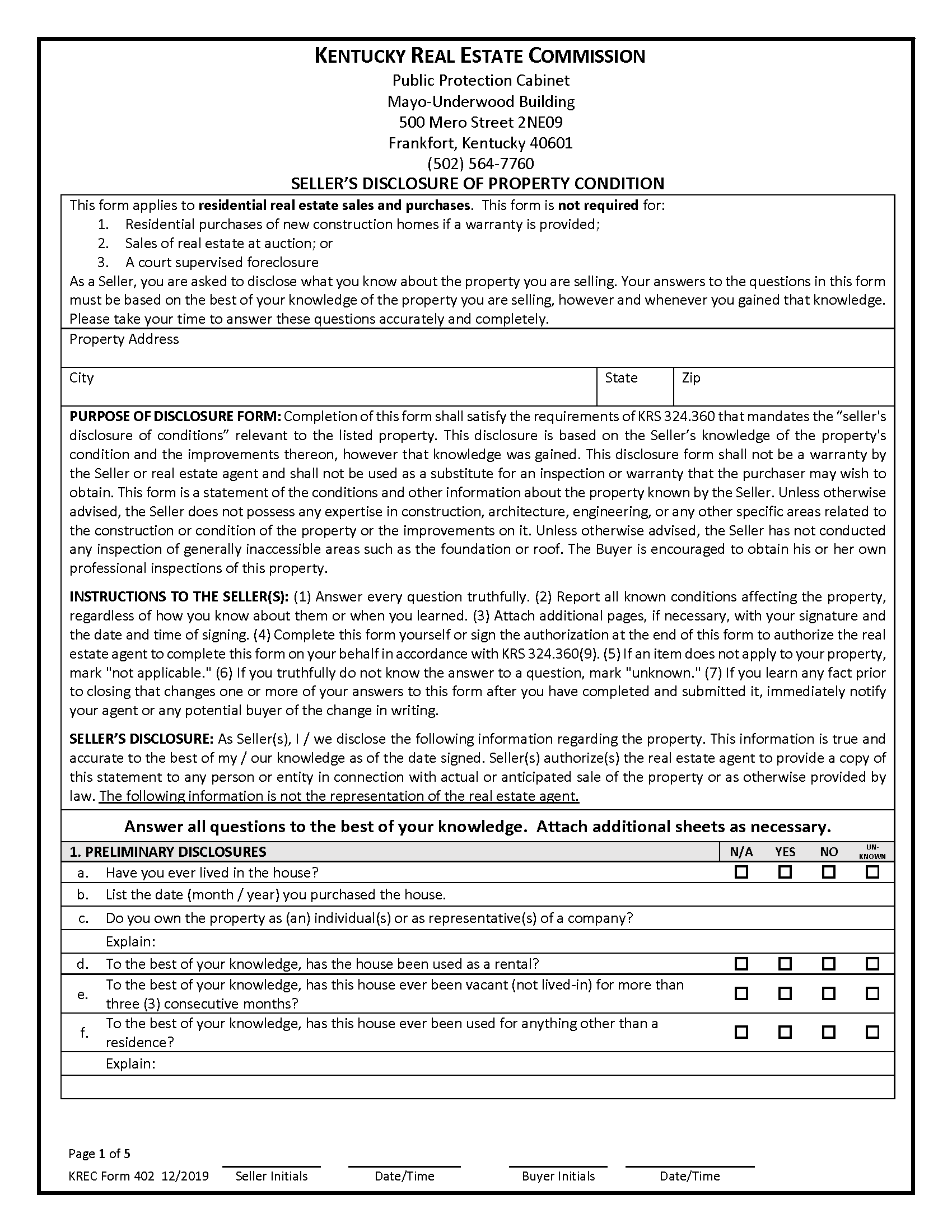 Property Disclosure Statement (§ 324.360) – Property sellers are required to complete a report detailing any known material damage to their residence. Within seventy-two (72) hours of receiving a purchase offer, the listing agent must deliver a copy of the agreement to the purchaser.
Download: PDF