A New Mexico real estate listing agreement is used by an agency to obtain permission to list and sell a property on a seller's behalf. The agency may be granted exclusive rights to sell the property, or the current owner may choose to have an open listing, where the agency will only receive a commission if a potential buyer is brought forward by the agency.
The agreement also details the purchase price, the period the agreement will be in effect (listing period), and the compensation the broker will receive should they find a buyer. Once signed by both parties, the agency will represent the buyer until the listing period expires.
Dual Agency (16 NM Admin Code 16.61.19.10) – New Mexico allows for dual agency if written consent is provided by both the buyer and the seller.
Purchase Agreement – An interested buyer may use this document to make an offer on a listed property.
Realtor Version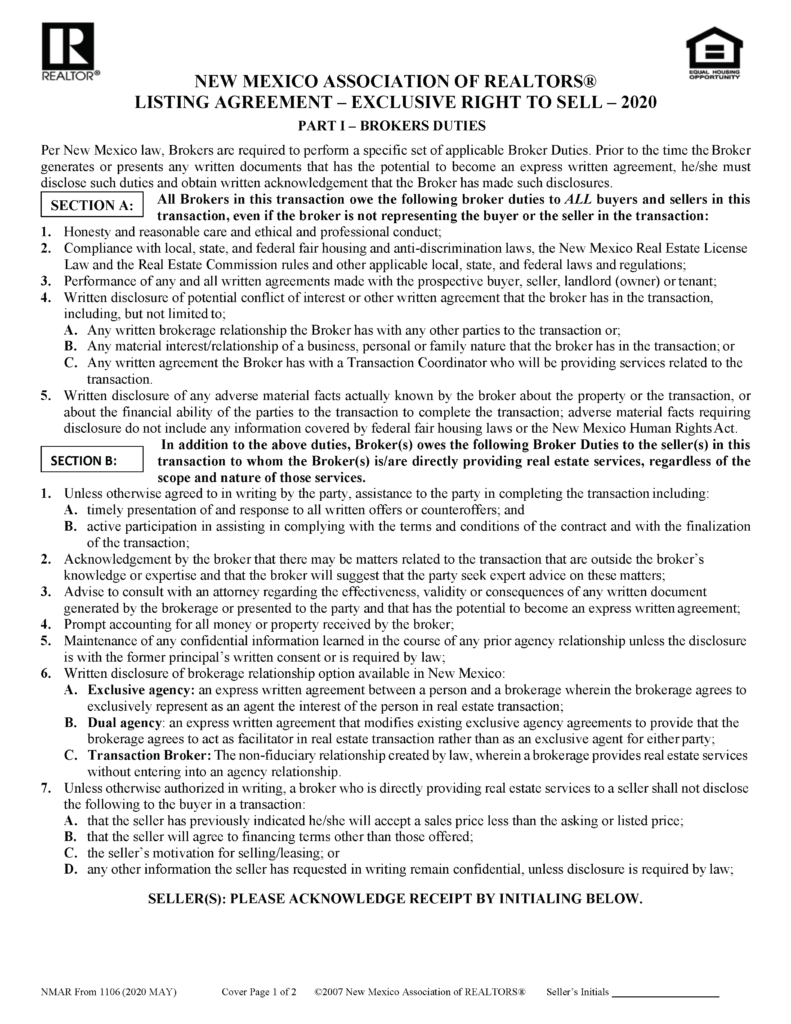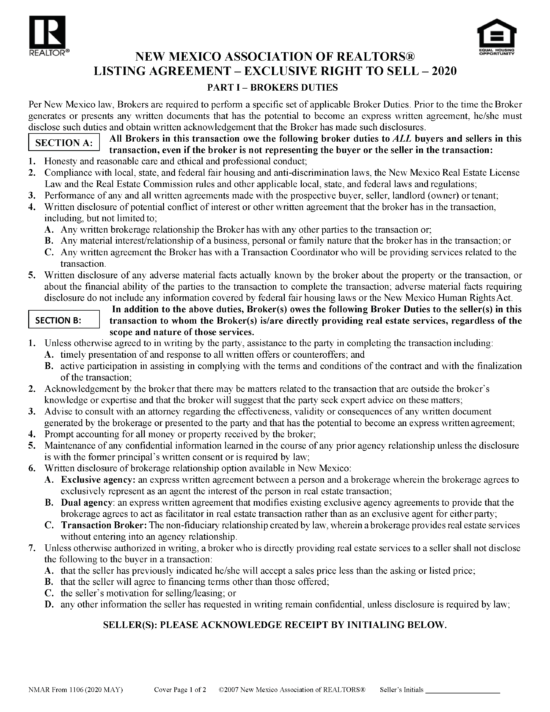 New Mexico Association of REALTORS® Listing Agreement – This document may be used by brokers to establish a working relationship with their client enabling them to list and sell their property.
Download: PDF
---
Disclosures/Waivers (4)
Prior to the signing of the listing agreement, brokers must provide this disclosure to the seller detailing the specific set of broker duties to the client.
Written consent must be given by both buyer and seller if a broker wishes to represent both parties during a real estate transaction.
3) Estimated Property Tax Levy Disclosure
Prior to accepting an offer, the seller or their broker must request the estimated amount of property tax levy from the local county assessor and provide this information to the prospective buyer.
4) Property Disclosure Statement
This form is not required by state law; however, brokers are obligated to inform potential buyers of any known adverse material facts about the property, as well as the financial ability of the buyer and seller to complete the real estate transaction.