An Oklahoma real estate listing agreement grants a real estate licensee the ability to list and sell a property on behalf of the owner. Upon the execution of this document, the agent may put up a for sale sign, host open houses, and list the property online provided permission was granted in the listing agreement.
Although the agent will typically prefer the exclusive right to sell the property, the seller may opt for "exclusive agency," or an "open listing," which allows the owner to find a buyer independently, and in the case of an open listing, enables them to seek assistance from other agencies. Once a suitable buyer has been found and ownership of the property has been transferred, the licensee will receive the commission outlined in this document.
Dual Agency (§ 59-858-355.1) – Dual agency is when a broker wishes to represent both a buyer and a seller in a real estate transaction and is permitted in the state of Oklahoma.
Purchase Agreement – An interested buyer may use this document to present an official offer on the seller's property.
Realtor Version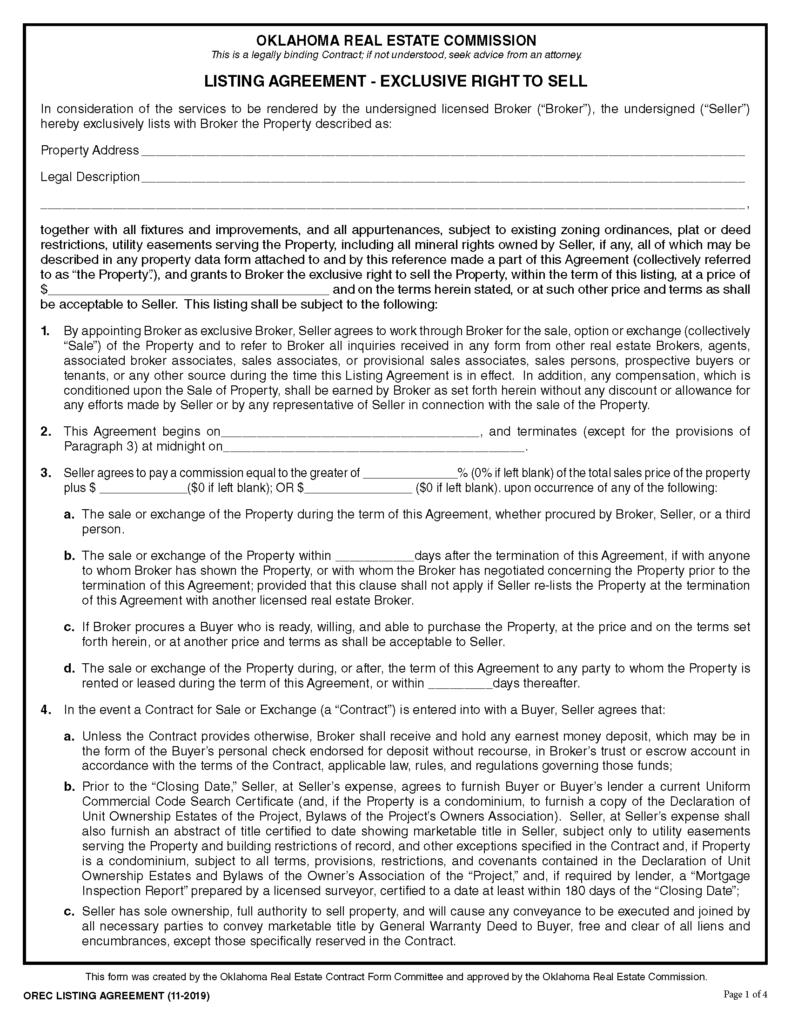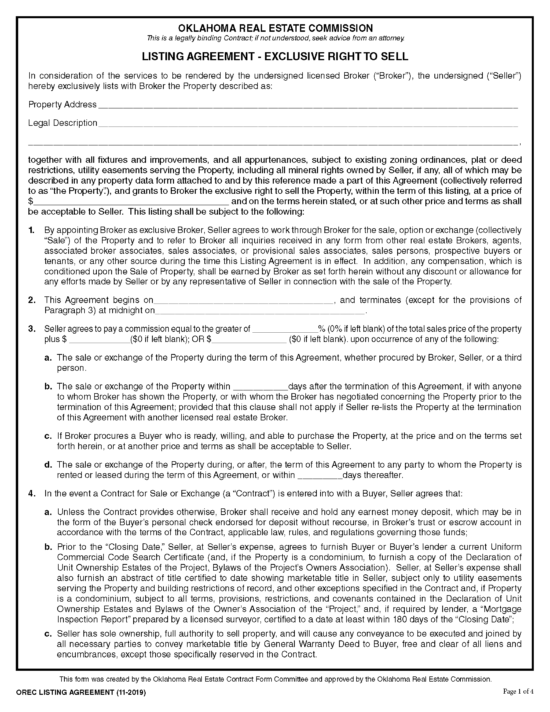 Oklahoma Real Estate Commission Listing Agreement – This contract was created by the Oklahoma Real Estate Commission and is used to grant brokers the exclusive rights to list their clients' property.
Download: PDF
---
Disclosures / Waivers (4)
1) Disclosure of Brokerage Duties
The agent's duties and responsibilities must be disclosed in writing to all potential clients prior to the signing of a listing agreement.
2) Brokerage Services to Both Parties
A firm providing brokerage services to a buyer and seller must inform both parties written notice prior to any exchange, lease, or sale of property.
3) Property Disclosure Statement
Sellers are required to give a detailed statement on the condition of the property prior to signing a purchase agreement. A Property Disclaimer Statement must be provided if certain conditions outlined in § 60-833(1) are met.
If the seller has never lived on the property and has no knowledge of any defect, this statement may be provided instead of the Property Disclosure Statement.