---
Updated on October 22nd, 2021

A Delaware LLC operating agreement is a binding contract that establishes the operating procedures of an LLC and governs the relationships between the company and the members thereof. The agreement dictates how the entity will address owner disputes, profit sharing, tax filing, dissolution, and it identifies each member's financial contribution and responsibilities within the business.

An operating agreement also proves that the members and managers are separate from the entity, thus ensuring they will not be financially responsible for the company's debts.
Types (2)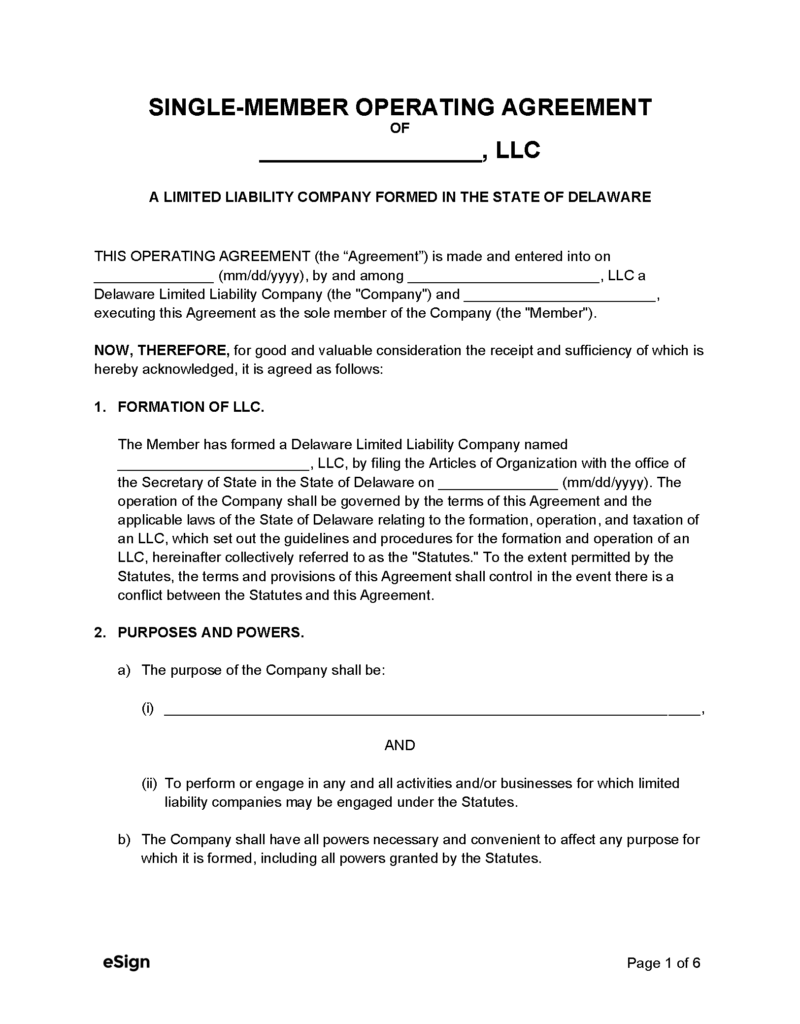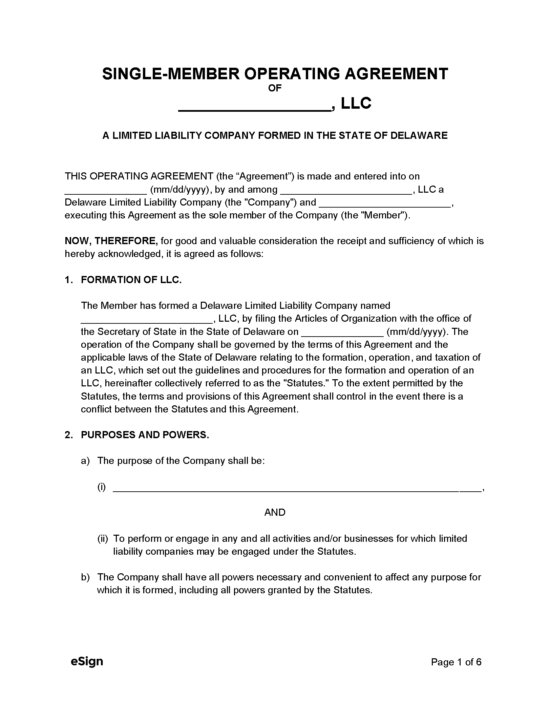 Single-Member LLC Operating Agreement – This operating agreement is designed for an LLC with only one (1) member.
Download: PDF, Word (.docx), OpenDocument
---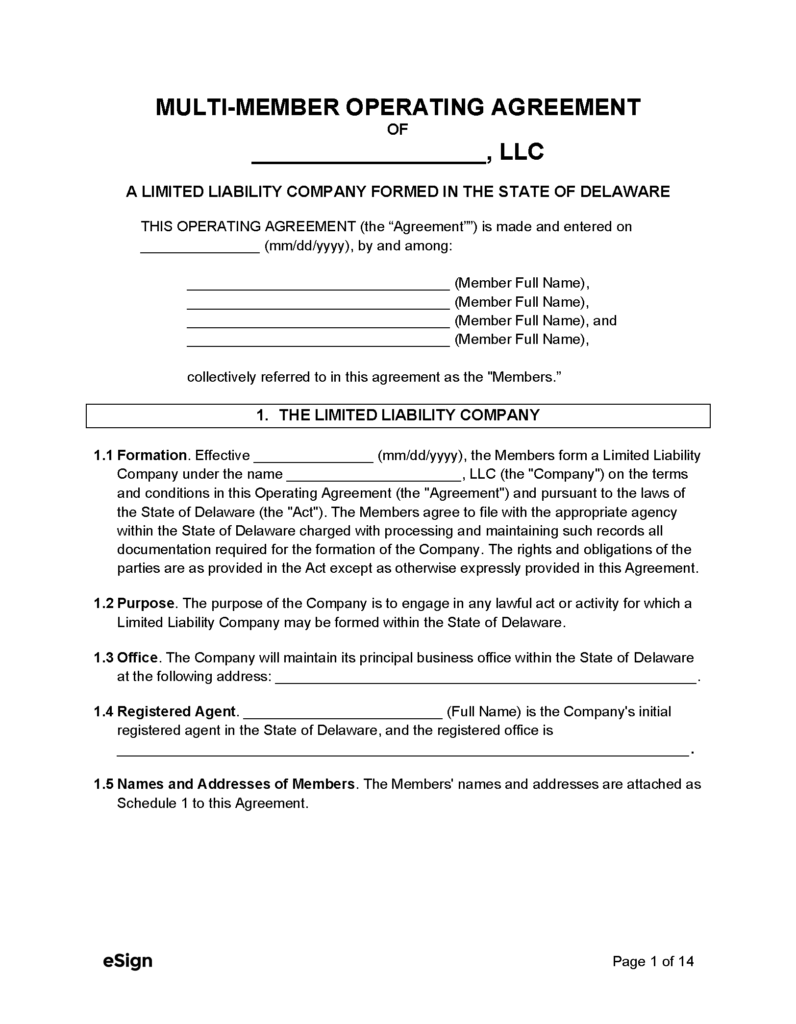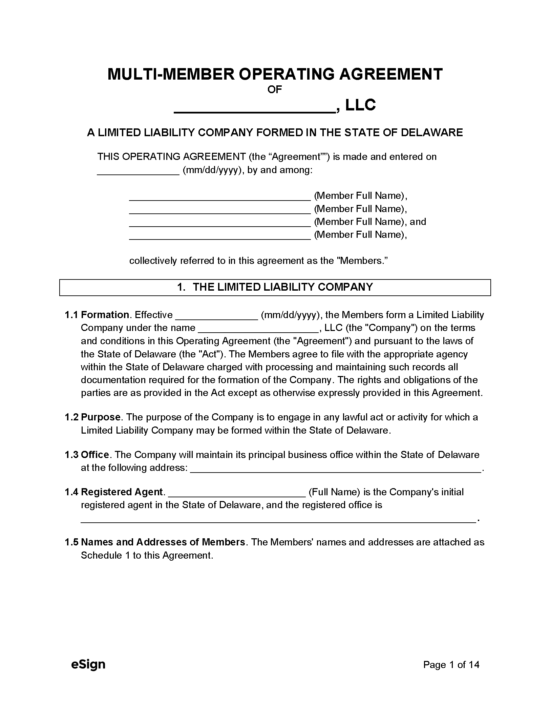 Multi-Member LLC Operating Agreement – An operating agreement that is intended for LLCs with more than one (1) member.
Download: PDF, Word (.docx), OpenDocument
---
Laws
---
How to File (5 Steps)
Step 1 – Choose a Business Name
An LLC's name must be unique and available for use in the state of Delaware. The availability of a business name can be checked on the Division of Corporations' website.

Note on LLC Names:
To comply with § 18-102, the name of an LLC needs to include "Limited Liability Company" or "LLC" or "L.L.C."
Name Reservation (Optional):
Business filers can reserve an entity name online or through the mail. The reservation fee is $75. If the request is approved, the name will be held for a period of one hundred and twenty (120) days.
Reserve by Mail

Fill out a Filing Cover Memo.
Attach a check for $75 made out to the "Delaware Secretary of State."
Mail all items to: Delaware Division of Corporations 401 Federal Street – Suite 4, Dover, DE 19901.
---
Step 2 – Select a Registered Agent
All business entities in Delaware must appoint a registered agent to receive and forward legal documents, notices, and other official paperwork on behalf of the business. The registered agent can be an individual or entity (including the LLC itself) so long as they satisfy the following criteria:
Be available during regular business hours to receive service of process;
Be permitted to transact business in Delaware (if an entity); and
Reside in Delaware with a physical address (if an individual).
The Division of Corporations has provided a list of individuals and entities that meet the criteria needed to serve as a registered agent in Delaware.
---
Step 3 – File Registration Documents
New LLCs will need to file a Certificate of Formation with the Delaware Division of Corporations. If the business is a foreign entity (previously formed outside of Delaware), the LLC must instead file a Certificate of Registration.
Domestic LLC Filing
Foreign LLC Filing
Online

Obtain a Certificate of Existence (a.k.a. Certificate of Good Standing) from the foreign LLC's jurisdiction of formation. The certificate must be dated within six (6) months of filing in Delaware.
Access the Division of Corporations' online filing service (select Document Upload).
Fill out the online application.
Using the online filing service, upload the Certificate of Existence and the Certificate of Registration of Foreign Limited Liability Company.
Finish by paying the $200 filing fee (payable with a credit card or ACH account).
Expedited Filing Service:
The Division of Corporations offers an expedited filing service with which business documents can be processed in one (1) to twenty-four (24) hours. Expedited filing fees range from $50-$1000 depending on the desired filing priority (see fee schedule).
---
Step 4 – Draft an Operating Agreement
As per § 18-201(d), Delaware limited liability companies shall enter into an operating agreement, whether written, oral, or implied. The written agreement (see below) is recommended as it enables the members to clearly detail the company's rules, regulations, and membership structure.
---
Step 5 – Apply for an EIN
Limited liability companies may need to apply for an EIN (Employer Identification Number), which is a tax identifier assigned to business entities by the Internal Revenue Service (IRS). An EIN will be needed if the LLC has multiple members or if it intends to hire employees, apply for company bank accounts, or obtain a line of credit.
Apply for an EIN on the IRS website (select Apply Online Now).
Apply for an EIN by mail using Form SS-4.
---