---
Updated on October 26th, 2021

A Hawaii LLC operating agreement outlines the framework and policies of a new limited liability company after it is established as an entity. The form will present an overview of the company's structure, including its management, members, and ownership percentages. Defining these roles allows the individual(s) entering into the agreement to have a record of founding the company and legally bind its members to the terms presented. As implied by its name, members of a limited liability company benefit from creating an LLC by transferring business liabilities and debts onto the company rather than themselves, offering legal protection in adverse situations.
Types (2)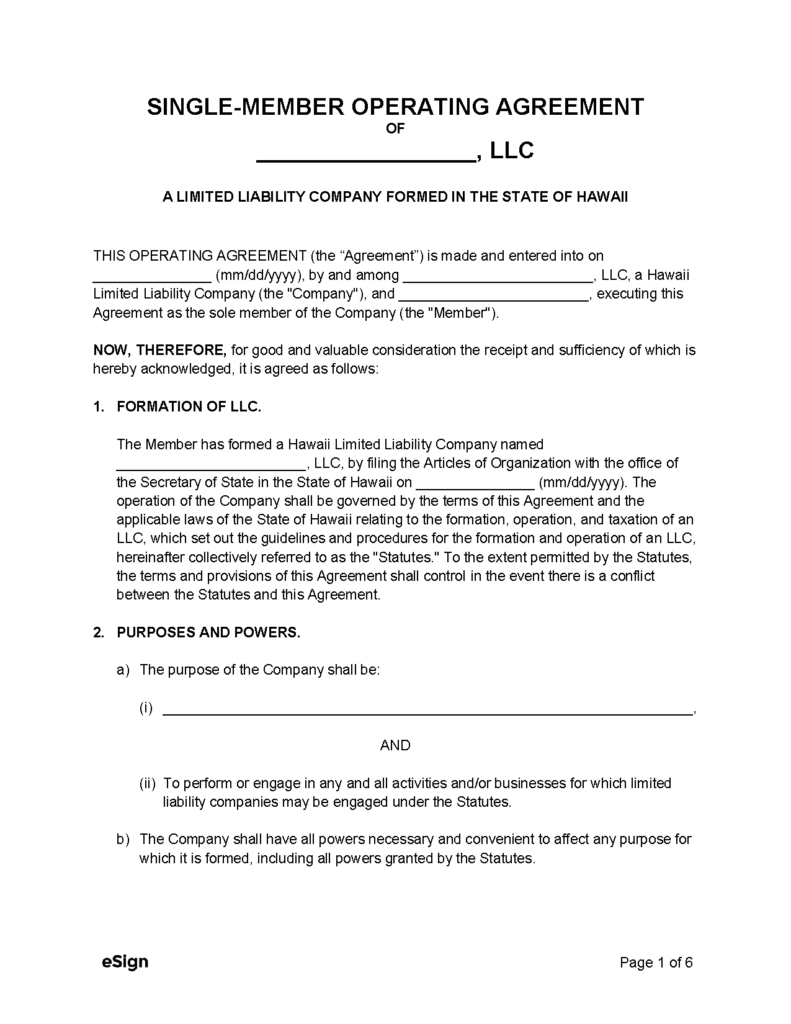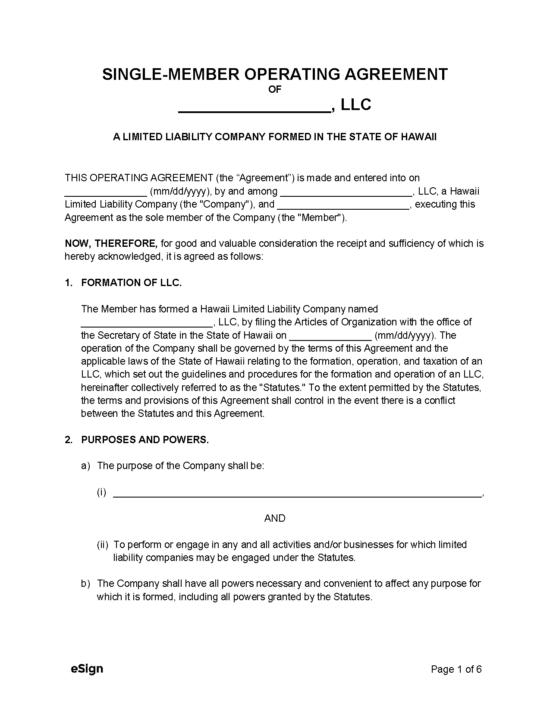 Single-Member – This form is used when founding LLCs comprised of a sole owner.
Download: PDF, Word (.docx), OpenDocument
---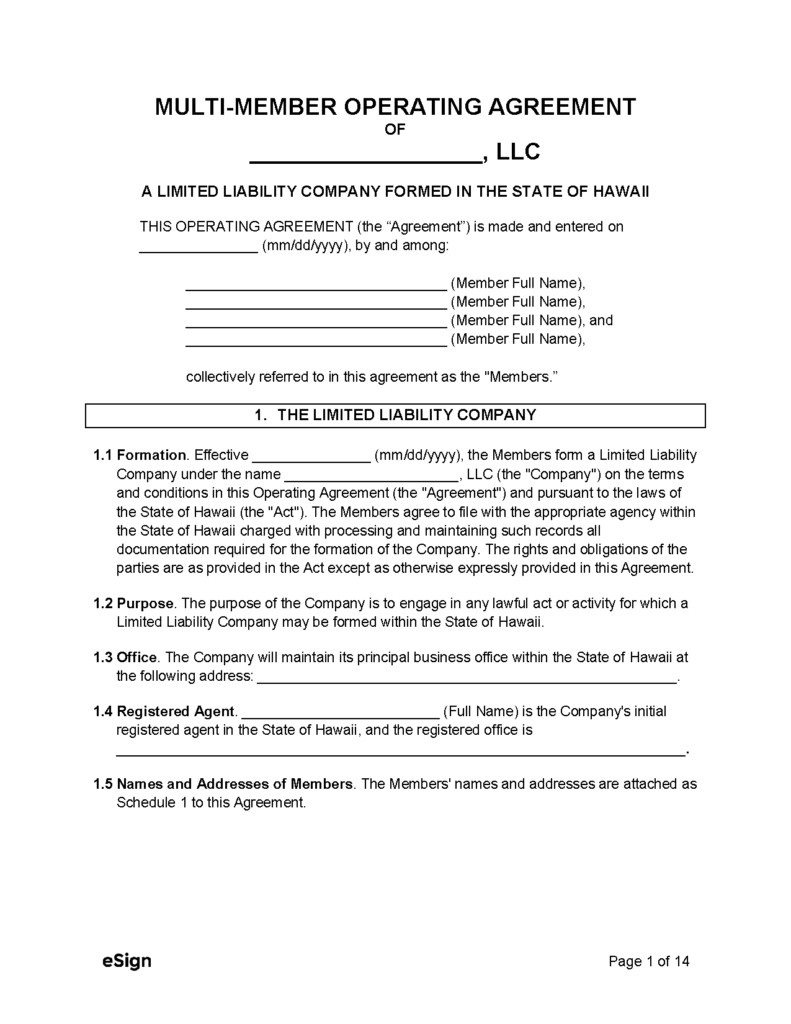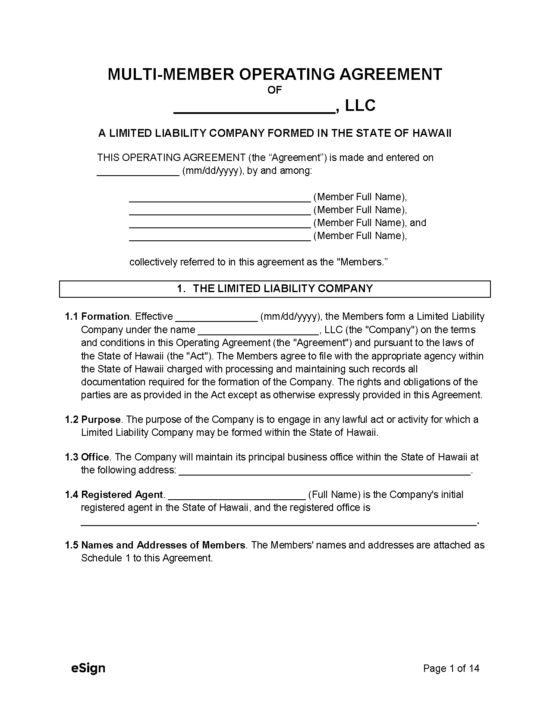 Multi-Member – Used to enter multiple members into an LLC operating agreement.
Download: PDF, Word (.docx), OpenDocument
---
Laws
---
How to File (5 Steps)
Step 1 – Choosing a Business Name
The LLC must be given a name that is not yet registered in Hawaii. The Hawaii Business Registration Division search engine can be used to search registered businesses and ensure the desired name isn't taken. However, a search will only give an indication of name availability; the Business Registration Division should be contacted for confirmation.
Although optional, a name may be reserved prior to filing the LLCs Articles of Organization via the Hawaii Business Express website or by printing and mailing the Application for Reservation of Name (Form X-1) to: P.O. Box 40, Honolulu, Hawaii 96810.
Name reservations require a $10 fee paid via the Express website or by cheque (made payable to DEPARTMENT OF COMMERCE AND CONSUMER AFFAIRS) if filing via mail. Once filed, the name is reserved for up to one hundred and twenty (120) days after submitting an application.
Note on Name Requirements
The chosen name must include either "limited liability company," "L.L.C," or "LLC." "Limited" and "Company" may also be abbreviated as "Ltd." and "Co." respectively.
---
Step 2 – Assigning a Registered Agent
All LLCs must appoint an agent for receiving service of process, demands, or legal notices. The agent can either be an individual or entity authorized to conduct business in Hawaii, but must have a physical address in the state.
Once an agent is chosen, their information will be recorded on the Articles of Organization in the following step.
---
Step 3 – Filing Articles of Organization
Forming a Domestic / Foriegn LLC
A domestic LLC is formed by filing the Articles of Organization (Form LLC-1) form with the Department of Commerce and Consumer Affairs. Foreign LLCs (out-of-state LLCs) can register with the Department by filing the Application for Certificate of Authority for Foreign Limited Liability Company (Form FLLC-1). The completed form may be delivered via the following methods:
Delivered via mail to: P.O. Box 40, Honolulu, HI 96810
Delivered in person to: 335 Merchant Street, Room 201, Honolulu, HI 96813
Faxed to: (808) 586-2733
Emailed to: breg-doci-filing@dcca.hawaii.gov
A $50 fee is required to file, plus a $1 State Archives fee. For expedited filings, an additional $25 is required.
The fee may be paid by cheque when delivering the application via mail or in person, and must be made payable to "DEPARTMENT OF COMMERCE AND CONSUMER AFFAIRS".
When filing via email and fax, the filer must submit the Business Registration Division Credit Card Transaction Form or provide ALL the information that would go on the Business Registration Division Credit Card Transaction Form when delivering an email or fax.
---
Step 4 – Completing an Operating Agreement
While not legally required, it is highly recommended that members of new LLCs execute an operating agreement after filing the Article of Organization. The agreement ensures the members are all in accordance with each other and agree to the company structure and policies.
---
Step 5 – Obtaining an EIN
An EIN (Employer Identification Number) must be obtained when forming an LLC comprised of more than one (1) member.
LLCs comprised of a sole member will only require an EIN if the proprietor chooses to file taxes as a corporation instead of a sole proprietorship, or if the LLC employs other individuals.
To apply for an EIN, visit the IRS website and select the Begin Application button to begin the application process, or download Form SS-4 and follow the filing instructions here.


---
Resources
Filing Options: Online or by Mail
Costs:
Domestic/Foreign filing fee: $50
Expedited filing (optional): $25
Name reservation: $10
Forms:
Name reservation application (PDF)
Domestic LLC Articles of Organization (PDF)
Application for Certificate of Authority for Foreign Limited Liability Company (PDF)
Filing Delivery Methods:
Fax: (808) 586-2733
Email: breg-doci-filing@dcca.hawaii.gov
Mail: P.O. Box 40, Honolulu, HI 96810
In-person: 335 Merchant Street, Room 201, Honolulu, HI 96813
Additional Information/Assistance: