---
Updated on November 9th, 2021

The Montana LLC operating agreement is a document executed by the owners of a limited liability company to establish how their business will run internally. The agreement describes ownership percentages, the membership responsibilities, company policies, record keeping, and dissolution/liquidation.

If the company were to face litigation or bankruptcy, this agreement helps shield its members from liability; therefore, it is recommended that the company owners draft the contract despite the fact that the state of Montana does not deem it legally obligatory.
Types (2)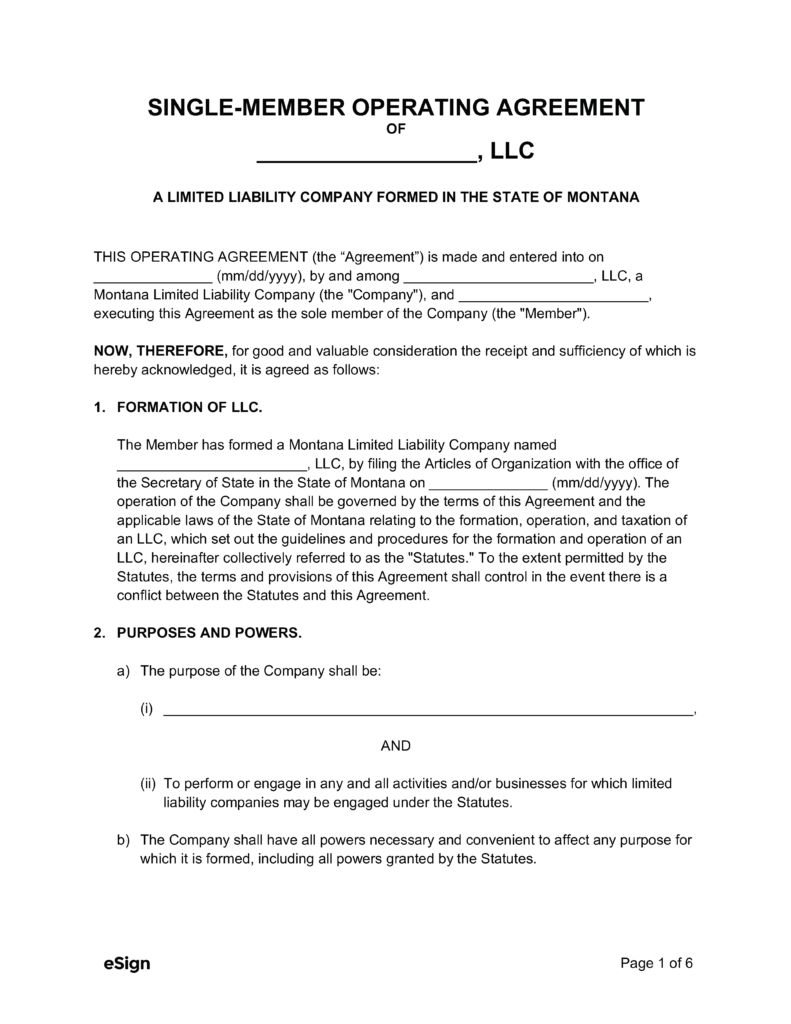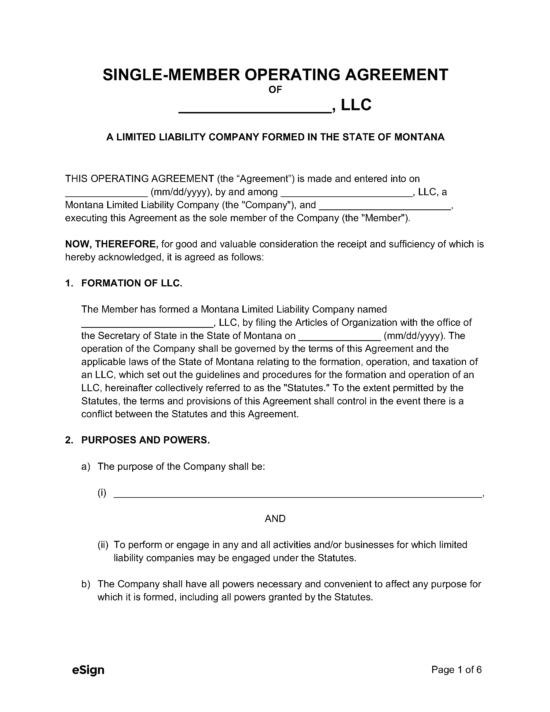 Single-Member LLC Operating Agreement – LLCs with one (1) owner may use this form.
Download: PDF, Word (.docx), OpenDocument
---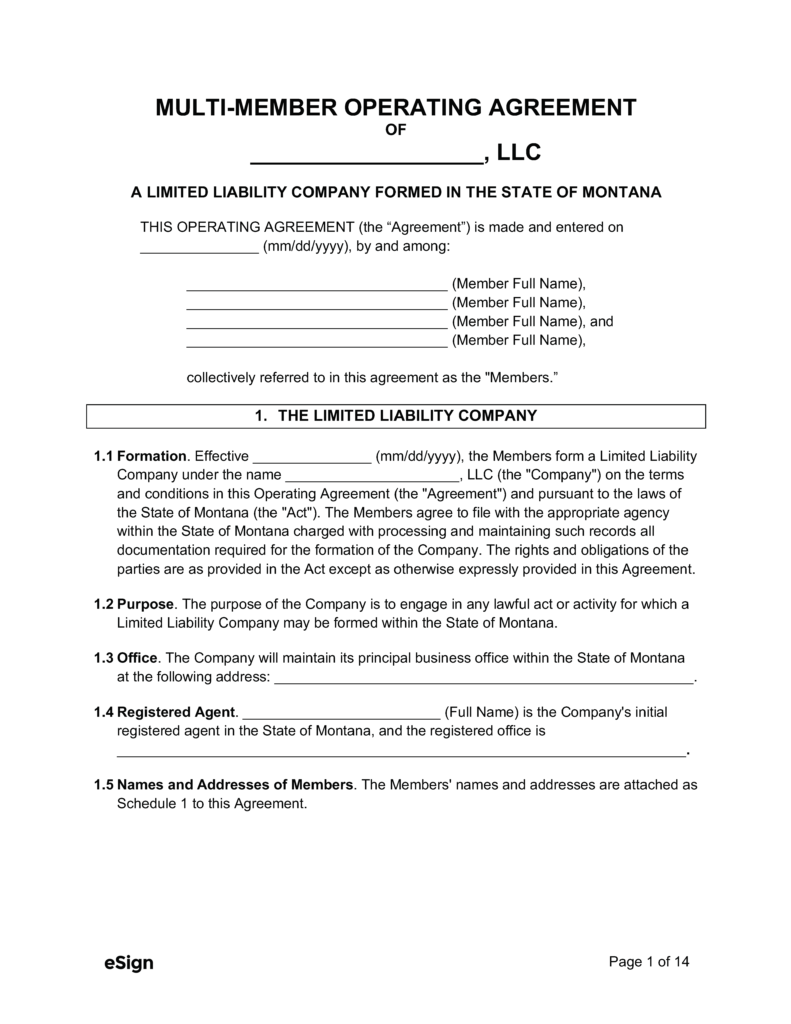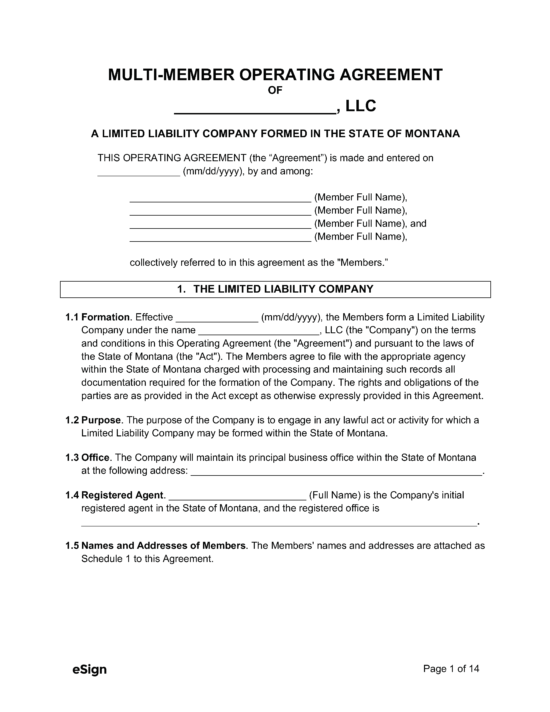 Multi-Member LLC Operating Agreement – LLCs with more than one (1) owner should use this document.
Download: PDF, Word (.docx), OpenDocument
---
Laws
---
How to File (6 Steps)
Step 1 – Choose the Entity's Name
The State of Montana requires that each LLC have a unique name that is distinguishable from all business entities registered with the Secretary of State. Therefore, a Business Entity Search may be used to verify if the desired name is available.


Once the desired name has been verified as available, it may be reserved online after an ePass Montana login has been created. Name registration may also be done by mail, fax, or in-person with this form.
Fees:

$10 to file online or in-person.
$30 for 24-hour expedited filing.
$110 for 1-hour expedited filing.

Fax: (406) 444-3976
Mail to:
Linda McCulloch
Secretary of State
P.O. Box 202801,
Helena, MT 59620-2801
---
Step 2 – Select a Registered Agent
All LLCs must appoint a registered agent to receive official documents on their behalf. The agent will accept any legal forms should the LLC be sued and official notices from the Secretary of State and tax authorities.
The selected party may be a company authorized to do business in the state or an individual Montana resident. The Secretary of State provides a list of non-commercial and commercial registered agents here.
---
Step 3 – File Articles of Organization
Articles of Organization must be filed with the Secretary of State to officially form the limited liability company.
Domestic companies wishing to apply by mail, in-person, or fax should fill out this Articles of Organization Form and submit it with a check made payable to the Secretary of State.
Any foreign LLCs intending to apply in-person, fax, or by mail must file an Application for Certificate of Authority with the Secretary of State.
The registration forms can be filed using the following methods:
Online with the Montana ePass

Enter the Montana ePass user ID and password and click Login.
Navigate to and click the Business Entity Registration button.
Follow the prompts and pay the applicable fees by credit card.

Fax: (406) 444-3976.
Mail/In-Person with a check or money order:
Linda McCulloch
Secretary of State
P.O. Box 202801,
Helena, MT 59620-2801
Note on Filing Fees:
The required filing fee for domestic and foreign LLCs is $70; however, this process may be expedited to a 24-hour priority with an additional $20 or a 1-hour express handling for an additional $100.
---
Step 4 – Create an Operating Agreement
An operating agreement is a form that details the internal structure of how the LLC will be managed, run, and structured. It describes the owner's rights, responsibilities, and ownership stake. The operating agreement is not a legal requirement in the state of Montana but is highly advisable as it protects its members from litigation and company debt.
---
Step 5 – Obtain an EIN
Every multi-member LLC must obtain an Employer Identification Number (EIN) from the Internal Revenue Agency (IRS). Single-member LLCs with employees and those that opt to be taxed as a corporation will also require an EIN. The application process can be accomplished at no cost both online or by mail via Form SS-4 to the following address:
Internal Revenue Service
Attn: EIN Operation
Cincinnati, OH 45999
---
Step 6 – File Annual Statement
In order to stay in good standing with the Secretary of State, an annual report must be filed each year before April 15th. If filed on time, the fee is $20, and if filed late, the fee is $35.
Domestic LLCs that fail to file an annual report by December 1st will be dissolved. If this occurs, owners of the LLC will have an option of filing an Application for Reinstatement for up to five (5) years.
Foreign LLCs will be dissolved if they fail to file by November 1st and will have no option to file for reinstatement.
---
Resources
Filing Options: Online, by fax, in-person, or by mail
Costs:
Domestic and foreign LLC filing fee: $70

$90 for 24-hour expedited filing
$170 for 1-hour expedited filing

Name reservation: $10

$30 for 24-hour expedited filing
$110 for 1-hour expedited filing
Forms:
Links: