---
Updated on November 9th, 2021

A Wyoming LLC operating agreement is an important document drafted by the members of a limited liability company to layout the business structure of the company and the rights and obligations of the members and management. Defining the relationship between the company and members is integral, as this could help avoid disputes within the company as well as legal issues with third parties. An LLC operating agreement also sets forth terms such as type of management, business purpose, contributions and distributions, voting rights, transfers of ownership, and dissolution.
Types (2)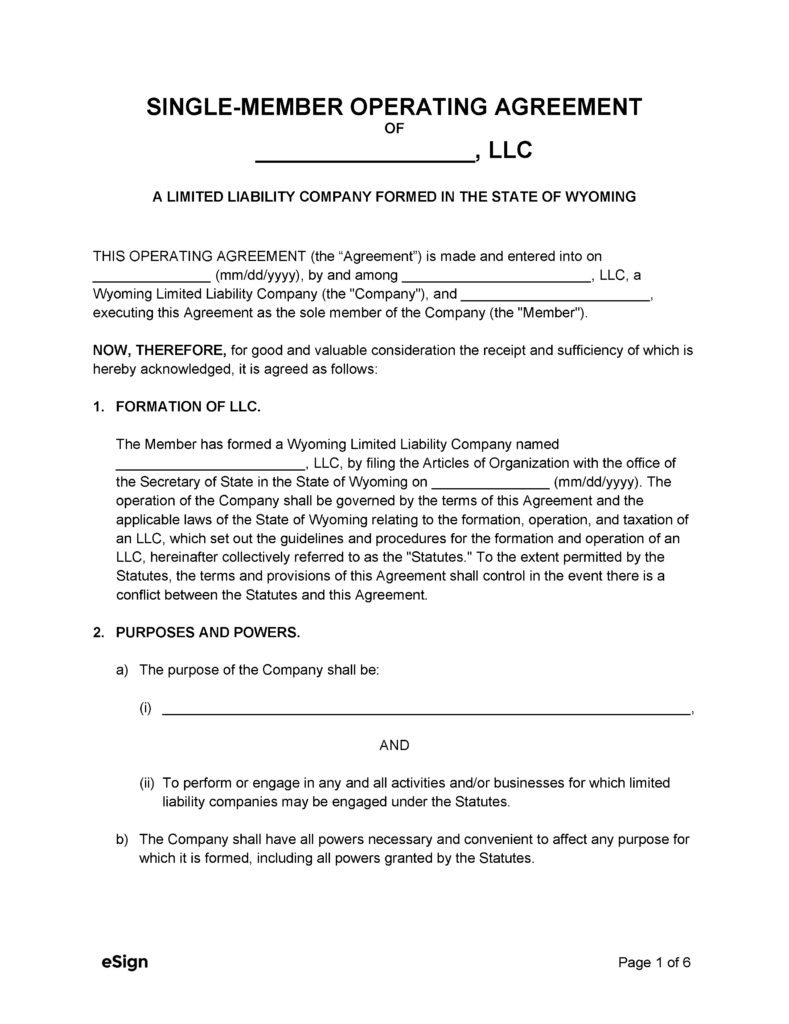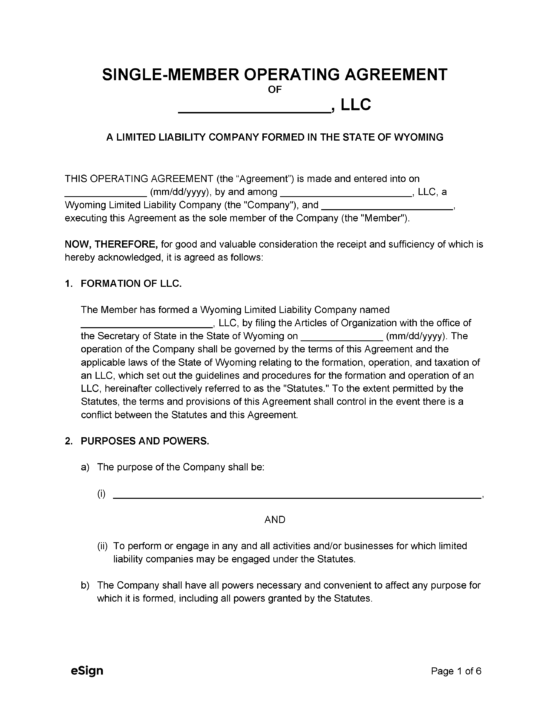 Single-Member LLC Operating Agreement – Used for the governance of an LLC that has only one (1) member.
Download: PDF, Word (.docx), OpenDocument
---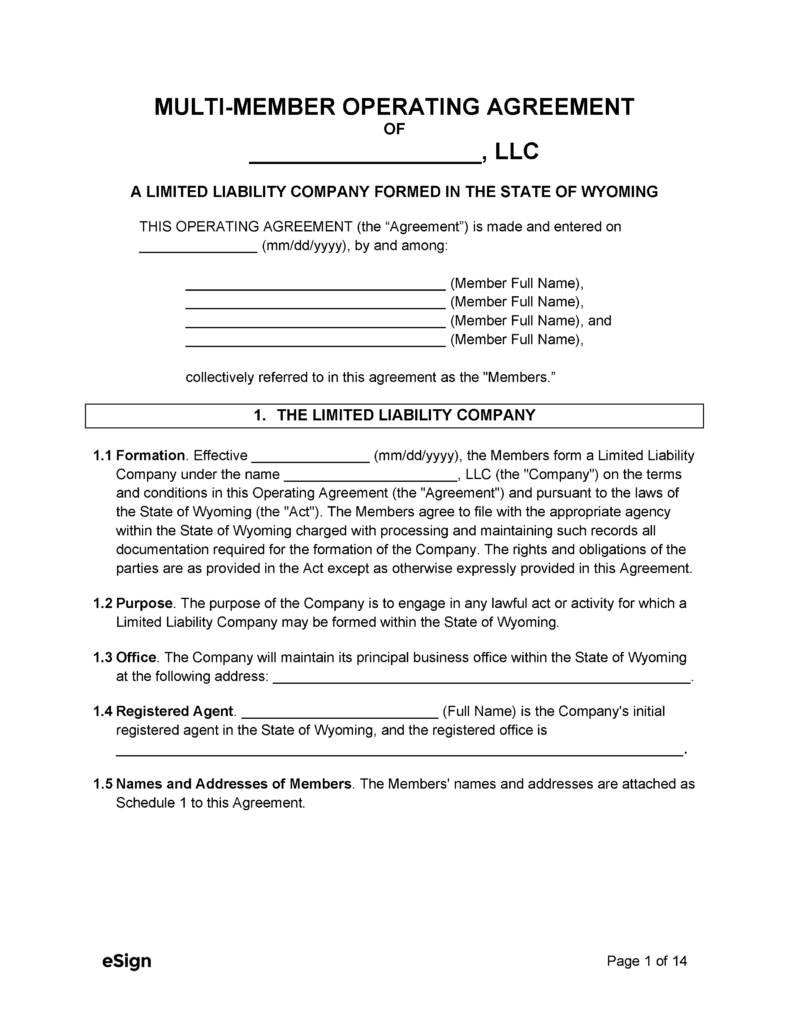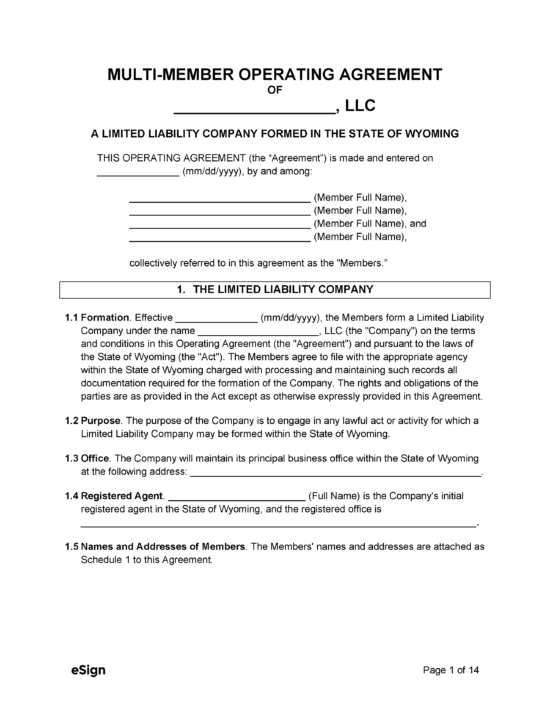 Multi-Member LLC Operating Agreement – An agreement used by limited liability companies with at least two (2) members.
Download: PDF, Word (.docx), OpenDocument
---
Laws
---
How to File (5 Steps)
Step 1 – Choose a Company Name
Each LLC must have a unique name that also complies with state requirements as set forth in § 17-29-108.
Once a name has been chosen, a name search can be performed on the Secretary of State's (SOS) website to ensure it is an original name not being used by another Wyoming company.


A name can be reserved if it is available by completing an Application for Reservation of Name, attaching a check or money order for $60, and sending them by mail to the SOS office (Herschler Building East, Suite 101, 122 W 25th Street, Cheyenne, WY, 82002-0020).
---
Step 2 – Appoint a Registered Agent
All businesses formed in Wyoming need to elect a registered agent to receive service of process on behalf of the company.
In order to be appointed as a registered agent, the individual or business entity (such as a professional registered agent service) must have a physical address in the state (cannot be a PO box).
LLCs often use their accountant or attorney as their registered agent; however, it can be any individual as long as they are at least eighteen (18) years old, they reside in Wyoming, and have a physical address in the state.
---
Step 3 – Register the Company
LLCs must be registered with the SOS in order to conduct business within Wyoming.
To create a domestic LLC, an organizer (individual selected by the members to register the company) must file the Articles of Organization online or by mail.
Foreign LLCs that are registered out-of-state must complete an Application for Certificate of Authority and file it by mail.
Domestic LLCs
Online
Visit the Form or Register a New Business webpage on the SOS website.
Select Limited Liability Company (Domestic) from the dropdown menu, select the attestation checkbox, then click Next>>.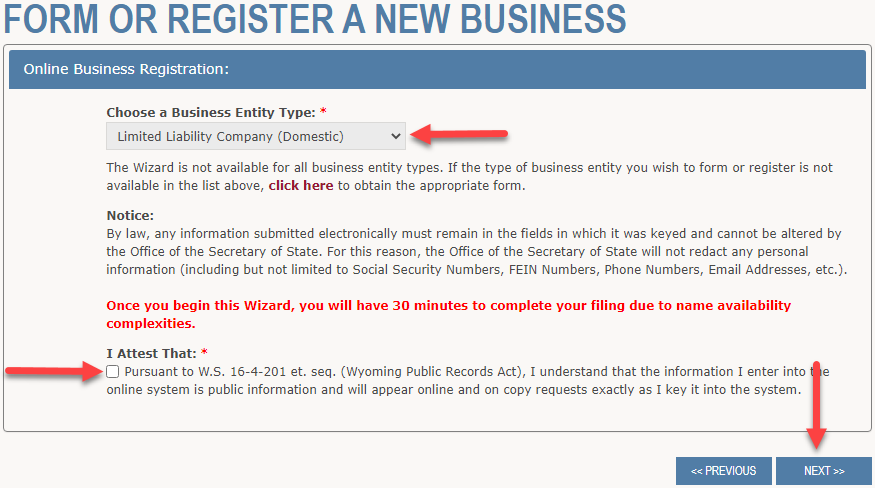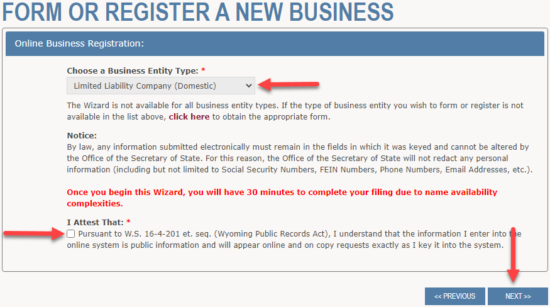 The subsequent nine (9) pages will ask for pertinent business information such as company name, registered agent information, addresses, members and organizers, and signatures.
A $100 filing fee is required at the final step of the process; payment can be made using Visa or MasterCard.
By Mail
Download the Articles of Organization form and complete all the required fields.
The $100 filing fee can be paid by check or money order made payable to the Wyoming Secretary of State.
The document and filing fee can be sent to the following address:
Wyoming Secretary of State
Herschler Building East, Suite 101
122 W 25th Street
Cheyenne, WY 82002-0020
Foreign LLCs
By Mail Only
Download the Application for Certificate of Authority and complete all necessary fillable fields.
Obtain a Certificate of Existence/Good Standing from the state (or country) of formation.
Make a check or money order to the Wyoming Secretary of State for the amount of $150.
File both documents and the check/money order to the Secretary of State (address listed above).
---
Step 4 – Draft an Operating Agreement
An operating agreement doesn't need to be filed with the Secretary of State like the Articles of Organization; however, it is recommended that LLC members draft such an agreement and maintain a copy for their records.
Single-Member Operating Agreement
Multi-Member Operating Agreement
---
Step 5 – Apply for an EIN
LLCs that have more than one (1) member must apply for an Employer Identification Number with the IRS regardless of if they intend on hiring employees or not. (If a single-member LLC has employees, they will also need to apply for an EIN). Applying for an EIN is free and can be done online or by mail.
To apply online, visit the IRS EIN Assistant webpage, follow the necessary steps, and applicants will receive their EIN immediately upon verification.
Alternatively, entities can apply by completing an Application for Employer Identification Number and sending it by mail to the address below.
Internal Revenue Service
ATTN: EIN Operation
Cincinnati, OH, 45999
---
Resources
Filing Options: Online or by Mail
Costs:
Domestic filing fee: $100
Foreign filing fee: $150
Name reservation: $60
Forms:
Links: