An Arizona non-compete agreement is a contract in which the signing party agrees not to perform similar work as their employer after their working relationship has ended. The document defines the activities the recipient (usually an employee) cannot partake in and the area and period in which the restrictions apply.
Non-competes may also contain non-disclosure and non-solicitation covenants, allowing employers to maintain their company information confidential and prohibit former employees from contacting their customers or staff. Employers may set the scope of the restrictions, but the reasonableness and enforceability of the contract will ultimately be determined by a court of law if the terms are violated.
Enforceability in Arizona
Non-compete agreements are enforceable contracts under Arizona common law.[1] The courts have established a number of requirements that the contract must meet:
The restrictions must be reasonable and limited to protecting the employer's interest.
The restrictions do not conflict with public policy
The restrictions are made in good faith.
The non-compete must be ancillary to an employment contract or other legal agreement.[1]
It should be noted that courts generally disfavor non-compete agreements that restrict employees and are more lenient towards those made in connection with the sale of business entities.[2][3]
When it IS Enforceable
Protecting interests. Courts will only enforce a non-compete if there is a valid interest that would be at risk without any restriction in place. Examples of legitimate business interests include:
When it's NOT Enforceable
Broadcasters. State law prohibits individuals working for television or radio networks or stations from being restricted by non-compete agreements or covenants.[6]
Right to practice law. Agreements limiting an attorney's right to practice law are void (unless made in connection to their retirement benefits or the sale of a legal practice).[7]
Maximum Time Period
When assessing the enforceability of a time restriction, courts will evaluate how much time an employer requires to offset or mitigate the "risk of injury" of an employee's termination.[8] The courts' assessment also takes into account the restricted party's specialization.[9]
Six (6) months to one (1) year has been deemed an appropriate length of time for a restriction in complex sales or service relationships; however, longer periods have also been permitted.[8][9] For general customer relationships, a restriction of several months is often deemed reasonable.
A court may allow a longer scope if it is shown to be necessary, as was the case when a two (2) year restriction was upheld when the employer proved that this duration was necessary to train the replacement employee and restore client relations.[10]
More prolonged time restrictions may be enforced for non-competes ancillary to the sale of a business. For example, one court upheld a ten (10) year non-compete covenant to not engage in the same line of work as the purchaser of a company.[11]
Geographical Area
As there are no statutory parameters for the geographical area of a non-compete covenant, the courts will determine reasonableness based on the following factors:
The complete agreement
The nature of the company
The employer's region
The involved parties' objectives[11]
Examples of enforced restrictive scopes include a fifty (50) miles radius around Phoenix and the entirety of the Phoenix Metropolitan area (in the case of a non-solicitation agreement).[9][12] In the case of a company being sold, a non-compete restriction of one hundred (100) miles around Tucson was upheld.[11]
Consideration
Arizona common law has established that consideration is required for a non-compete agreement to be enforceable. Continued employment has been accepted as consideration by the courts in numerous cases, including cases involving at-will employees.[13][14]
Changes in a worker's employment terms, such as a promotion or increase in salary, may also be used to support a non-compete agreement.[8]
Sources
---
Related Forms (2)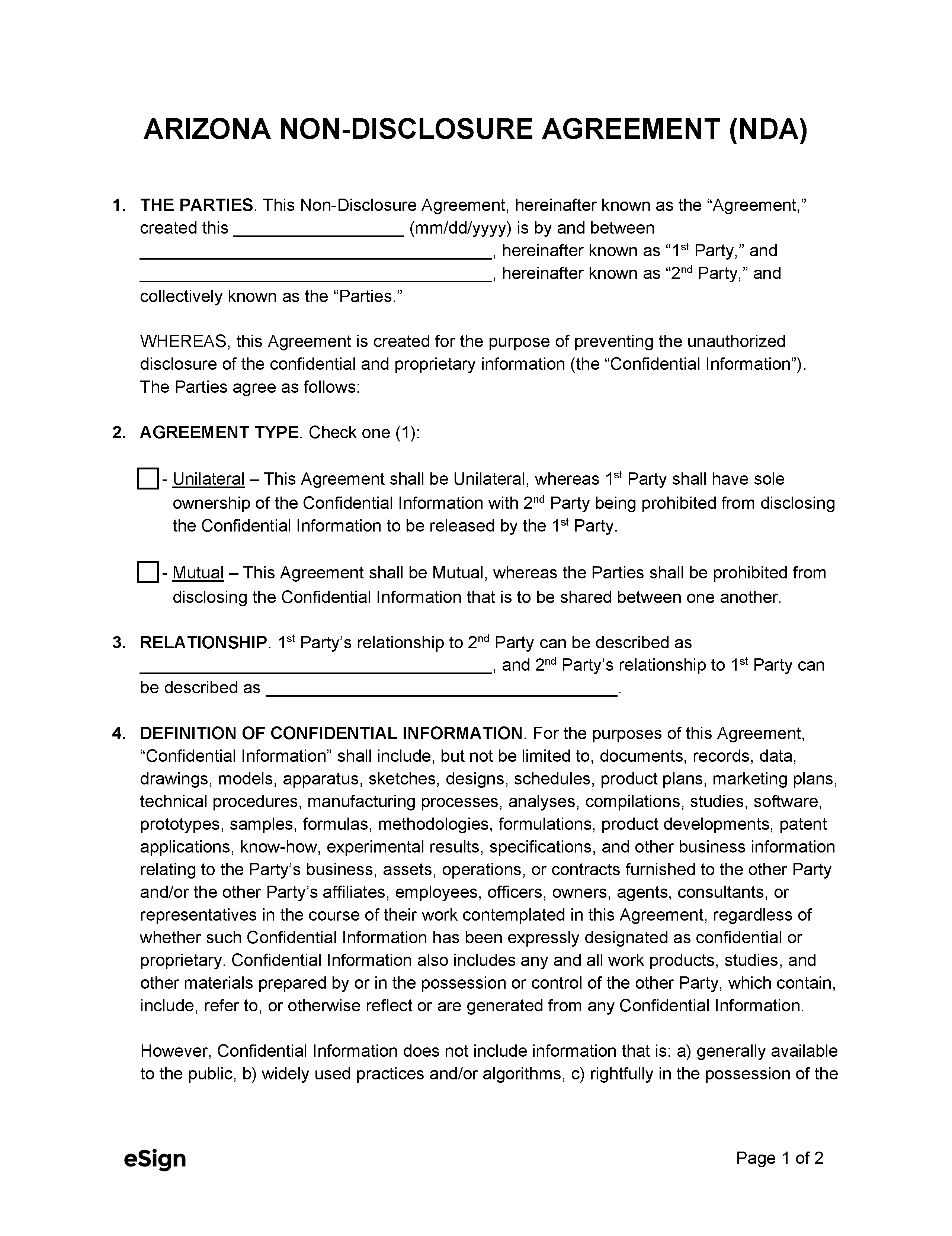 Arizona Non-Disclosure Agreement – A contract completed prior to discussing confidential information to prevent dissemination.
Download: PDF, Word (.docx), OpenDocument
---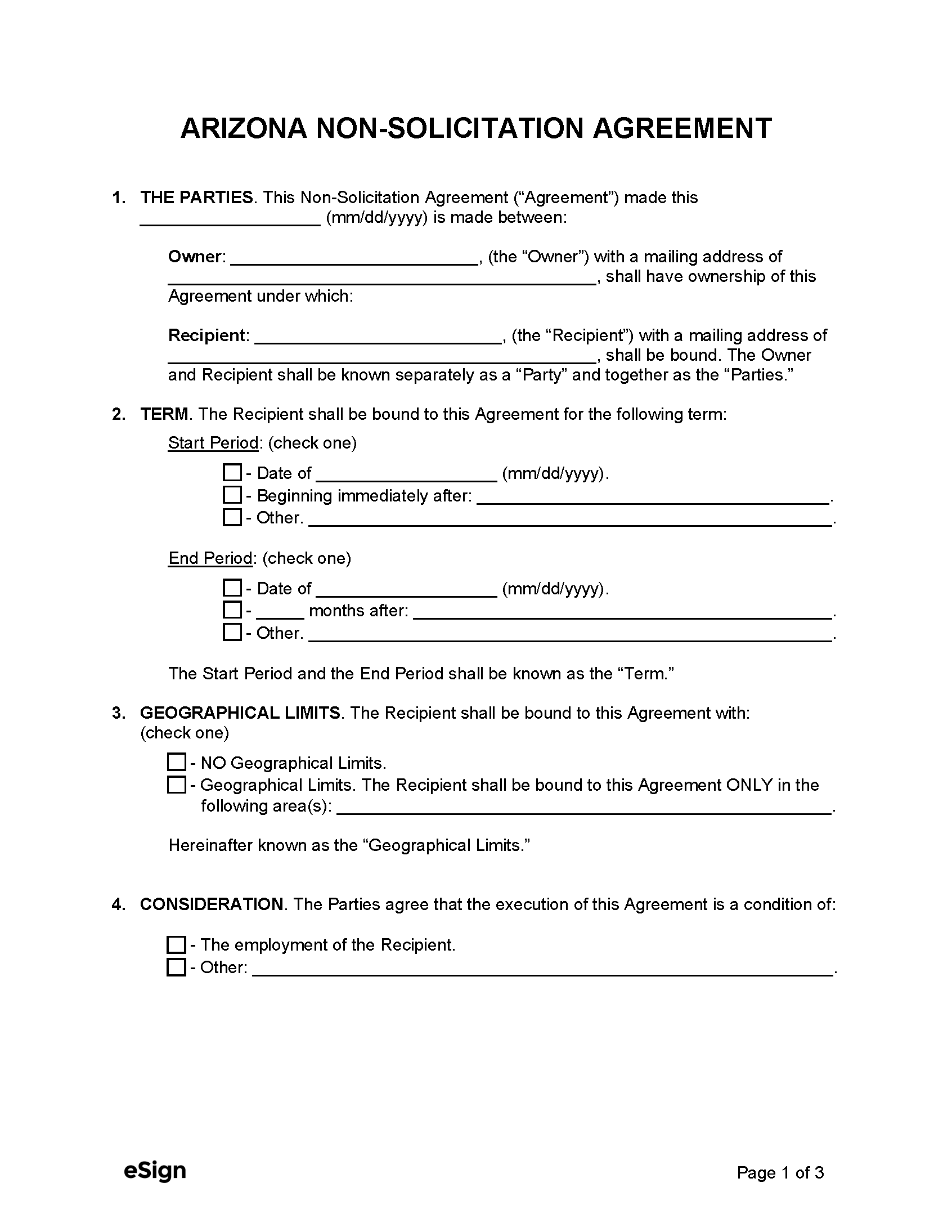 Arizona Non-Solicitation Agreement – Prohibits a worker from transacting business with the employees and customers of their previous employer.
Download: PDF, Word (.docx), OpenDocument