An Arizona notary acknowledgment is a form that verifies the signature of an individual through identity confirmation by a notary public. The notarial officer taking the acknowledgment will need to identify the individual either personally, through confirmation by another individual, or by inspecting pieces of photo identification. The acknowledgment is then attached to the legal document that was signed by the individual.
The position of a notary public is applied for through the Secretary of State's office and is valid for a period of four years (§ 41-269(E)).
Is Online Notarization Legal in Arizona?
Yes, on June 30, 2022, Senate Bill 1115 was passed making it legal for a notarial officer to acknowledge signatures remotely using communication technology. The officer is required to adhere to the parameters set forth in ARS § 41-263 and Admin. Code § R2-12-1306.
Furthermore, online notarizations must be recorded in an electronic journal, and each entry must include the following information:
The date and time of the notarial act.
 A description of the record and type of notarial act
The full name and address of each signer.
Proof of identity in the form of:

Statement of personal knowledge;
Description of the ID process; or
Witness identity information.

The fee charged by the notary public (if any).
Statute: Admin. Code § R2-12-1309(A)
Online Notarization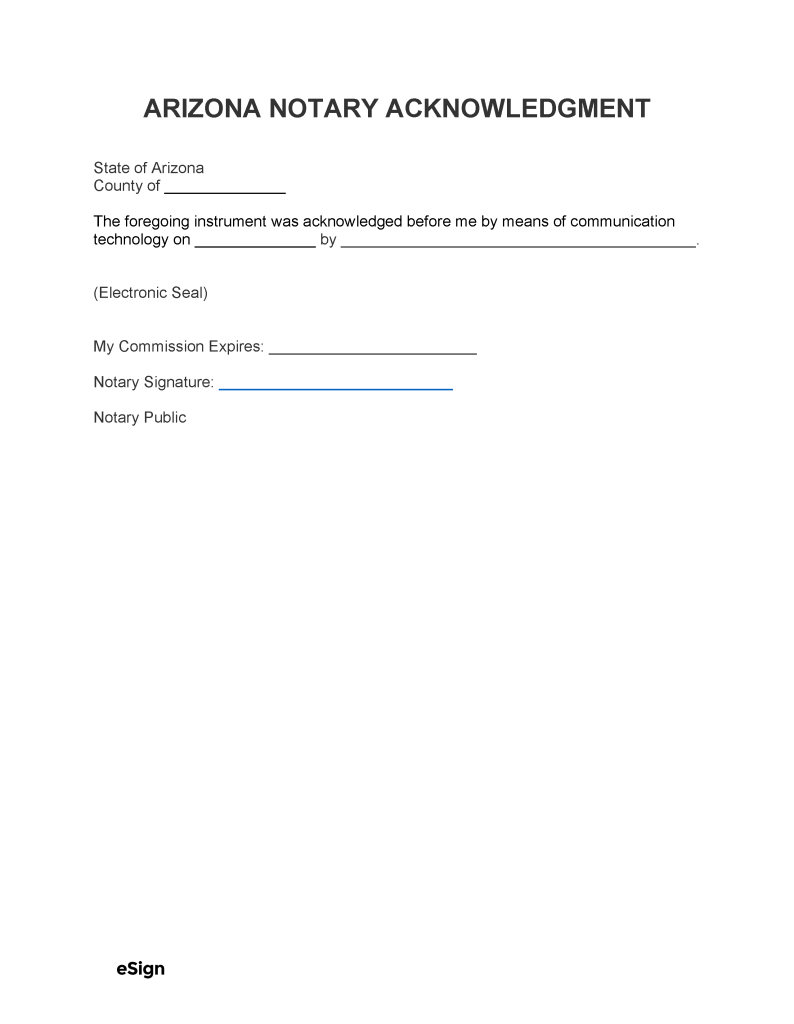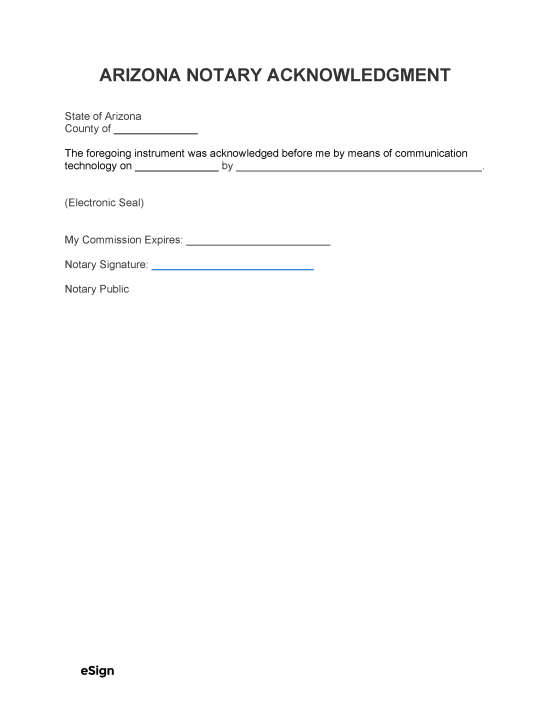 Arizona Electronic Notary Acknowledgment Form – Notaries can use this form to take acknowledgments from signatories who have appeared before them using online communication technology.
Download: PDF, Word (.docx), OpenDocument
---
Sample (Individual)
Download: PDF, Word (.docx), OpenDocument

ARIZONA NOTARY ACKNOWLEDGMENT 
State of Arizona
County of [COUNTY]
On this [MM/DD/YYYY] before me personally appeared [SIGNER NAME], whose identity was proven to me on the basis of satisfactory evidence to be the person who he/she claims to be and acknowledged that he/she signed the above/attached document.
(Seal)
________________________
Signature of Person Taking Acknowledgment
Title or Rank: [TITLE OR RANK]
Serial Number (if any): [SERIAL NUMBER]
My Commission Expires: [MM/DD/YYYY]
Resources