An Iowa notary acknowledgment form is a legal instrument stating that a notary has confirmed the identity of document's signer. The form is completed by the notary to record the date, involved parties, and location of the signing. Notarial acts are used to prevent fraud and verify that those executing documents are doing so by their own free will.
Notary publics are appointed for four-year terms (§ 9B.21(6)).
Is Online Notarization Legal in Iowa?
Yes, Iowa state statutes allow remote notarization. The law was passed under  SF475 and made effective on July 1st, 2020.
Statute: § 9B.14A
Online Notarizations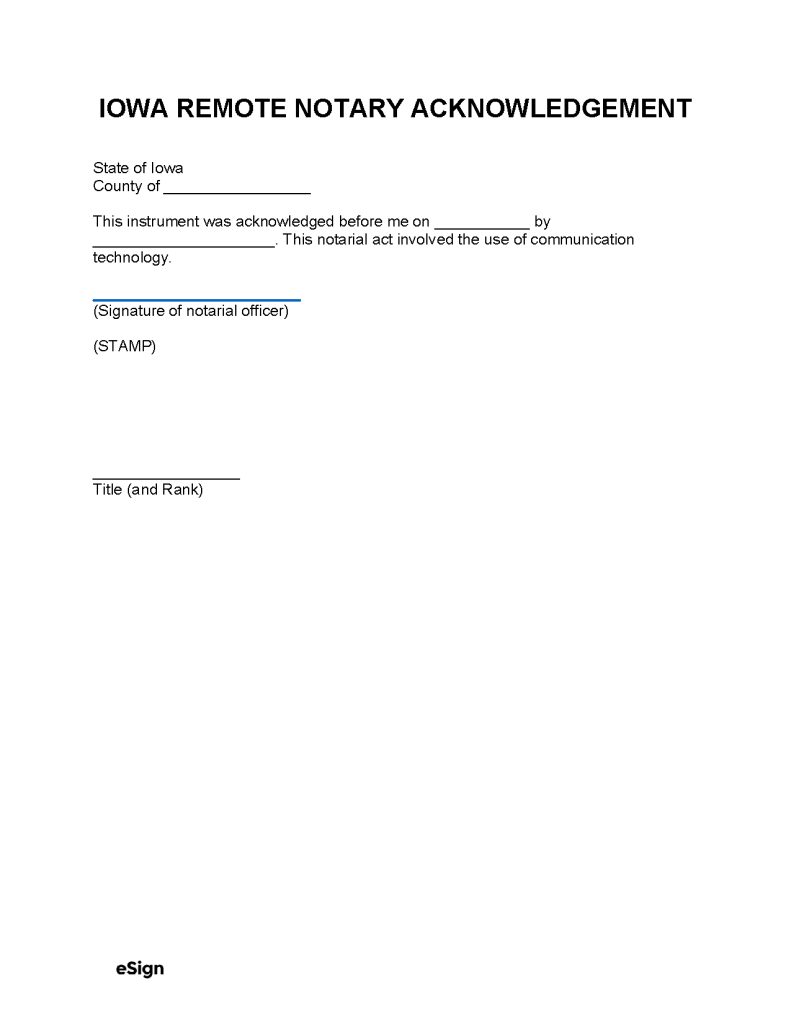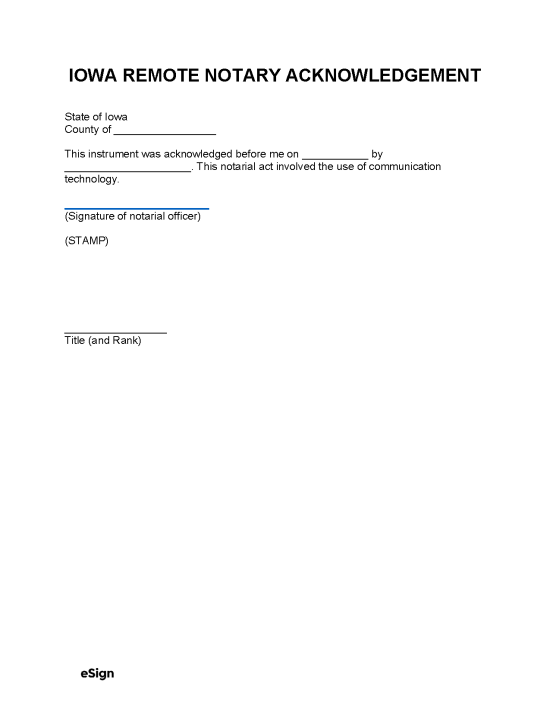 Iowa Remote Notary Acknowledgement Form – Allows a notary public to notarize a legal instrument remotely.
Download: PDF, Word (.docx), OpenDocument
---
Sample (Individual)
Download: PDF, Word (.docx), OpenDocument

IOWA NOTARY ACKNOWLEDGMENT
STATE OF IOWA, COUNTY OF [COUNTY], ss:
On this [DAY] of [MONTH], [YEAR], before me, the undersigned, a Notary Public in and for the State of Iowa, personally appeared [NAME], to me known to be the identical person(s) named in and who executed the foregoing record, and acknowledged that he/she/they executed the same as his/her/their voluntary act and deed.
________________________
SIGNATURE OF NOTARIAL OFFICER
[TITLE OF OFFICE]
(STAMP)
My commission expires: [MM/DD/YYYY]
---
Resources