A Nevada notary acknowledgment is a certificate that verifies the authenticity of one or more persons' signatures on a document. This form, completed by a notary public, proves that the people who signed the document did so voluntarily and that the notary has confirmed their identities. Each person who signs must be physically present when the notary fills out the acknowledgment form.
In Nevada, a person commissioned as a notary public can perform notarial acts for a term of 4 years (NRS 240.020).
Is Online Notarization Legal in Nevada?
Yes. When Assembly Bill 413 took effect on December 14, 2018, it became legal for Nevada notaries to perform notarizations using online audiovisual platforms and digital tools.
Notaries should review the eNotary FAQs to learn how to become an electronic notary and to review the requirements for performing online notarizations.
Statutes: NRS 240.181 – 240.206
Online Notarizations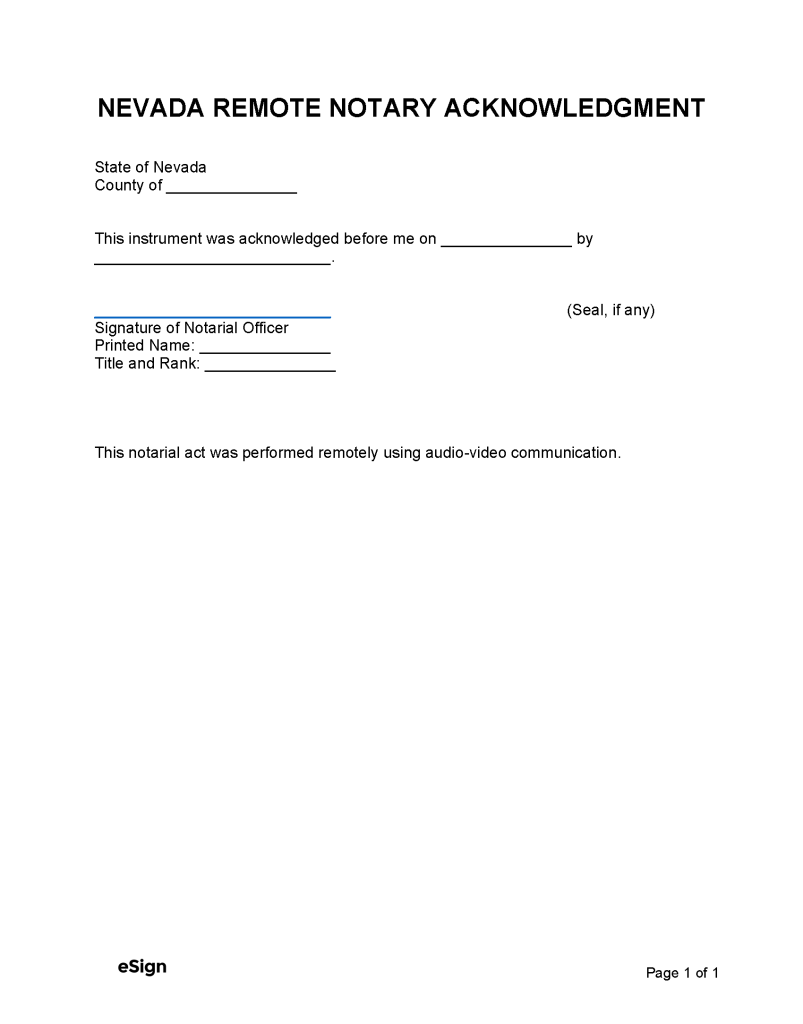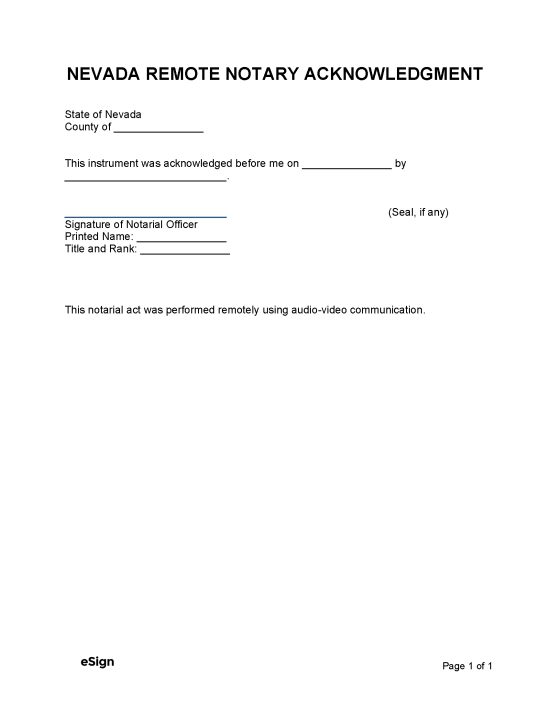 Nevada Remote Notary Acknowledgment Form – Notaries can use this document to perform acknowledgments for individuals who appear before them through online communication technology.
Download: PDF, Word (.docx), OpenDocument
---
Sample (Individual)
Download: PDF, Word (.docx), OpenDocument
NEVADA NOTARY ACKNOWLEDGMENT 
State of Nevada
County of [COUNTY]
This instrument was acknowledged before me on [MM/DD/YYYY] by [NAME OF SIGNER(S)].
________________________
Signature of Notarial Officer
Printed Name: [NOTARY'S PRINTED NAME]
Title and Rank: [NOTARY'S TITLE AND RANK]
(Seal, if any)
---
Resources