A Rhode Island notary acknowledgment is a form attached to a signed document that verifies the identity and signature of its signatory. When a notary public completes the form, they're stating that the individual is who they say they are, their signature is genuine, and they have not been coerced into signing. The document must indicate what type of identification the individual used to prove their identity to the notary.
The commission of a notary public in Rhode Island must be renewed every four years (42-30.1-15(f)).
Is Online Notarization Legal in Rhode Island?
Yes, as of June 30, 2022, House Bill 7363 and Senate Bill 2705 was passed, allowing Remote Online Notarization (RON) when the notary is in the state during the act. The officer is required to electronically record the notarial act and keep that recording for at least ten years. The notary also must complete an electronic journal entry and indicate that the notarization was done using communication technology.
Statutes: § 42-30.1-12.1 and § 42-30.1-12.2
Online Notarization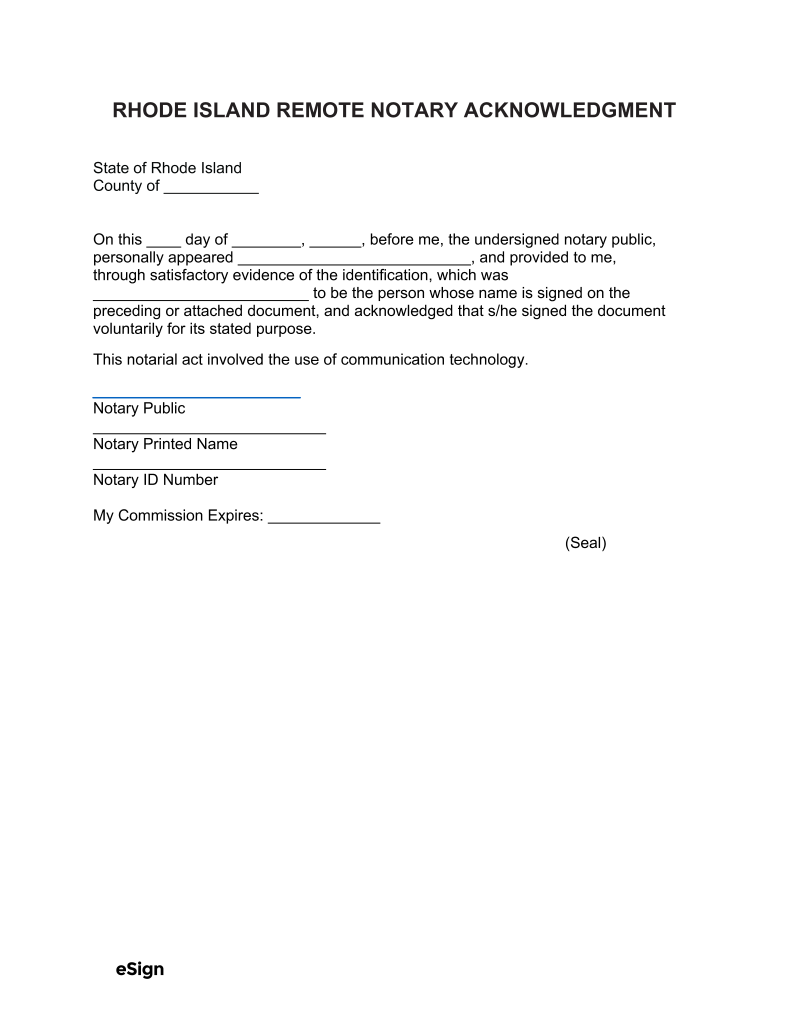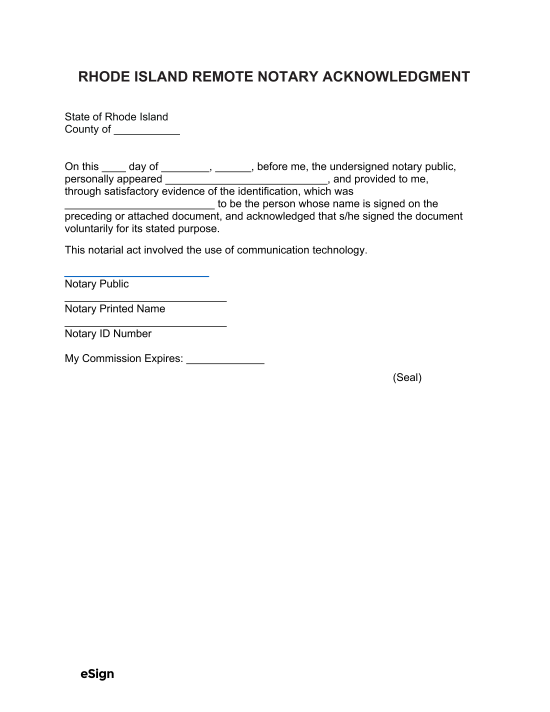 Rhode Island Remote Notary Acknowledgment Form – This certificate can be used to indicate the notarial act was performed remotely using communication technology.
Download: PDF, Word (.docx), OpenDocument
---
Sample (Individual)
Download: PDF, Word (.docx), OpenDocument

RHODE ISLAND NOTARY ACKNOWLEDGMENT
State of Rhode Island
S.S.
County of [COUNTY]
On this [DAY] day of [MONTH], in the year of 20[YEAR], before me, the undersigned notary public, personally appeared [NAME OF SIGNER], and proved to me through satisfactory evidence of identification to be the person whose name is signed on the preceding or attached document, and acknowledged that they signed it voluntarily for its stated purpose.
_________________________
Notary Public
[NOTARY NAME]
[NOTARY ID NUMBER]
My Commission Expires on [MM/DD/YYYY]
---
Resources