---
Updated on June 29th, 2023

A Vermont notary acknowledgment is a document that certifies the authenticity of a signature on a legal document. An acknowledgment means that a declaration was made before a notary public that the individual signed the document for the purpose stated therein. The signer will be required to prove their identity to the notary public, generally by providing photo ID, unless the notary knows them personally or professionally.

Notaries are commissioned to a two-year term that begins on February 1 and ends on January 31 of the second year (§ 5304(3)).
Is Online Notarization Legal in Vermont?
Yes. Notaries can acknowledge legal documents signed remotely. The notary must have personal knowledge, satisfactory evidence, or a witness's oath or affirmation of the signer's identity.
Statutes: §§ 5379, 5380, Emergency Administrative Rules
Online Notarizations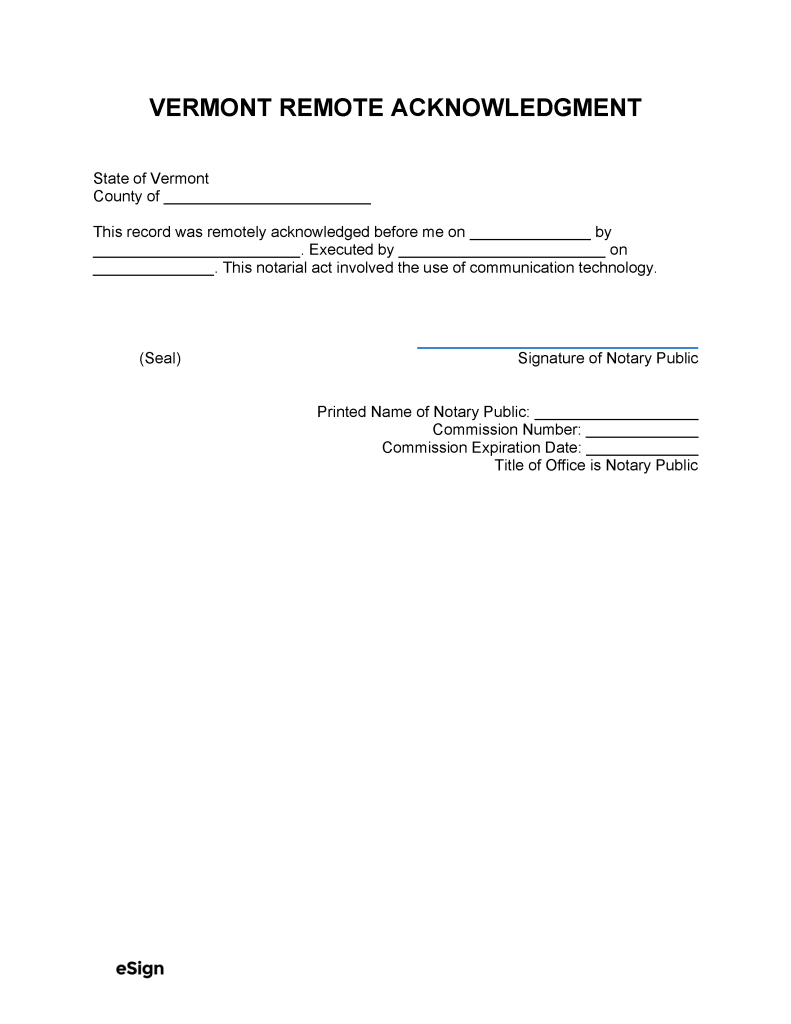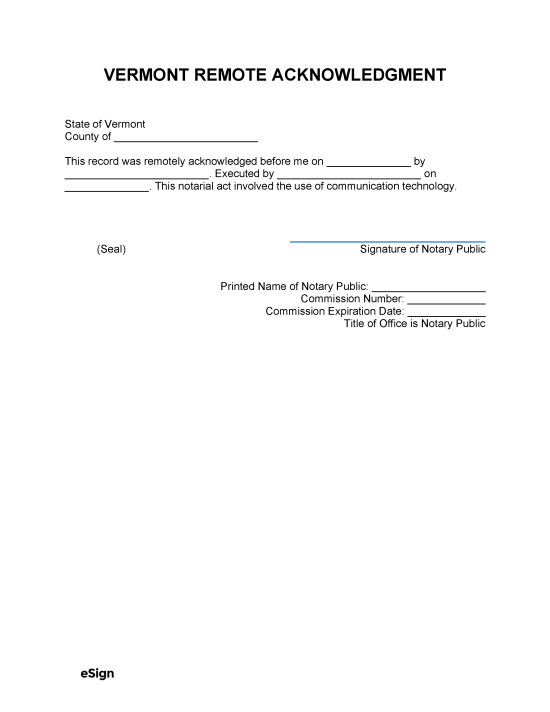 Vermont Remote Acknowledgment Form – This form can be used to perform remote notarizations by certified Vermont notary publics.
Download: PDF, Word (.docx), OpenDocument
---
Sample (Individual)
Download: PDF, Word (.docx), OpenDocument
VERMONT NOTARY ACKNOWLEDGMENT
State of Vermont
County of [COUNTY NAME]
This record was acknowledged before me on [MM/DD/YYYY] by [SIGNER'S NAME].
Date: [MM/DD/YYYY]
Name(s) of individual(s): [SIGNER'S NAME]
(Seal)
________________________
Signature of Notary Public
Title of Officer: [TITLE]
My Commission Expires: [DATE]
---
Resources