A West Virginia notary acknowledgment is used to certify the signature on a legal document. The certificate is completed and executed by an individual who is qualified to perform notarial acts after they have verified the signer's identity and witnessed their signature. The completed form must include the acknowledgment date, signer's name, jurisdiction in which the act was performed, and the notary's title of office, commission expiration date, and official stamp.
West Virginia notaries are given five-year terms starting on their date of commission (§ 39-4-20(d)).
Is Online Notarization Legal in West Virginia?
Yes. As of 2021 (Senate Bill 469), a notary located in the state can notarize documents for a remotely located individual if they can verify the signer's identity through one of these methods:
Personal knowledge of the individual's identity
Oath or affirmation from a credible witness
Two different types of identity proofing
Furthermore, the notary public must fulfill the following additional requirements for remote notarization:
Confirm that the document witnessed by them is the same as the one that was signed
Make an audio-visual recording of the notarial act
Include the statement, "This notarial act involved the use of communication technology," on the acknowledgment
If the signer is located outside the United States, the notary must be an appointed Out-of-State Commissioner, and the notarization must relate to one of the following:
A matter before a public official or court, governmental entity, or other entity under state jurisdiction
Property located in the state
A transaction substantially connected with the state
Statute: § 39-4-37
Online Notarizations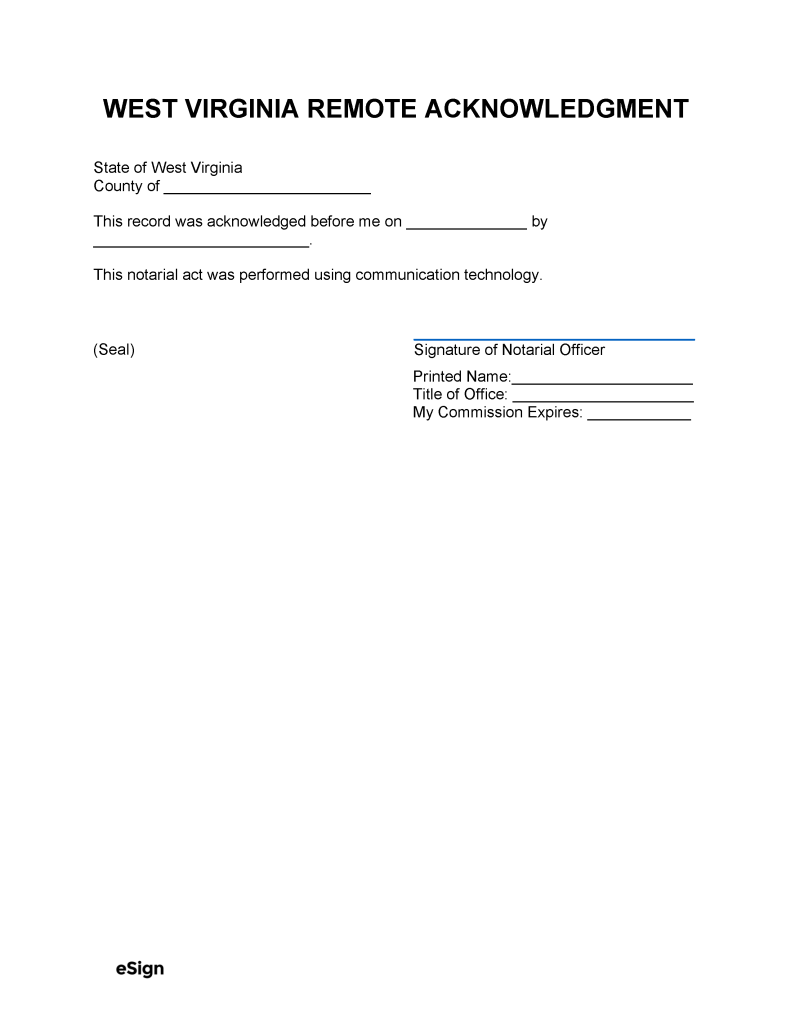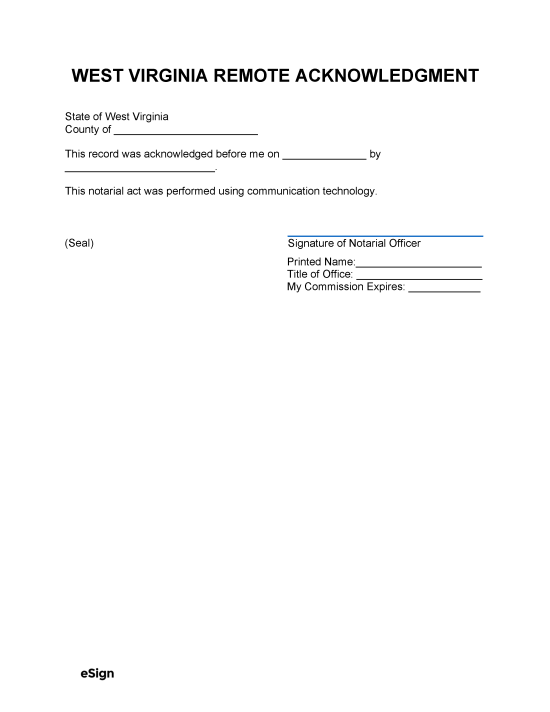 West Virginia Remote Acknowledgment Form – Notaries can use this form when performing remote acknowledgments over video.
Download: PDF, Word (.docx), OpenDocument
---
Sample (Individual)
Download: PDF, Word (.docx), OpenDocument
WEST VIRGINIA NOTARY ACKNOWLEDGMENT
State of West Virginia
County of [COUNTY NAME]
This record was acknowledged before me this [MM/DD/YYYY] by [SIGNER'S NAME].
(Seal)
________________________
Signature of Notarial Officer
Printed Name: [NOTARY'S NAME]
Title of Office: [NOTARY'S TITLE]
My Commission Expires: [DATE]
---
Resources