A Texas advance directive allows a person to outline their wishes regarding end-of-life treatments (living will) as well as name a representative to make medical decisions for them (medical power of attorney). This form can only be created if a person is of sound mind and capable of making decisions for themselves. If they should become incapacitated for some reason, the advance directive will come into effect.
Health care providers will provide treatment and care as per the principal's instructions laid out in their living will. In addition to referring to the living will, medical staff will be able to communicate with the principal's health care agent if there decisions to be made that aren't covered by the living will.
Agent's Duties – § 166.152
Laws – Chapter 166
Signing Requirements (§ 166.032 & § 166.154) – Two (2) Witnesses or a Notary Public
Statutory Form – § 166.033
---
State Definition
Statute – § 166.002(1)
"Advance directive" means:
(A) a directive, as that term is defined by Section 166.031;
(B) an out-of-hospital DNR order, as that term is defined by Section 166.081; or
(C) a medical power of attorney under Subchapter D.
---
Related Forms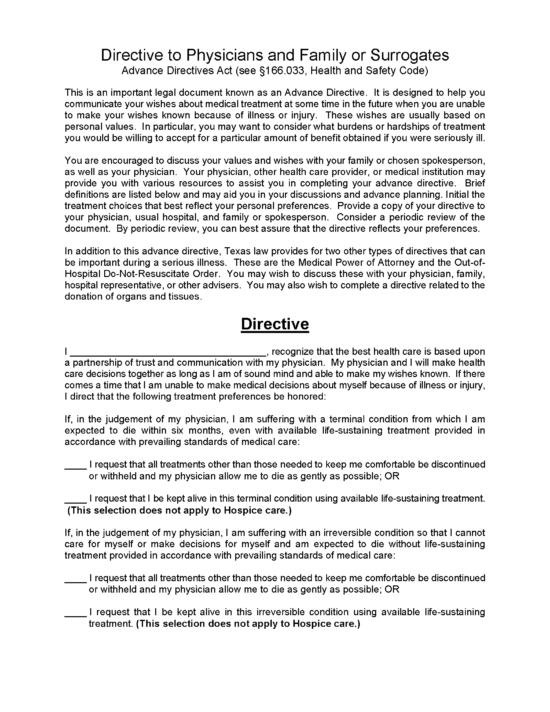 Living Will – Conveys certain end-of-life choices to medical professionals if the principal is incapacitated.
Download: PDF
---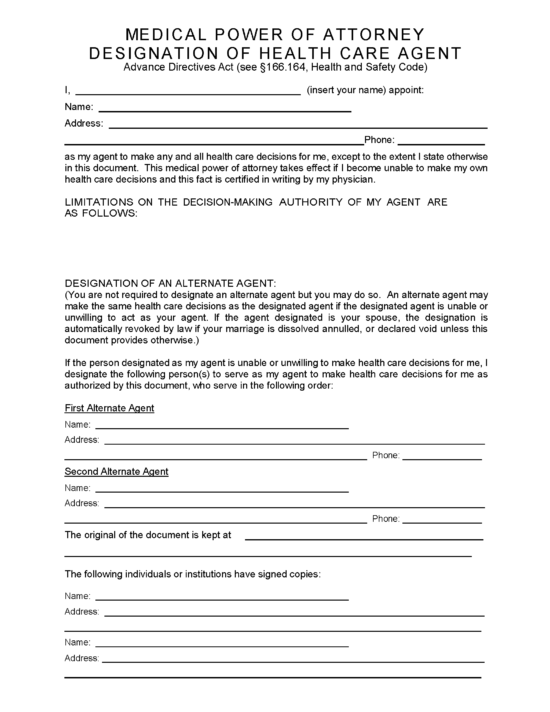 Medical Power of Attorney – Appoints an attorney-in-fact to make important medical decisions for the principal.
Download: PDF