A West Virginia advance directive is a medical form that combines a medical power of attorney and a living will. This two-part document allows a person to name a health care representative and communicate their preferences in regard to life-prolonging treatments. An advance directive form becomes active when the principal is incapacitated due to illness or injury that renders them unable to make decisions for themselves. This document should be handed out to family members, doctors, and the health care representative named in the directive.
Agent's Duties – § 16-30-6
Laws – Chapter 16, Article 30 (West Virginia Health Care Decisions Act)
Signing Requirements (§ 16-30-4) – Two (2) Witnesses and a Notary Public
Statutory Form – § 16-30-4(g)
---
Registering
A West Virginia advance directive can be submitted to the West Virginia e-Directive Registry so that health care professionals can access it when needed. Once an advance directive has been completed (with all required signatures), the form can be submitted by fax (844-616-1415) or by mail at the following address:
PO Box 9022
64 Medical Center Drive
Morgantown, WV 26506
---
Related Forms
Living Will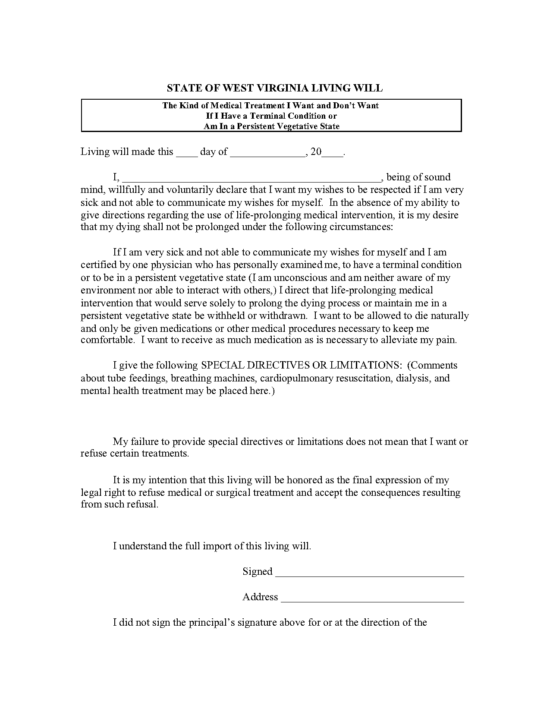 – This document is exclusively for conveying a principal's wishes with regard to end-of-life treatments.
Download: PDF
---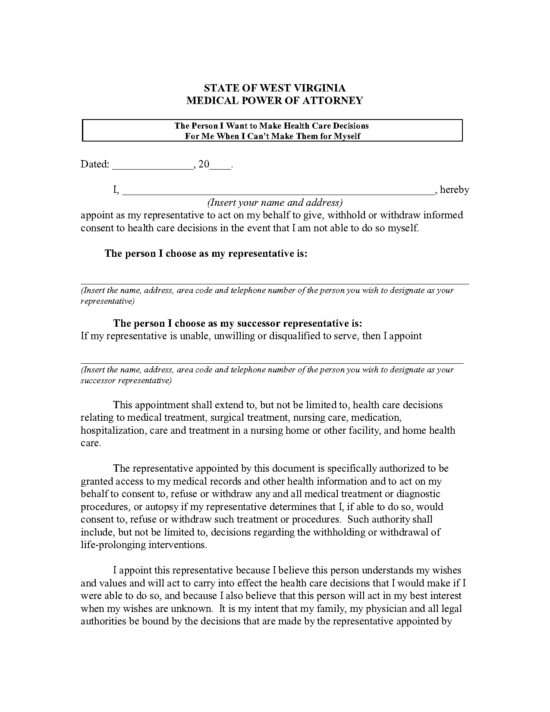 Medical Power of Attorney – Allows a principal to appoint a health care representative to make decisions on their behalf.
Download: PDF