A lease guarantor form is an agreement that makes a guarantor responsible for a tenant's actions. If the tenant violates their lease terms, the guarantor (co-signer) will be held accountable.
When a Lease Guarantor Form is Necessary
A landlord should consider a lease guarantor form if a tenant has poor credit, insufficient income, bad references, or a history of eviction or late rent payments. 
Sample
Download: PDF, Word (.docx), OpenDocument
LEASE GUARANTOR AGREEMENT
1. THE PARTIES. This Lease Guarantor Agreement ("Agreement") made this [DATE], is by and between:
Landlord: [LANDLORD'S NAME] ("Landlord"),
Tenant: [TENANT'S NAME] ("Tenant"), and
Guarantor: [GUARANTOR'S NAME], with a mailing address of [ADDRESS] ("Guarantor").
The Landlord, Tenant, and Guarantor are each referred to herein as a "Party" and, collectively, as the "Parties."
2. LEASE AGREEMENT. The Guarantor agrees to co-sign a lease between the Landlord and Tenant with a date of [LEASE DATE], for the property located at [RENTAL PROPERTY ADDRESS] ("Lease").
3. CONSIDERATION. As a condition to entering into the Lease, the Landlord has required that a Guarantor execute and deliver to the Landlord this Agreement.
NOW THEREFORE, in consideration of the Landlord entering into the Lease of the premises to the Tenant, Guarantor covenants and agrees as follows:
a) The Guarantor accepts all responsibilities, obligations, and liabilities mentioned in the Lease in addition to and on behalf of the Tenant. This shall include any liability including, but not limited to, rent, property damage, or any other legal or financial obligation to fulfill the terms of the Lease.
4. COLLECTION. The Landlord agrees to first attempt collection from the Tenant for any financial matter or judgment, and only after seeking all financial and legal remedies available, to attempt collection from the Guarantor.
Guarantor's Signature: ___________________ Date: [DATE]
Print Name: [GUARANTOR'S PRINTED NAME]
Landlord's Signature: ___________________ [DATE]
Print Name: [LANDLORD'S PRINTED NAME]
Tenant's Signature: ___________________ [DATE]
Print Name: [TENANT'S PRINTED NAME]
---
How to Add a Guarantor to a Lease
The following steps can be carried out to add a guarantor to a lease:
Talk With Tenant – Landlords should start by letting the tenant know that a guarantor is needed. They should also explain the guarantor's responsibilities and legal obligations under the lease agreement.
Perform Background Check – After the tenant finds someone to co-sign, the landlord should screen the guarantor and conduct a credit check to verify their financial reliability.
Draft Co-Sign Lease Form – A lease guarantor form should be presented to the tenant and guarantor for review. If the parties agree to the terms, they must sign and attach the form to the lease agreement.
---
Related Forms (1)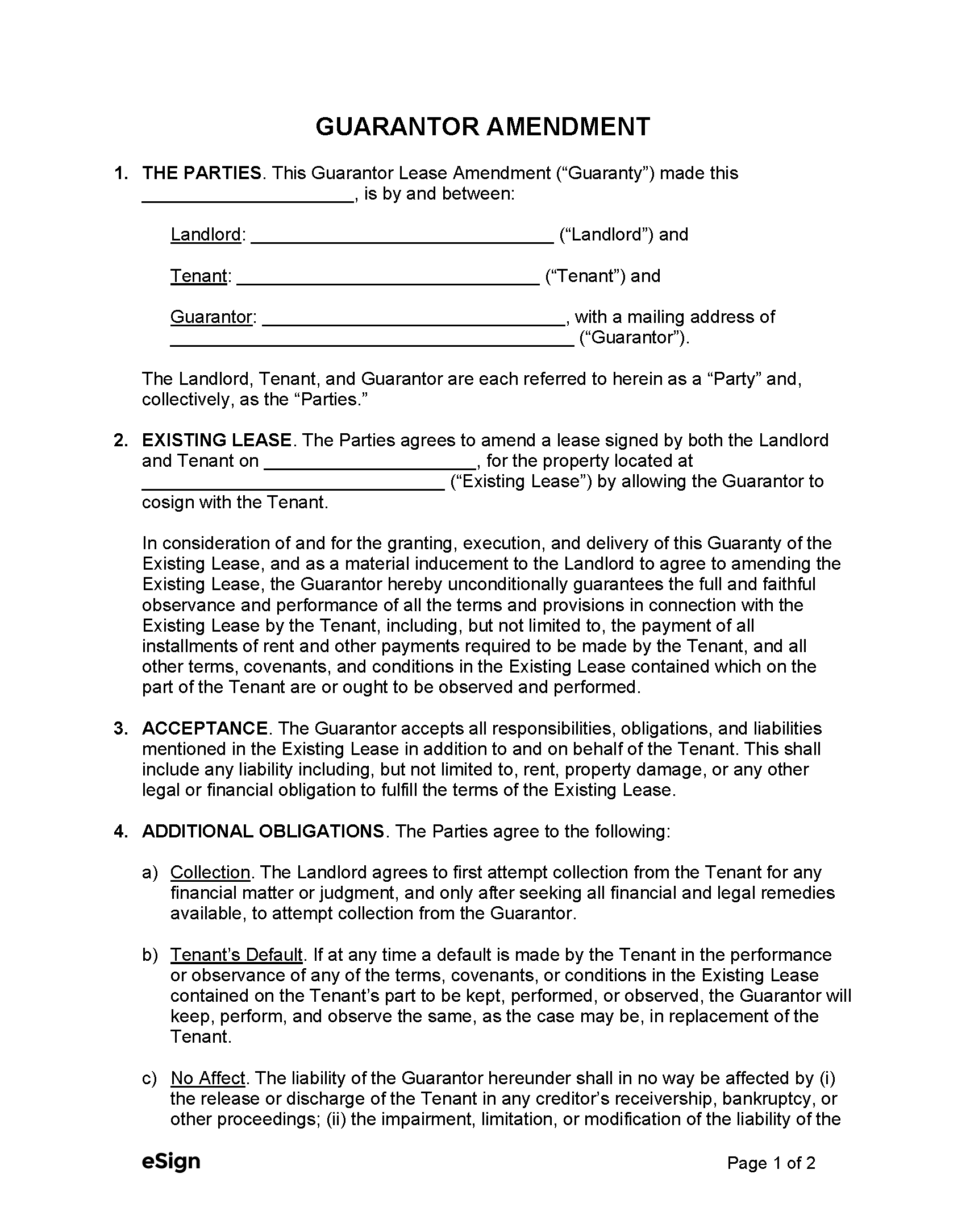 Guarantor Lease Amendment – Landlords can use this document to add a guarantor (co-signer) to a pre-existing lease agreement.
Download: PDF, Word (.docx), OpenDocument