A Maryland rent-to-own lease agreement is a combination rental-purchase contract for residential real property that is entered into by a landlord/seller and a tenant/buyer (also referred to as the option holder). A rent-to-own agreement, or "lease option," is a lease that gives the tenant the option to buy the property after a certain period of time has elapsed.
The landlord sets the purchase price for the property and will demand that the tenant pay a certain amount to lock down the option to buy the property (this may be separate from the monthly rent amount). Not purchasing the property after the lease term will usually result in the tenant losing any money they have paid to maintain the option.
Rental Laws – Title 8, Subtitle 2 (§ 201-217)
Purchase Agreement Laws – Title 10, Subtitle 7 (§ 701-710)
---
Realtor Version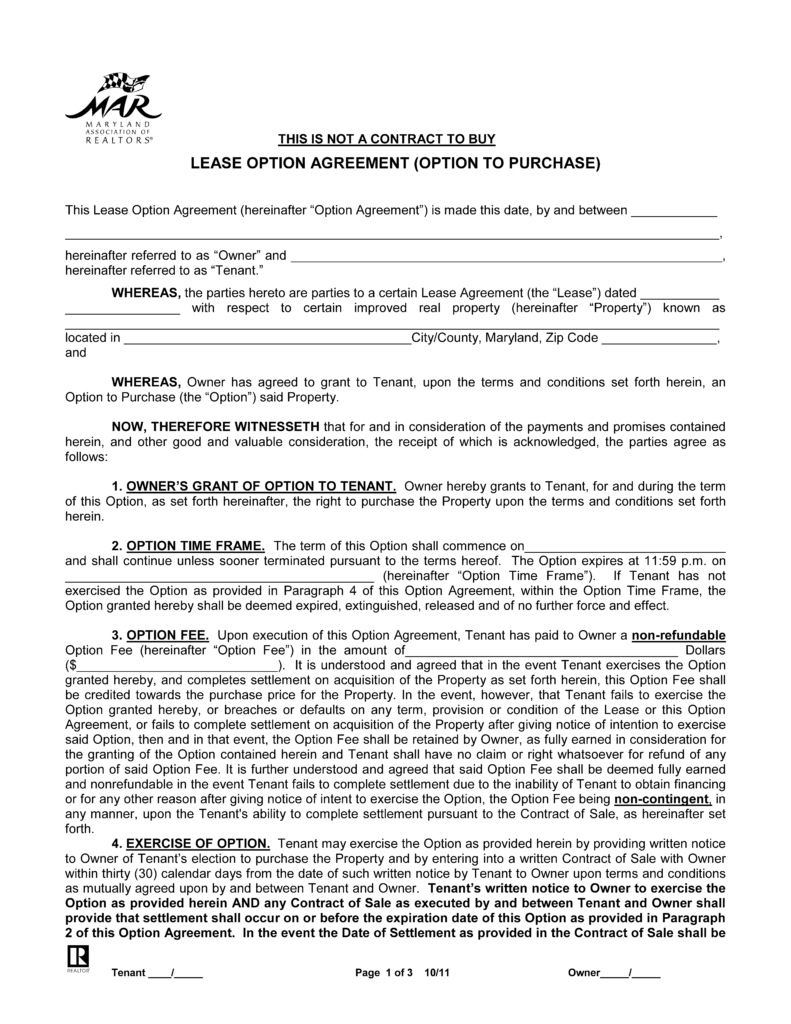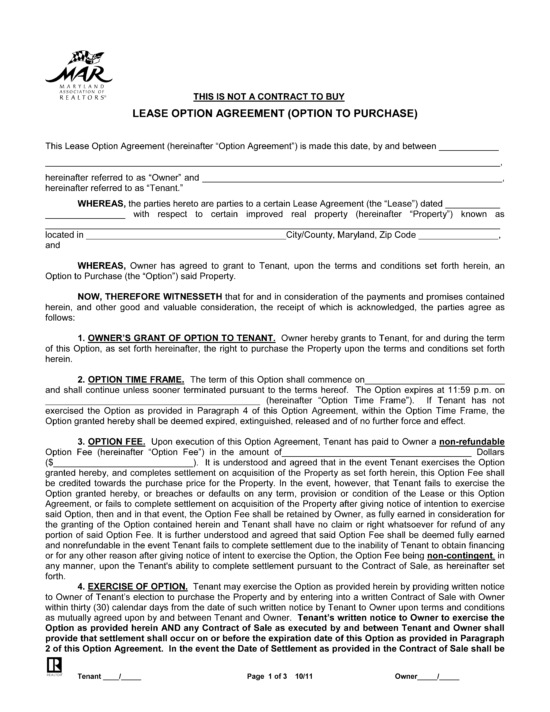 Maryland Association of Realtors Lease Option Agreement – This lease option agreement is provided by the state realtor association. Please note: this document doesn't include a lease agreement (only the "lease option").
Download: PDF
---
Disclosures (6)
Leases require a statement to be included that states that the property is habitable and safe.
2) Lead-Based Paint Disclosure
Landlords must give tenants a disclosure that warns them of the possible or known presence of lead-based paint if the property was constructed before 1978.
If the tenant pays a security deposit, the deposit receipt must disclose that they have the right to demand a damage report of the property within fifteen (15) days of their occupancy.
4) Ratio Utility Billing System (RUBS) Disclosure
Landlords are legally required to disclose if they use a ratio utility billing system to calculate the amount that tenants are charged for utilities. Condominiums and co-ops are exempt from this rule.
The landlord must include a receipt for any security deposit in the lease.
Responsibilities for the payment of utilities and repairs must be disclosed in the lease.
---
Related Forms